Joe Ward and Jason Quigley have eased through to the semi-finals of the World Boxing Championships in Kazakhstan, which guarantees both boxers, at least, bronze medals.
Donegal middleweight Quigley recorded an impressive unanimous victory against Zoltan Harsca of Hungary in his first event at this level.
Light-heavyweight Ward was last of the Irish quintet to fight and stopped Russian opponent Nikita Ivanov early in the bout to record a technical knock-out.
Quigley eliminated Harsca on a 30-27, 30-27, 30-27 scoreline.
The victory marked Quigley's 31st win on the trot since moving to the middleweight division and he will now take on Russia's Artem Chebotarev in the semi-final on Friday.
Not surprisingly, the Finn Valley clubman was delighted with the outcome.
"It's a massive achievement for me," Quigley admitted.
"I wanted to keep the record going.
"The aim was not to complicate things. I had a game plan of two or three things to do and when the first thing started working I just stuck with it.
"I caught him with a lovely right hand in the second round and he went down. From there on the important thing was not to panic, so I didn't rush in to try and finish it.
"It's a three-round fight and If he clips me and I go down, then it's party over. You have to be careful and smart and I think that's what I was today."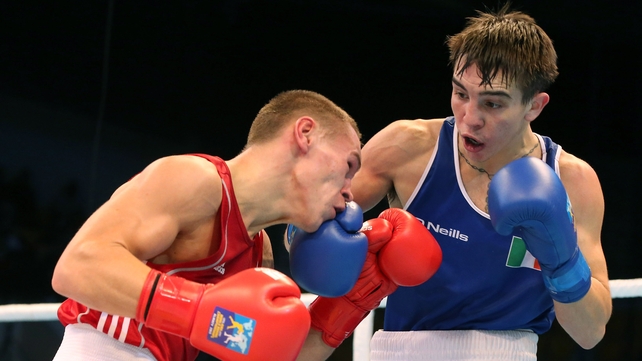 Earlier, there was disappointment for Michael Conlan in his last-eight bout as he lost out to Russian Vladimir Nikitin in the bantamweight division.
All three judges awarded the bout to Nikitin - 30-27, 30-27, 29-28.
Despite the defeat, Conlan accentuated the positives afterwards, as he gets more used to life in the 56kg class.
He said: "I fought the strongest boxer in the weight and a year from now I know I will be stronger.
"I thought I won the first round - I was getting through with shots. But the result just didn't go my way."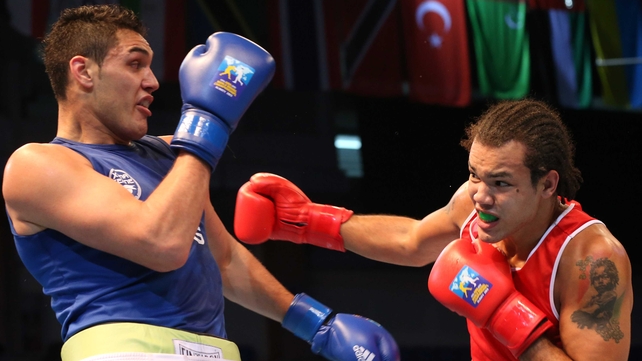 In the heavyweight division, Tommy McCarthy lost out on a split decision to number two seed Yamil Peralta of Argentina.
Paddy Barnes was beaten by Jasurbek Latipov of Uzbekistan in the flyweight division.
Latipov recorded a unanimous victory over the Belfast fighter, advancing on a 28-29, 27-30, 28-29 scoreline.
Latipov enjoyed a unanimous victory over the Holy Family fighter.
In a bout where both boxers received warnings for use of the head, the victorious fourth seed afforded Barnes opportunities by adopting a low guard throughout the contest.
However, the two-time Olympic bronze medallist struggled to make an impact on his rangier opponent.
Barnes later tweeted that he had blurred vision for three rounds as a result of a head clash.
Barnes tweeted: "That's it all over! Was out on my feet in the 1st round and didn't recover, blurred vision for 3 rds with head clashes! F*#k your no headgear!
"Fighting with no headgear is good, but to fight 6 times in 10 days without it is impossible, Dr Wu doesn't care he isn't the one fighting."
Live Web-Only overage of the World Boxing Championship semi-finals from 0900 on Friday on RTÉ.ie + quarter final highlights on RTÉ Two tonight at 2310