By Hugh Cahill
Dublin to Kazakhstan takes approximately nine and a half hours by plane. But allowing for stop over time in Istanbul airport, the trip to Almaty took approximately 13 hours all in.
The place is nothing like you'd expect, chiefly because everything I had come to expect came from watching 95 minutes of Borat a few years back. Suffice it to say, the people here do not take kindly to any reference to Sacha Baron Cohen's fictional character, so I was surprised and taken aback when I arrived at our hotel to see Ken Egan walking through the lobby in a green mankini.
"Where you off to?", I asked.
"Just out for a run pal", Ken replied setting his stopwatch.
"This thing is great for fitness," he said as he stretched the lime green elastic suit and snapped it onto his back side.
"No pain, no gain. Makes me run ten times faster too, with all the locals chasing me up and down the street," was Kenneth's reasoning
"Just don't do any lunges in front of me", I said.
"My stomach isn't the best after that flight and there isn't much room for error in that thing."
He gave me a wink, pulled his white socks up to his knees and headed out the front door.
"Enjoy" I said and went to check in.
We had arrived at Almaty airport at 6am local time that morning so there was a three hour window to get some sleep before we headed off to the stadium.
On a typical Sunday afternoon, it's only a seven minute drive from our hotel to the stadium, but in midweek traffic I've been told it will take at least three times that.
Everything is laid out in the American block system which means all the traffic lights are set at the same frequency. Everybody moves or nobody does. It's not very conducive to free flowing traffic.
Sean McComb, at lightweight, was first of the two Irish fighters into the ring where he faced a tricky African Gildas Bangana. Bangana was in trouble from early in the first round, with McComb using his considerable height and reach advantage to work the jab and stay out of harms way.
McComb isn't known for having a killer punch but he had dropped his opening opponent in the first round and gone on to take a unanimous points decision so he felt confident going into the bout.
I was surprised at how slow the African was around the ring and McComb caught him with a couple of lovely punches early on. Bangana never recovered and the Belfast man picked him off with ease before going on to record a unanimous and comfortable win, 30-27 in all three rounds. He is expecting a much tougher fight against his next opponent.
Back in the press room, we finished off what we had to do before heading back to the hotel. Kenneth had been shifting uncomfortably in his seat for most of the afternoon, typing away furiously on his computer.
When he decided to take a toilet break, I discovered the reason for his intense concentration.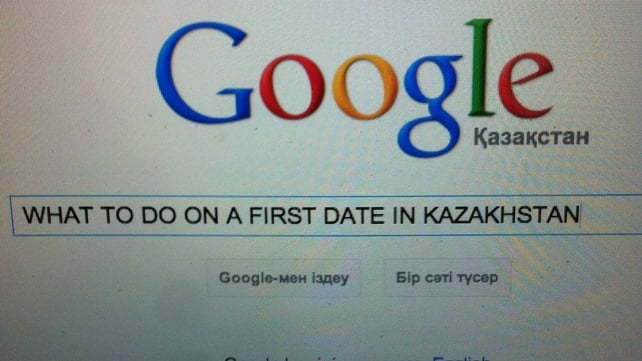 Apparently, they are big on custom and tradition when it comes to relationships in Kazakhstan.
Joe Ward got his campaign under way in the light heavyweight division in the evening session. Ireland coach Billy Walsh had cause for concern in the build up to the fight against Mateusz Tryc from Poland.
Ward had already suffered three separate injuries against Tryc, including at the European championships in June when the Moate southpaw had to retire with a nasty knee injury in Minsk. The pair had also faced off in a training camp where Ward managed to injure his hand. You would have forgiven Walsh for believing Tryc was a jinx.
As it turned out, the Ireland coach had nothing to worry about. Ward dominated his opponent, getting his shots off brilliantly and disappearing out of range before the Pole knew what had hit him. It was a very accomplished performance from Ward who was just relieved to get through his first bout. In doing so, he became the sixth Irish boxer through to the last 16.
This morning saw Michael Conlan defeat Mexican Brian Gonzalez , while Jason Quigley beat Ashton Brown from Scotland, also unseeded.
Later on today Tommy McCarthy is up against the seventh seed in the heavyweight division, Ahmatovic from Germany. It would be great to have all three through to the quarter finals, here's hoping they can do the business.
It's late here now and between flights from Dublin to Almaty and a sick child the night before I left, I haven't slept properly in 48 hours.