What a dreadful start! The news that Joe Ward's European Championship campaign was over before his first bout had even finished came through via a phone call at Gatwick Airport.
The Moate light-heavyweight suffered a twisted knee when dominating his Polish opponent in his last 16 fight on Monday afternoon.
With just 20 seconds of the third and final round remaining, Ward and Tryck clashed knees in an awkward exchange with Ward collapsing onto the canvass and unable to continue.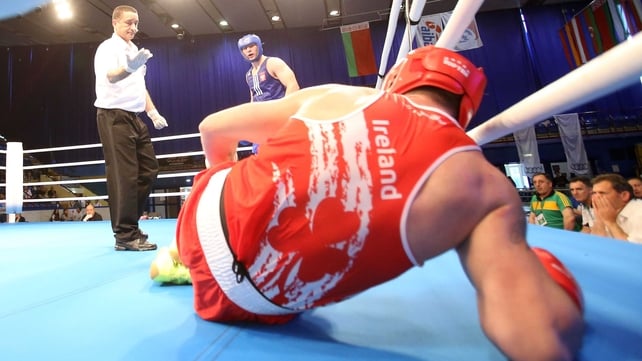 The Pole could not believe his luck. For Ward, the injury was devastating and incredibly frustrating.
After an intense training camp in the Ukraine and almost perfect preparations going into the championships, Ward was cruelly denied the chance to once again prove his gold medal credentials.
Ward's exit also denies him the opportunity of becoming the first Irish male boxer to win back-to-back gold medals at the European Championships.
A first-round exit is not something that sits easy with the 19-year-old. He's currently confined to his hotel room and waiting on the results of a scan.
Ward's frustration is easy to understand.
After being robbed of a place at the London Olympics in 2012, the defending European champion was tipped to punch his way to gold at these championships in Minsk.
It's still unclear how bad the damage is to his knee but we can only hope that one of the brightest talents in the Irish squad can recover in time for the World Championships in October later this year.
The other contenders for Ward's title in Minsk are all breathing heavy sighs of relief.
For Ward and Billy Walsh, it's a nightmare come true. But the show must go on.
Anyone who has had the pleasure of watching Ward fight understands exactly how talented he is.
The world of amateur boxing is his for the taking. Luckily, he still has plenty of time on his hands.
There was also huge disappointment for Ray Moylette in the light welter-weight division.
The former European gold medallist was well beaten on a unanimous decision by his Turkish opponent.
Con Sheehan also lost out in controversial circumstances to a Georgian boxer. Sheehan was hugely frustrated by the judges' decision and felt he had done enough to win the bout.
The day finished on a high though, with Michael Conlan convincingly seeing off Armenia's Naral Abgaryan to progress to the quarter finals.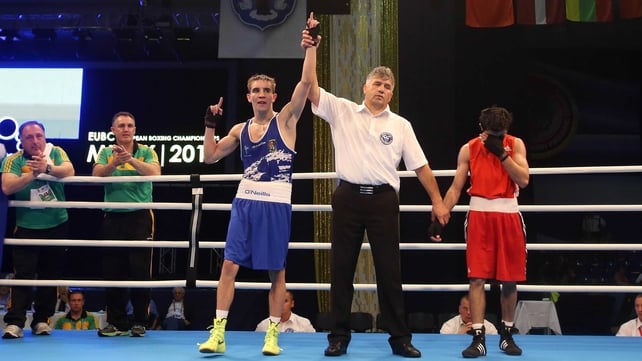 The trip out from Dublin passed pretty smoothly.
RTÉ cameraman Padraig Treacy has the equivalent of a small elephant with him in baggage and equipment, but luckily I've been working out over the last few weeks so I enjoyed carrying all the gear around...
Treacy said something about wishing Kenneth Egan was with us, but despite his deadpan expression and snorts of frustration when I lagged behind, I think he was joking.
As it turns out, I have a lot in common with the locals here. They are all very pale and allergic to sunlight. I think I'm going to fit in just fine.
The Championship venue is within walking distance to the hotel so first thing this morning we're up to check it out.
There are five Irish boxers in action on today with Paddy Barnes, John Joe Nevin, Adam Nolan, Jason Quigley and Tommy McCarthy all flying the flag.
Hopefully the rest of the squad has better luck than Joe Ward did today.