Ireland beat France 5-3 in today's Elite International meeting at the National Stadium in Dublin.
Paddy Barnes, Michael Conlan, David Oliver Joyce, Adam Nolan and Jason Quigley had their hands raised in victory less than 48 hours after Ireland beat the French 10-0 in Cork.
But Sean McComb, Tommy McCarthy and Con Sheehan lost out in the lightweight, heavyweight and super-heavyweight classes.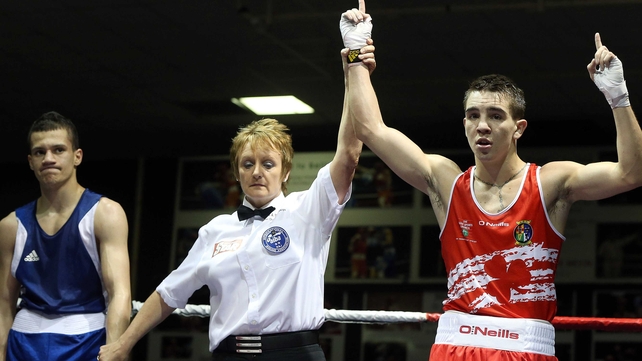 London 2012 bronze medallists Paddy Barnes and Michael Conlan, who moved up from light-flyweight to flyweight and flyweight to bantamweight for today's meeting, cruised to comprehensive victories over Samuel Kistohurry and Elias Friha, the Belfast fighters racking up over 40 points between them.
David Oliver Joyce, a gold medallist at the recent Gee Bee Multi-Nations, London 2012 Olympian Adam Nolan and European U/23 champion Jason Quigley also recorded their second wins of the weekend this afternoon.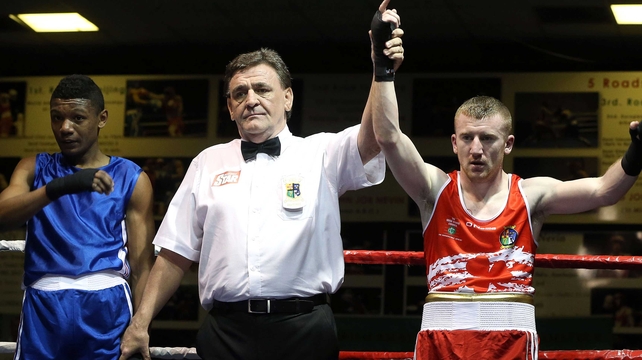 Irish head coach Walsh said: "I'm happy with the wins over the two days in Cork and Dublin.
"The European Championships are just around the corner now and I'm also happy that we didn't pick up any injuries against a motivated French side this afternoon."
The 2013 European Championships begin in Minsk, Belarus on 1 June.
RESULTS
52kg: Paddy Barnes (Ireland) bt Samuel Kistohurry (France) 22-8
56kg: Michael Conlan (Ireland) bt Elias Friha (France) 25-8
60kg: Sean McComb (Ireland) lost to Sopiane Oumiha (France) RET1
64kg: David Oliver Joyce (Ireland) bt Adelmalik Ladjali (France) 14-12
69kg: Adam Nolan (Ireland) bt Alexis Vastine (France) 15-11
75kg: Jason Quigley (Ireland) bt Rashid Hamani (France) 13-6
91kg: Tommy McCarthy (Ireland) lost to Aboulaye Diane (France) 14-17
91kg+: Con Sheehan (Ireland) lost to Tony Yoka (France) 8-19