Irish middleweight Matthew Macklin is back on track for a world title bid after a first-round knock- out victory over former world champion Joachim Alcine in Las Vegas.
Fighting on the undercard of Sergio Martinez and Julio Cesar Chavez Jr, the Tipperary Tornado twice put the Canadian on the canvas and the referee stopped the bout after just 2 minutes 38 seconds.
In the main clash, Argentina's Martinez survived a torrid final round to defeat Chavez Jr. and claim the WBC middleweight title.
Julio Cesar Chavez Jr. of Mexico (l) and Sergio Martinez of Argentina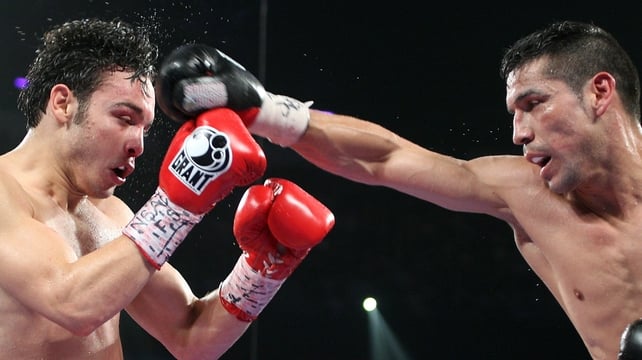 A series of Chavez left hands early in the final round knocked Martinez down, and had him badly hurt but the challenger returned fire and hung on to reach the final bell in a fight that, until the knockdown, he had been dominating.
"Julio fought a great fight," Martinez said. "He showed he had heart right until the end."
Until the final round, the 37-year-old Martinez, 50-2-2 (28 KOs), was far too fast and skilful for Chavez, 46-1-1 (32 KOs).
He bloodied his opponents' nose and closed his left eye with southpaw right jabs and straight left hands, and progressively weakened him with left hands to the body.
For his part, Chavez seemed intent on attempting to pin the smaller Martinez in a corner or against the ropes and dig to the body with hooks and uppercuts.
But each time it appeared he might be starting to turn the momentum in his favour, Martinez would respond, repeatedly succeeding in spinning away or returning fire.
"I was 20 seconds away from knocking him out," Chavez said.
"I started way too late. Going into the fight, I thought I was going to be able to do all night what I did in that final round.