Garvey's Tralee Warriors 88-75 C&S Neptune
Garvey's Tralee Warriors are the InsureMyHouse.ie Pat Duffy Cup champions after a 88-75 win over C&S Neptune.
It's Garvey's Tralee Warriors' first InsureMyHouse.ie National Cup title, the club having been formed in 2016.
Daniel Jokubaitis was awarded the MVP after 19 points, seven rebounds and four assists. Aaron Calixte scored 19 points, while Eoin Quigley had 14 points.
It took almost two minutes for the game's first points, when Jokubaitis landed a jump shot. Nils Sabata got C&S Neptune on the board and not long afterwards a Cian Heaphy dunk in the fourth minute brought the Cork club's supporters to their feet.
With 3'44 to go in the first quarter a three-point jump shot from Garvey's Tralee Warriors captain Fergal O'Sullivan established a 9-5 lead.
Nils Sabata was C&S Neptune's biggest scoring threat, his layup not long afterwards reduced the deficit. Sabata would finish with a game-high 21 points.
In stepped a fired-up Kieran Donaghy. He scored four points, a layup and along with a rebound, after following up Eoin Quigley's three-point attempt, to make it 13-7. He waved his arms to spark up the vocal Warriors fans even further, and they responded in kind.
Miles Washington made it a two-point game, before a pair of Jokubaitis free throws, followed by Donaghy rebounding his own layup attempt, left the score at 17-9.
Donaghy had six points and four rebounds in the first quarter. Aleix Tarradellas dispatched a much-needed three-point jump shot for C&S Neptune in the dying seconds to make it 17-12 at the end of the first quarter.
Neptune got the first points of the second, a Nils Sabata layup and subsequent extra free throw, 17-15. Quigley and Sabata exchanged layups, before a Jokubaitis three point jump shot and five points from Aaron Calixte and a Ronalds Elsknis layup stretched it to 29-17. Eoin Quigley and Roy Downey exchanged threes.
Quigley and O'Sullivan baskets opened up a 15-point lead with two minutes to go, 38-23.
C&S Neptune picked up some points from the free throw line, but it was Garvey's Tralee Warriors who had the final say - a Jokubaitis three-point jump shot - to make it 43-28 at half-time.
The first points of third went to Warriors, before Roy Downey three-point jump shot got his side back into it, leaving them 47-31 behind.
Eoin Quigley's second three of the game brought Warriors to the half century of points. Two Miles Washington dunks helped C&S Neptune close the gap to eight points, 50-42, three minutes into the quarter and a timeout was called by Garvey's Tralee Warriors.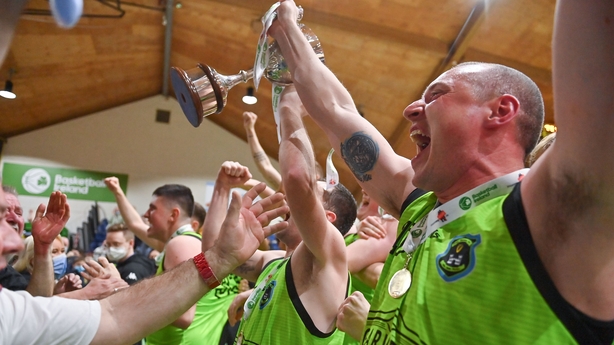 Midway through the quarter Nikola Roso's basket made it a 12-point game, the Kerry club 54-42 up, with Calixte's two-point jump shot stretching their advantage further moments later. It would be 64-50 by the end of quarter.
A long-range three-point jump shot was landed by Jokubaitis in the opening minute of the fourth and with a 17-point lead, it looked like it was going to be too much for C&S Neptune to claw their way back.
With 6'35 remaining, Colin O'Reilly's three-point jump shot saw the Cork club trail 71-57, but Darragh O'Hanlon responded with a long-range three-pointer 30 seconds later.
Rosso had a fine second half and made several telling contributions at both ends, particularly in the fourth quarter, with multiple layups and some terrific defensive blocks.
Aleix Tarradellas had five points in the last minute or so, but it wasn't to be Neptune's day, Garvey's Tralee Warriors winning 88-75.
An overjoyed Donaghy said this National Cup title was "right up there" with all of the medals he's collected in a supreme sporting career.
"It's been six years since this club was amalgamated from Brendan's and Imperials, and this was always the dream," the former Kerry footballer said.
"It's been a great journey and it's been a tough cup. I'm delighted that the place could open a bit more and let more people in, because the atmosphere was electric. I was a bit sorry all week that it was going to be half capacity, but to see the buzz and the atmosphere in here was amazing."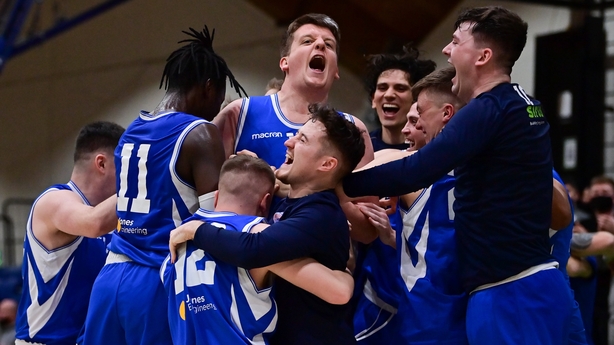 Earlier UCC Demons became the InsureMyHouse.ie Presidents' Cup champions, defeating Drogheda Wolves 83-64.
David Lehane was awarded the MVP after top scoring on 24 points, including 11 of his 12 free throws, along with seven rebounds. Tobias Christensen also impressed with a 21 point haul.
"It's an unbelievable feeling," said Lehane afterwards. "We went back training as soon as we were allowed by the government with the restrictions, we got a good group together and to be honest it has been a long season, very tough, taking it game by game.
"We're undefeated so far and coming into today we really wanted to keep that going.
"Drogheda Wolves started off quickly and has us back on our heels and we had to respond and we did, we got the job done and obviously couldn't be prouder of the team. It was a great win."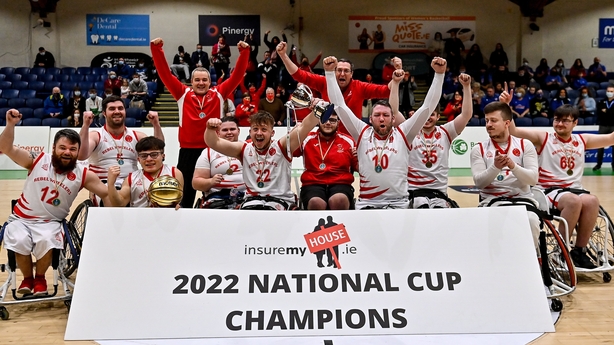 And in a repeat of the 2020 IWA National Cup final, Rebel Wheelers came out on top once again, defeating their familiar foes Killester 58-49.
An MVP performance came in the form of Conor Coughlan from Rebel Wheelers, as he scored 16 points, with seven rebounds. His teammate Derek Hegarty was the game's top scorer, with 18 points, with 17 rebounds.
Killester's top scorer was Seamus Holland, on 17 points.