DCU Mercy moved to the top of the MissQuote.ie Women's Super League after a 72-43 win over Team Garvey's St Mary's on Sunday.
Mark Ingle's side are the only the unbeaten side in the division following The Address UCC Glanmire's 84-80 overtime loss to Killester on Saturday.
DCU Mercy's scoring came mainly from Alarie Mayze (13), Bailey Greenberg (13), and Hannah Thornton (9). Team Garvey's St. Mary's were on the back foot from the beginning, scoring just four points in the opening quarter, however scoring opened up for them thanks to the effort of Deirdre Geaney (11) and Lorraine Scanlon (8).
The two sides will meet again in round one of the InsureMyHouse.ie Paudie O'Connor National Cup next weekend.
Killester had an impressive away victory at The Address UCC Glanmire, winning by four points after extra time (84-80). They trailed by ten points at half-time and did well to force overtime by drawing level on 74 points apiece on the final buzzer.
Shannon Powell performed excellently for Killester, scoring 31 points. This was backed up closely by Miah Taylor's impressive 26-point tally. The Address UCC Glanmire had standout shooting performances from Carrie Sheppard, who scored 21 points, and Gianna Smith, who picked up 18.
Elsewhere, WIT Waterford Wildcats recorded an emphatic win over Trinity Meteors in Dublin, giving them a second consecutive win. They ended the game with a 29-point winning margin, 72-43, which can largely be attributed to the scoring prowess of Rachel Thompson, who banked 30 points herself.
Other top scorers for WIT Waterford Wildcats were Jasmine Walker (11) and Stephanie O'Shea (10). Trinity Meteors failed to ignite, despite good scoring from Sinead Keane and Rebecca O'Keeffe, with 15 and 10 points respectively.
Fr Mathews remain without a win, after they suffered a 80-67 home loss to local rivals Singleton Supervalu Brunell at Fr Mathews Arena on Saturday.
They trailed by just two points at half-time, but were overcome by the offensive efforts of Brunell, exemplified by Kwanze Murray who scored 27, Edel Thornton with 19, and Shannon Ryan who tallied 16 points.
Gráinne Dwyer shot well for Fr Mathews, scoring 15 points, but it was Shannon Brady who stood out for the home side, scoring 29 points in the game.
The MissQuote.ie Super League round 3 fixture of IT Carlow against Leixlip Amenities Liffey Celtics was postponed due to an outbreak of Covid-19, and is due to be rescheduled for later in the season.
In the InsureMyVan.ie Men's Super League, it's Garvey's Tralee Warriors, Tradehouse Central Ballincollig and Griffith College Templeogue who remain as the only undefeated teams after the third round of games in the competition.
Garvey's Tralee Warriors hosted C&S Neptune on Saturday evening, which stood out as one of the closest contests of the round, with just 10 points separating the team in the end (88-78).
Boston's Aaron Calixte was impressive on the offensive once again for Garvey's Tralee Warriors, scoring 30 points. Other top scorers for Warriors were Nikola Roso (22), and Daniel Jokubaitis (11).
C&S Neptune trailed by just two points at half-time, an impressive feat at the Tralee stronghold. Their efforts were led on the scoreboard by Miles Washington (22 points), Nil Sabata (20), and Cian Heathy (17).
The first game of the round was contested by Killester and UCD Marian on Thursday, played in the IWA Clontarf. Killester made the most of their home advantage, winning out by 26 points (106-80), and bringing to an end UCD Marian's early winning streak.
Killester's top scorers Kason Harrell, John Behan, and Tomas Fernandez Zerolo, all hit blackjack on the night, scoring 21 points each.
UCD Marian's Johnathan Jean was top shooter scoring 30 points, supported by Srdjan Stojanovic (14), and Matt Kelly (9). It was Killester's first win of the season and comes at an opportune time, as they prepare for next weekend's opening round of the InsureMyHouse.ie Pat Duffy National Cup, where they'll meet Bright DCU Saints.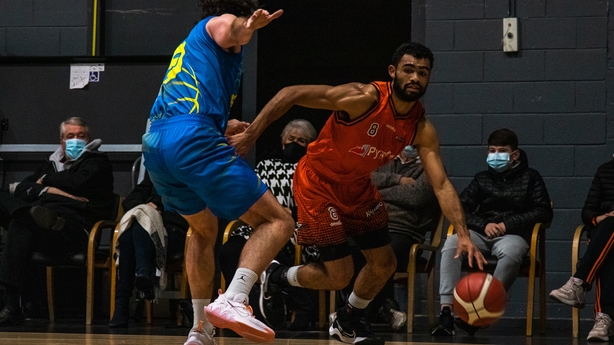 It was a tough contest in Ballincollig Community School on Saturday, where Tradehouse Central Ballincollig came from 10 points behind at half-time, to overcome NUIG Maree by eight points at the close.
This continues Tradehouse Central Ballincollig's unbeaten run in the competition, and was aided by the scoring efforts of Andre Nation (24), Adrian O'Sullivan (17), and Milorad Sedlarevic (16).
A prolific Deondre Jackson led NUIG Maree in their scoring, adding 34 points to their total. Paul Freeman (10) and Lovre Tvrdic (7) were NUIG Maree's next top scorers.
Griffith College Templeogue achieved an impressive 84-72 victory away to defending InsureMyVan.ie Super League champions Belfast Star on Saturday.
Lorcan Murphy led the way for Griffith College Templeogue, scoring 20 points, and he was followed closely by Kris Arcilla (18), and Jason Killeen (15).
Belfast Star's Max Cooper was strong in shooting, putting 23 points on the board. James Claar (17), and Conor Quinn (18), also did their best to get Belfast Star over the line, but ultimately it was Griffith College Templeogue's day.
DBS Éanna recorded the largest victory in the round, defeating Bright DCU Saints at home by 33 points, 101-68.
Stefan Zecevic led their crusade with 34 points, supported by Devin Gilmore (15), and Romonn Nelson (13). Bright DCU Saints worked hard to remain in the game, with Julius Brooks (35), Kevin Hughes (16), Eoin Darling (6) doing their best to catch DBS Éanna. Ultimately however, their efforts were in vain, and Bright DCU Saints recorded their third loss of the competition.
Team 360 Financial Killorglin recorded their first win of the season by overcoming Moycullen 90-74. Scoring was led by Simon Francis (22), Allan Thomas (21), Xabi Arriaga (15) for Team 360 Killorglin, as they fought hard to build on the narrow two-point lead (45-43) which they held at half-time.
Moycullen, who have now also lost all three of their games thus far, had strong shooters in Grant Olsson (19), Kyle Cunningham (17) and Josh Marvesley (15), but it was not enough to topple the home side.