The board of Basketball Ireland met today in the wake of chief executive Bernard O'Byrne's apology for a social media post regarding Raheem Sterling he has since deleted, with an investigation now under way.
O'Byrne posted the phrase 'Black Dives Matter' on a BBC News Facebook post asking if Raheem Sterling should have been awarded a penalty in extra-time of their Euro 2020 semi-final win over Denmark.
A statement released from Irish basketball's governing body on Friday evening read: "Inclusion and diversity is inherent within basketball in Ireland, it is part of the fabric of Basketball Ireland and the board want to reaffirm its commitment to both. Our clubs, players, coaches and volunteers throughout the country work so hard in their communities, embracing all, and this continues to be the case."
Basketball Ireland chairman Paul McDevitt added: "The board of Basketball Ireland held an emergency meeting today. We are fully aware of the gravity of the situation. We cannot comment on our ongoing internal investigation and would urge patience while this is completed."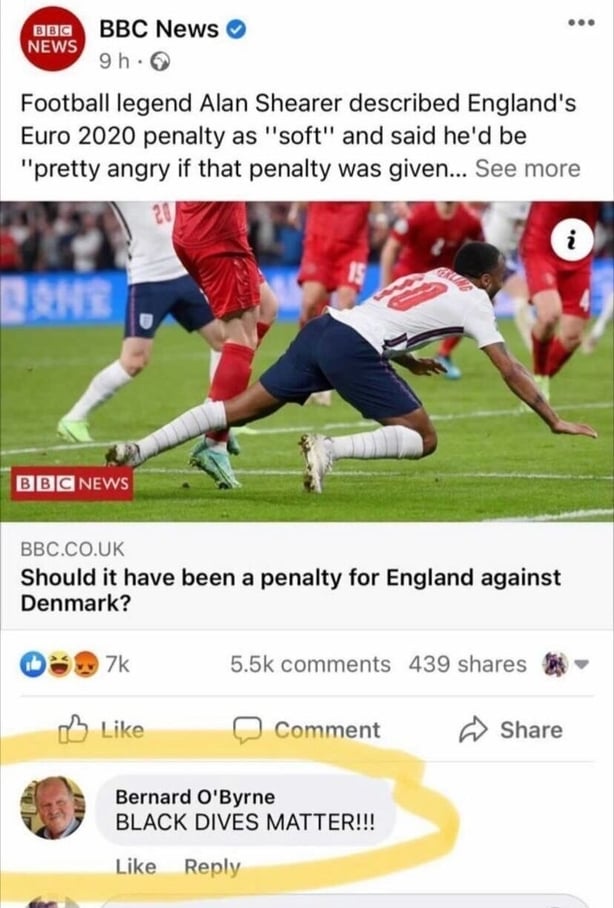 Earlier in the day, a statement from O'Byrne read: "My choice of words commenting on a penalty incident were not thought out. It was an error of judgement and I wholeheartly apologise for the comments."
We need your consent to load this rte-player contentWe use rte-player to manage extra content that can set cookies on your device and collect data about your activity. Please review their details and accept them to load the content.Manage Preferences
Member of Basketball Ireland's committee for diversity and inclusion Hillary Nets has stood down from the committee in response to Mr O'Byrne's comments and insists that the apology offered does not go far enough.
Speaking on RTÉ's News at One, Hillary Nets said: "I've actually stepped off the committee for diversity and inclusion with everything that's happening at the moment.
"I just don't feel like the comments that were made are in support of diversity and inclusion and it's not something that I can put my name towards if those comments are being made."
Mr Nets described the post as "a very insensitive comment".
He said: "When I saw the tweet initially it was very disappointing and I was kind of upset with what was said.
"You know, after all of the events that have happened in the last year and a half, two years, and ongoing events, I think it was a very insensitive comment to put forward after everything that people have gone through in terms of trying to be included in sport.
"Just looking at how diverse our sport actually is, it was an insensitive comment to be put up."
"I definitely agree that they were not thought out, but one way or another they were put up on to a social media website on a very, very public platform with millions of people who click into that on a daily (basis)."
On Friday evening Sport Ireland, which provided Basketball Ireland with €740,000 in funding this year, issued a statement to RTÉ Sport, describing O'Byrne's tweet as "deeply disappointing".
"Sport Ireland notes the apology of Bernard O'Byrne, CEO of Basketball Ireland, following inappropriate remarks he made recently on social media," it read.
"Mr O'Byrne's remarks were deeply disappointing as all national governing bodies and their representatives are expected to promote sport in an inclusive manner and to show leadership on the issue of inclusion.
"Sport Ireland places a strong emphasis on the promotion of diversity and inclusion at all levels, and in all areas of sport. Sport Ireland is unequivocal in its stance against discrimination of any kind and it is incumbent upon all involved in the sport sector to demonstrate that opportunities in sport are open to all.
"As this is now an internal Basketball Ireland issue, Sport Ireland is not in a position to provide any further comment on the matter."