As the Boston Celtics take on the Miami Heat for a spot in the NBA finals this week and next, sitting just behind the shoulder of Celtics head coach Brad Stevens is his most trusted lieutenant, a lithe man of a calm disposition but a figure of an immense value all the same.
Occasionally, he'll gesture towards the floor from the bench and, during timeouts, he can be observed communicating messages to players courtside.
By and large though, he remains a man in the background: visibly invisible, an omnipresent enigma.
The little we do know about Jay Larranaga however is intriguely impressive. His rise to become assistant coach at one of the best teams in the league has been an unorthodox one, in that it began at the National Basketball Arena in Tallaght just over a decade ago.
He was Ireland's player-coach then - between 2008 and 2010 - though he had already played for the country for the best part of a decade. He has since become a guy that is being continuously linked to head coach jobs in the NBA, all the while the Irish connection is gradually fading from memory.
In a way, it perhaps sums up the little we know of his character: relentlessly rising through the ranks and almost always avoiding the spotlight's glare.
"He's a very quiet and understated guy," explains Jared Weiss, a Celtics beat writer with The Athletic."I've learned a good deal about him just from a lot of the stories that I've worked on, learning about some of the work that he does for players. As for his personality and his story, I don't know a tonne honestly because he takes a pretty quiet backseat."
Despite carefully maintaining this hushed personality, those familiar with his time in the Irish set-up witnessed an ultra-competitive character that didn't think twice about stepping on toes. But he was also a consistent source of support, especially for young players arriving into the squad.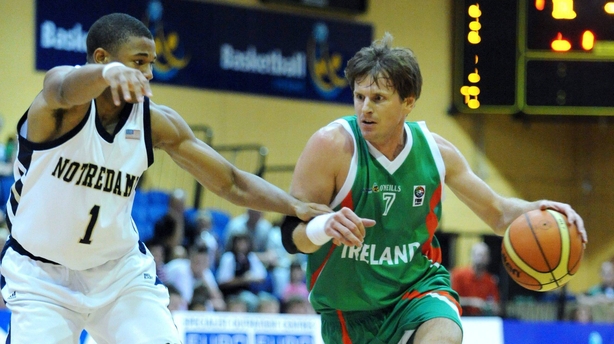 Colin O'Reilly was one such player whose introduction into the Irish set-up coincided with Larranaga then at the peak of his powers.
"Jay was the stud on the Irish senior men's team during their most successful period," he remembers.
"When I moved in and played with him, the first thing I saw was the guy off the court. He's as nice a guy as you'd meet - there's no bad bone in his body. He gets on with everyone, the lowest-ranked people in the organisations and the highest-ranked people."
But on the court, he has that competitive streak as all the great players have. He just flips switches and goes to business.
"The first weeks of training with Jay in the Irish camp, being in the same position as him and being matched up with him, you got the competitive side on the court where he's trying to kick your ass, and then off the court at lunch and dinner he's helping you.
"At that stage of his career he had no business doing that; he didn't need to give the extra time. He had his reputation and he knew where he wanted to go. That was the genuine nature of the guy - he would give you that extra bit."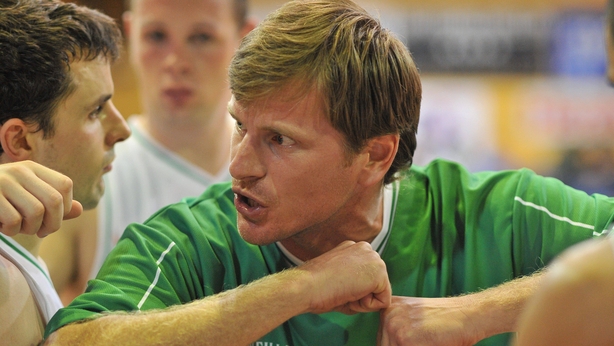 He first appeared in the Irish set-up around the turn of the millennium when word of his Irish passport reached the Irish camp. His grandfather, Vincent Lynch, was born in Cork before emigrating with his family as a child. That alone was more than enough to qualify his grandson to play for the country of his birth; and since he was already playing professionally in Europe, playing for Ireland didn't present too many logistical challenges.
There may have been reservations about his intentions at first. Suspicions of the guy taking advantage of the Irish set-up however, as was the case with multiple overseas-based players during the same period, were quickly cast away, in O'Reilly's experience.
Placing him in the 'Plastic Paddy' pen, he feels, would have been both disingenuous and unfair.
"I'll admit that I did see it in some players who were just doing it because it would get them out of their European team's pre-season or if they were a free agent it would help them get into the shop window by playing international basketball," says O'Reilly.
"With Jay though, I didn't see any of that. There was a connection there. He engrossed himself and was more Irish than some of our Irish guys who had been in the States.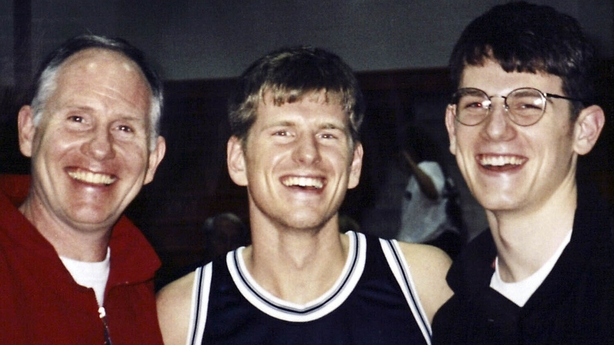 "He had brought in a younger crop of Irish players and given them experience that they wouldn't have received under previous regimes. Everything I saw him do was as if he had the best interests of the Irish team. He wasn't coming over to punch the clock at any stage."
It's symptomatic of a guy who eats and drinks basketball. He grew up immersed in the sport: his father, Jim Larranaga, is a well-known college head coach, still relaying instructions to college players at the University of Miami.
His son was destined to follow in his footsteps and, if he fell short of his desire to play in the NBA, he looks destined for a coaching career that reaches heights well above that of his father in time. Already, it's looking more a matter of when than if.
And Celtics assistant Jay Larranaga gets his revenge pic.twitter.com/xaEkAzETR1

— Chris Mannix (@SIChrisMannix) August 1, 2020
And yet, he doesn't fit the archetypal head coach image. He's probably best known for his subtle techniques and one-on-one sessions, an approach which dates back to his time in South Dublin.
"The one advantage Jay had going back to the States was being able to put on the shorts and shoes and playing one-on-one with players, or two-on-two, and being competitive," says O'Reilly.
"In some cases, he was probably better than them. He's probably still a better shooter than most of the players at the Celtics at the moment."
A trawl through social media is evidence of such, the coach regularly taking on players in shooting contests as lingering reporters capture a rare glimpse of his talents.
"From a coaching standpoint and developing players, if you can get on the floor with them and bump bodies, there's more buy-in from the players. They know that you're going through the growth the same as them.
"He's not a guy that likes to tell you how much he knows about basketball either. He's there for you; he's there for growing what's there. He learns from you and you learn from him. Obviously we're all learning more from him than he is from us but he doesn't come across as that type of coach."
Assistant coach Jay Larranaga got hot in the post-practice 3-point contest vs Jayson Tatum. But ... pic.twitter.com/jjzuXUV2P9

— Chris Forsberg (@ChrisForsberg_) January 2, 2020
That style is now more evident than ever, one of his personal projects, Jayson Tatum, becoming one of the most anticipated young talents in the league.
He's quickly assuming superstar status, leading to hurried - and perhaps lazy - comparisons being drawn between him and pretty much every major player in the history of the game, including none other than Michael Jordan and Kobe Bryant.
The talent has always been there. Now, it's been personally honed by Larranaga, his assigned coach, over these past few seasons.
"I do think that it's not a coincidence that the Celtics had this really promising young player and that they had Jay Larranaga work with him," says Tom Westerholm, presenter of Gino Time, a Boston Celtics podcast, and a beat writer with MassLive.
"His player-development is really, really good and obviously Tatum is the most important player on the team. Something seems to really work there.
"When you see Jay linked with a head coaching job, a lot of the time it's with a team that needs a lot of development - one of his real strengths is doing that."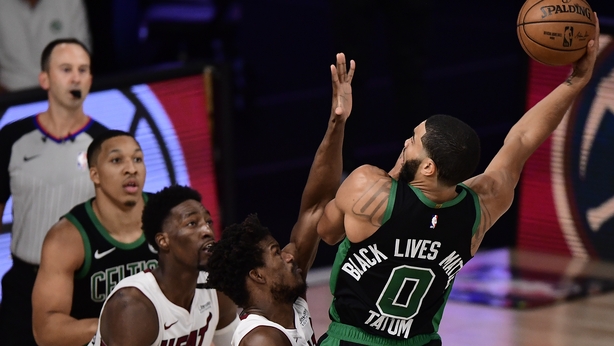 The Celtics noticed this acumen early, picking him up only a couple of seasons after his stint with Ireland when he was coaching Erie BayHawks in the G League. He came in under the revered Doc Rivers at the time before staying on when the younger Stevens took charge in 2013.
"Plenty of ex-college players have entered the coaching ranks but Larranaga really has risen," continues Westerholm. "He's the elite assistant coach for the Celtics - that puts you in a position to become a head coach down the line. I would say it's common for players to join teams but you'd certainly have to be one of the top to get to where Larranaga has.
"Word travels pretty fast in the NBA. It certainly speaks to how good he was in the G League that he got called up that quickly and that he's risen the way he has."
Already, he's interviewed for a number of head coach roles including the Charlotte Hornets, the New York Knicks and the Atlanta Hawks in recent seasons.
"It means that you're definitely one of the more prominent assistant coaches," explains Weiss. "And we haven't seen that many Celtic assistant coaches interview for head coaching jobs.
"There are a few that have left for college coaching jobs but there haven't been too many coaches that have gone to other NBA staffs. Jay seems to be a candidate to take over as a head coach at some point in the future."
So, on one hand, a big job seems imminent. On the other, it would represent a drastic change in the way he approaches his job. By all accounts, being an assistant coach suits his attributes. But the temptation of Larranaga heading an organisation, and assuming the various roles that entails, could still prove too great for both franchise and coach.
"When you're the head coach you've less one-on-one and personal interactions - you're the CEO essentially of the organisation," says Weiss.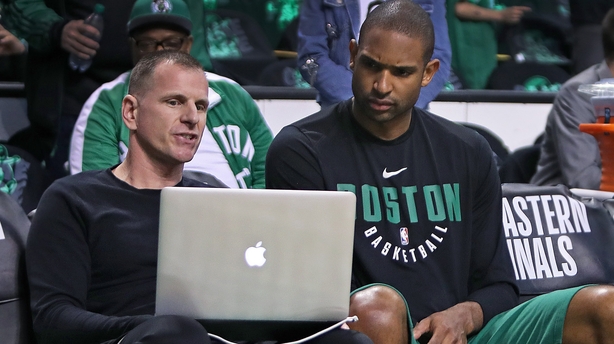 "Jay's style is pretty meticulous and intricate. He's pretty soft-spoken and pretty friendly. He's definitely not the aggressive and in-your-face type.
"I would actually imagine that one of the reasons why he isn't a major head coaching candidate is because he doesn't have this huge outsized personality and head coaches tend to usually have a pretty big personality. He doesn't fit that mould.
"Jay could certainly be a great head coach. I just think it's easier to stand out and attract attention when you stand out and attract attention."
But the Celtics are going well in the Orlando bubble. They're currently in with more than a sniff of a NBA title, what would be their first since 2008 if achieved.
Should they go all the way, the queue outside Larranaga's door would likely grow in size, the offers could flow in and Boston fans could well be on borrowed time with their highly-regarded coach.
Wherever this journey eventually ends up, Ireland can claim to have played a role, providing the setting for its humble beginning, setting the foundation for the subsequent rise. And to think all of it happened in front of a few hundred people just outside Tallaght.