The chief executive of Basketball Ireland has said it is a danger that financial concerns will drive decisions not to call off major sporting events, but said its Board decided to call off basketball events for health and safety reasons.
Bernard O'Byrne told Morning Ireland that its decision while inconvenient is the right one given the 'trajectory' the covid virus is taking.
"It really started yesterday morning when I began to receive a succession of phone calls from around the sport," he said.
"Basically (there was) concern, what's going to happen, can we plan for things in two weeks' time, will our leagues be finished?
"It became evident that a decision needed to be made so that we could give direction to the sport.
"I spent most of the day talking to various people around the country. By mid-afternoon the board and myself had engaged.
"We tried to decide what is the best thing to do, and we came up with this decision to stop all basketball activity.
"A difficult decision, and a decision that will inconvenience a lot of people, but it's coming from the health and safety perspective of everybody in our sport, so we think it is the right one."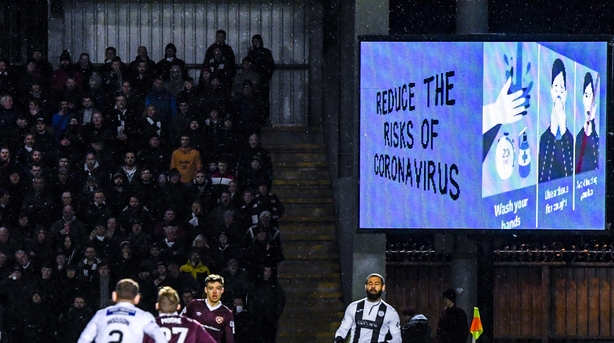 Mr O'Byrne, a former CEO of the Football Association of Ireland, said it is a a big decision for 'the big sports' to call off fixtures and there are financial complications in withdrawing from sporting activities.
He said that he foresees future sporting events taking place behind closed doors or being cancelled as all the premier league matches in the UK were.
"The trajectory would seem to be that way," he added.
"I was astonished that Cheltenham went ahead, with the number of people going over there. I wish them all the best, some of my own family are over there, but I did say to them, 'are you crazy?'
"That seemed to me to be a really odd situation.
"Domestically it's a big decision, especially for the big sports. There are financial complications which we might suffer, much small implications.
"But for the bigger sports there will be financial implications.
"The trajectory seems to be for behind closed door (games), or that fixtures will be cancelled. I see the Premier League fixtures in the UK have gone that way.
"People have been saying that we have the advantage of looking at what is happening in Italy, and what has happened in the UK, so let's not make the same mistakes.
"Let's try to stay ahead of the wave. That was part of our thinking.
Asked about the financial implications overriding health concerns for spectators in other sports in Ireland, O'Byrne added: "I'd have to say it (finance) is less of a consideration with basketball
"I would think that the people making these decision in other organisations are responsible, and they won't let that happen, hopefully."