Kobe Bryant was hailed as an "extraordinary" athlete, devoted father and an inspiration to millions around the world after the basketball great died in a helicopter crash at the age of 41.
The five-time NBA champion and two-time Olympic gold medallist died alongside his 13-year-old daughter Gianna in the incident in California on Sunday morning.
Los Angeles Sheriff Alex Villanueva said nine people, including the pilot, had died in the crash but was awaiting the coroner's report before confirming any identities as it would be "inappropriate" to do so.
NBA commissioner Adam Silver said the organisation was "devastated" by the news.
"For 20 seasons, Kobe showed us what is possible when remarkable talent blends with an absolute devotion to winning," he said in a statement.
"He was one of the most extraordinary players in the history of our game with accomplishments that are legendary: five NBA championships, an NBA MVP award, 18 NBA All-Star selections, and two Olympic gold medals.
"But he will be remembered most for inspiring people around the world to pick up a basketball and compete to the very best of their ability. He was generous with the wisdom he acquired and saw it as his mission to share it with future generations of players, taking special delight in passing down his love of the game to Gianna."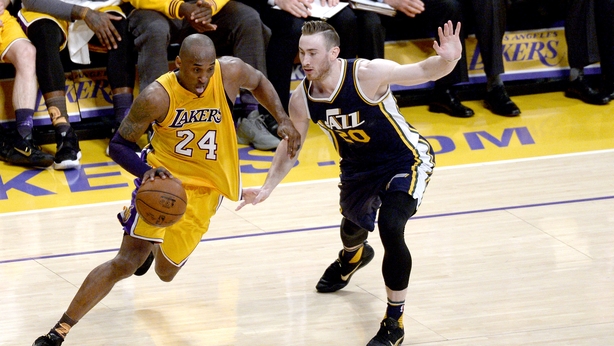 First responders put out the flames at the crash site, the Los Angeles County Sheriff's department said, posting a picture of a fire truck and smoke emerging from the brush in a ravine.
Bryant had been known to use a helicopter for travel since his days as a player for the Los Angeles Lakers, when he commuted to games in a Sikorsky S-76 chopper, the celebrity news website TMZ said.
The Federal Aviation Administration identified the crashed helicopter as a Sikorsky S-76, saying in a statement that the FAA and the National Transportation Safety Board would investigate.
Bryant played all 20 of his National Basketball Association seasons with the Lakers, winning five championships and being named an all-star 18 times.
WATCH: LA County Sheriff press conference following death of basketballer Kobe Bryant in a helicopter crash | Read more: https://t.co/AJ649R2rzf https://t.co/RuKpszvKQ2

— RTÉ News (@rtenews) January 26, 2020
He was the third-leading scorer in league history with 33,643 points, until LeBron James passed him on Saturday.
Nicknamed the Black Mamba, he became eligible to enter the Hall of Fame this year and is certain to be selected when the 2020 class is enshrined.
Bryant and his wife, Vanessa, had four daughters: Gianna, Natalia, Bianca and Capri, who was born in June 2019.
Bryant's star power translated into the entertainment world as he mingled with show-business stars in Los Angeles.
In 2018, he won an Oscar for his animated short film "Dear Basketball."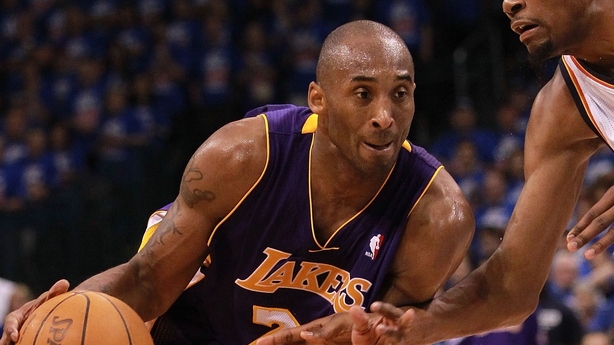 But he was also accused of sexual assault in 2003 by an employee at a Colorado hotel, tarnishing his reputation and leading to a media storm to cover his trial.
Bryant denied the allegations and charges eventually were dropped after the woman refused to testify.
Bryant and his wife filed for divorce in 2011 after 10 years of marriage, but the couple said in 2013 they had reconciled.
Bryant's father, Joe "Jellybean" Bryant, also played in the NBA, and Kobe demonstrated from an early age he would surpass his father's accomplishments.
Five people confirmed deceased, no survivors in #Calabasas helicopter crash. #LASD #Malibu deputies remain with #LA County Fire personnel. Investigation ongoing.

Avoid the area until further notice.

— LA County Sheriffs (@LASDHQ) January 26, 2020
The Philadelphia native went straight from high school to the NBA, skipping the college ranks. Since he was still only 17 years old, his parents needed to co-sign his first contract with the Lakers and he played his first game with the team shortly after turning 18 in 1996.
He also won two Olympic gold medals, part of the U.S. team in 2008 and 2012.
He retired after the 2015-2016 NBA season because of mounting injuries. In recent years, he had focused his attention on philanthropy and business ventures.
His impact on the game could be seen as sporting stars from around the world made tributes to Bryant on social media.
The likes of Lewis Hamilton, Cristiano Ronaldo, Andy Murray, Novak Djokovic, Rafael Nadal, Diego Maradona, Simone Biles and Usain Bolt paid tribute, while politicians and celebrities including Donald Trump, Barack Obama and Justin Bieber also paid their respects.
Kobe was a legend on the court and just getting started in what would have been just as meaningful a second act. To lose Gianna is even more heartbreaking to us as parents. Michelle and I send love and prayers to Vanessa and the entire Bryant family on an unthinkable day.

— Barack Obama (@BarackObama) January 26, 2020
Golfer Tigers Woods said he only found out about his friend's death after finishing his final round at the Farmers Insurance Open at Torrey Pines.
The 15-time major winner, who is a life-long Lakers fan, told the PGA Tour: "It's a shocker to everyone. Unbelievably sad and one of the more tragic days...for me the reality is just setting in."
Asked what he remembers about Bryant, Woods added: "The fire. He burned so competitively hot and the desire to win. He brought it each and every night, on both ends of the floor. Not too many guys can say that throughout the NBA history."
Fans were quick to leave flowers and other tributes to Bryant outside the Lakers' arena the Staples Center on Sunday as well as Bryant's Mamba Sports Academy in Thousand Oaks.
Emotional tributes were held before a number of the day's NBA games, as well as the NFL's Pro Bowl in Orlando.
The NBA schedule continued on Sunday, with teams purposely taking 24-second shot-clock violations and eight-second back-court violations to start the game in tribute, while Paris St Germain forward Neymar made a '24' gesture with his hands after scoring against Lille in Ligue 1.
24 for 24

At the beginning of today's game, we shared a moment with the @Raptors to honor Kobe Bryant. pic.twitter.com/uHdYgUT0Vs

— San Antonio Spurs (@spurs) January 27, 2020