After a rollercoaster of a ride through the Men's Super League 2018/19 season, Garvey's Tralee Warriors were finally crowned champions at their home court this evening.
The Kerrymen came through one of the toughest finishing runs to a season ever, meeting Templeogue two weeks ago at home, going on to a double header weekend against Neptune and Moycullen, before finishing with an incredible double header weekend against UCD Marian this weekend.
And their efforts were rewarded as they ran out 88-73 point winners over the Dubliners tonight.
There were heroes across the court for Tralee – Kieran Donaghy led the charge from the front, dropping three-pointers at crucial stages of the game and fighting hard on every defense.
Keith Jumper, Fergal O'Sullivan and young star and newly crowned local hero, Rapolas Buivydas were also along the stand out figures. 
The Warriors delivered a massive first half performance, which saw them drive into a 55-35 point half time lead, laying the foundations for what was to come.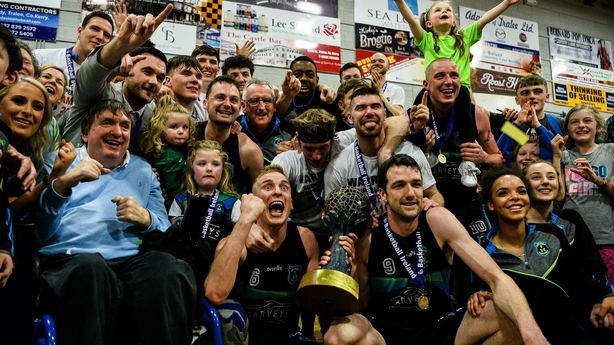 Reigning champions UCD were not lying down easily though and a late surge led by the pacy Elijah Mays saw them close the gap as the clock ticked down, but the work had already been done and as the fourth quarter drew to a close, celebrations were in full swing for the capacity crowd.
"Last night was the winning of it really," admitted Kieran Donaghy afterwards. "We finished with five Tralee lads on the floor last night with other lads in foul trouble and that win, that overtime win, was the winning of it. We knew we had the sixth man in the crowd down here tonight.
"This is what we wanted when we started this. We wanted something the whole town could get behind and it's been a long road, a tough journey of ups and downs, but we got here."
An emotional head coach, Pat Price added: "If you don't dream it won't happen – and we have been dreaming about this moment all season. This kind of thing doesn't happen by accident.
"I'm delighted for them they've earned it and that's how it should happen – you should earn it. UCD were defending champions and they weren't going to roll over, but I'm just so happy and proud of the lads."
Elsewhere, UCC Demons lost out to Pyrobel Killester in their last regular season game of the weekend, 74-99, with Alex Herreros and Luis Garcia Filiberto Hoyos the standouts for the Dubliners on the day.
Over in the Women's Super League meanwhile, Singleton Supervalu Brunell have secured a semi-final berth in the WSL Champions Trophy against the league champions Courtyard Liffey Celtics next weekend thanks to a 70-62 defeat of Cork neighbours Ambassador UCC Glanmire this afternoon.
Danielle O'Leary led the way in the first half, knocking down three threes on her way to a game-high 19 points. While Brunell were behind by four at the first half, a big shot from O'Leary before the interval gave her side the initiative going into the dressing rooms.
Glanmire put a run together in the opening stages of the third quarter, but two big threes from Amy Murphy pegged the deficit back to see the sides separated by on once more going into the last.
Glanmire took an early lead in the fourth, but Brunell's Tricia Byrne was the standout in the closing stages, pushing the tempo and leading her side from six behind to eight ahead with four minutes to play and they drove on from there to see a rematch of this year's Women's National Cup final next weekend.