The men's Hula Hoops National Cup quarter-finals took place this weekend and lived up to all expectations with some epic battles around the country.
Garvey's Tralee Warriors pulled it out of the fire against UCC Demons in Kerry on Sunday afternoon as they came back from a 16-point deficit at half-time to win out by six in the end.
Down by 42-57 midway through the third quarter, it looked like Demons were heading for another Cup semi-final. Tralee talisman Paul Dick stepped up though, and after two huge three-pointers off the bench from Fergal O'Sullivan, the gap began to narrow.
Keith Jumper and Eoin Quigley added points from the free-throw line and suddenly, the margin was down to four points (60-64) going into the last.
A huge fourth quarter followed, with the sides neck and neck as Demons' Brandon Watts, Girts Lazdans and Colin O'Reilly matched the hosts score for score.
Tralee had the final say though, with Dusan Bogdanovic and Jordan Evans getting the crucial final three scores to win 85-79 in the end and book a last-four clash with Pyrobel Killester in the semis.
"I'm so happy for the fellas," Tralee coach Pat Price said afterwards. "They just kept their heads down and worked very hard in the second half. We know we weren't playing to our potential and Demons were punishing us for every mistake. Defensively, we made critical stops in the fourth and our depth paid off tonight."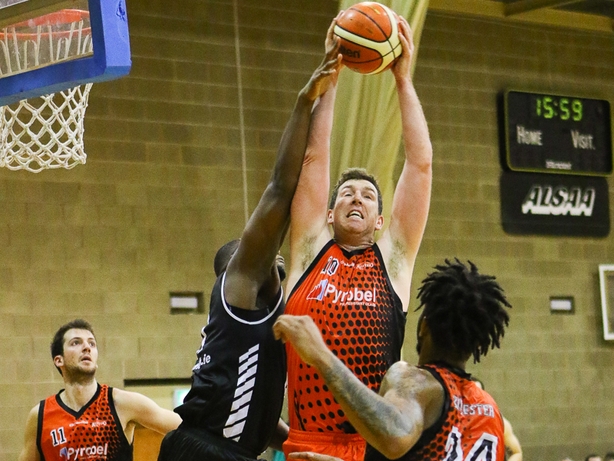 Elsewhere, two big Dublin derbies saw UCD Marian and Pyrobel Killester come out on top, as they ran out winners over DCU Saints and Griffith College Swords Thunder respectively.
Marian stormed into a 47-28 lead at half-time and didn't look back, holding out to win 83-61.
Killester were also dominant over in Swords, easing to a 67-90 win.
Men's Super League leaders Belfast Star are also into the last four after a hard-fought win against Keane's SuperValu Killorglin.
Mike Davis was the top scorer for Star, as a huge third quarter from the hosts helped them home to a 91-78 success.
In the Hula Hoops Presidents Cup, reigning champions Tradehouse Central Ballincollig won their showdown with DBS Éanna in Dublin 73-87.
A stunning display from Andre Nation was the talk of Oblate Hall, as he finished out with 32 points, but he had a superb supporting cast in Ian McLoughlin and Ciaran O'Sullivan.
Elsewhere, Limerick Celtics caused the big upset on Saturday evening as they won out in style in an overtime showdown with Scotts Lakers St Paul's Killarney in Kerry.
With nothing separating the sides at the end of regulation (70-70), Celtics' stepped up through American Turrell Morris [who finished the game on 39 points] and Alvaro Martinez to win out 81-83.
IT Carlow Basketball and a depleted LYIT Donegal went head-to-head in the Barrow Centre, with Carlow taking the honours in emphatic fashion, winning out 108-62.
Top scoring from Kevin Donohoe and James Butler was the difference for Carlow on the day.
In the Women's Super League meanwhile, DCU Mercy had 20 points to spare over old rivals Ambassador UCC Glanmire, winning 83-63.
The two sides will face each other again in Dublin next weekend in the Hula Hoops Cup quarter-finals.
Courtyard Liffey Celtics stay unbeaten after they ran out 62-73 winners against IT Carlow Basketball, while NUIG Mystics were denied a first win of the season against Singleton SuperValu Brunell, who managed to hold on to win by six.
The final Super League game of the weekend saw Fr Mathews and Maxol WIT Wildcats play out a ding-dong battle in Cork, with Mathews just holding on to win by three, 77-74.
The Hula Hoops Women's National Cup quarter-finals will take place next weekend.