Ireland 62-73 Norway
A packed crowd lifted the roof off the Mardyke Arena UCC this evening, but it just wasn't enough to drive the Ireland senior women's basketball team over the line as they lost out to Norway in their opening group game at the 2018 FIBA Women's European Championship for Small Countries.
A top class display from Norway's Tina Moen – who finished the game on 30 points – was one of many talking points in a gripping game of basketball. Indeed, Moen did enormous damage right from the off, bagging a whopping 17 points in the opening quarter. Huge work from Ireland's Sarah Woods at the other end of the court kept the home side in it though, to trail by just three at the end of the first (25-22).
A much better second quarter performance from Ireland saw them get to grips with the Moen threat somewhat, and begin to link up some nice moves of their own, with fantastic scores from Fiona O'Dwyer and captain Grainne Dwyer.
Last year's Under-18 star, Sorcha Tiernan, also featured in the quarter, holding the unique honour of an Irish player who has competed in two home European Championships, and chipped in with a baseline drive early on.
And @basketnorge take the win 73-62 against Ireland #FIBASmallCountries at the @MardykeArenaUCC - hard luck girls!! pic.twitter.com/gKdCRkPB8N

— Basketball Ireland (@BballIrl) June 26, 2018
Huge defense across the board from Ireland – with Amy Waters a stand out for the girls in green – edged them into a 41-33 point lead at the half much to the delight of the crowd.
It was the third quarter though where things began to unravel for the Irish as, despite a strong start, Norway soon went on a 9-2 run and began to take the reins of the game. Ireland rallied, but despite their possession, they just couldn't convert. At the other end it was the opposite, with shot after shot dropping for Norway to see them lead 58-51 going into the last.
A tough and gritty fourth quarter ensued, with Ireland again struggling to contain Moen who dazzled once more in this quarter. Claire Rockall, O'Dwyer and Edel Thornton tried to pull some scores back for the home team, but momentum was firmly with Norway and they stormed home to glory, winning out 73-62 in the end.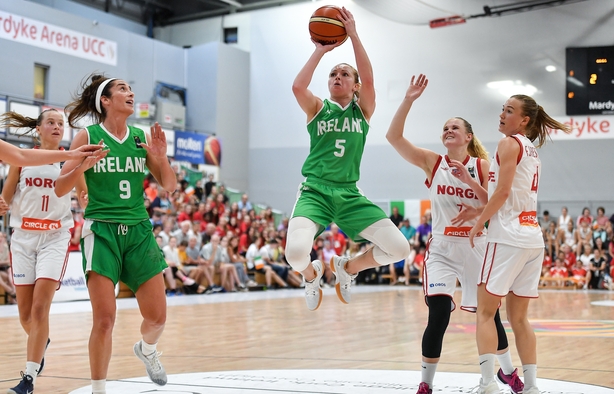 Speaking afterwards, Ireland head coach, Mark Scannell said: "We're hugely disappointed. We started very poorly, we recovered well in the second to lead at half time and we were in control for a lot of the game, but in the third quarter, we stopped scoring – shots just stopped dropping.
"They were a very good team. They shot the ball really well, they didn't miss too much and they have two or three really top class pros who hurt us an awful lot. I thought we were ready, but at times they found us out. We have a lot of work to do in the next 24 hours to try and get this right or it will be a short tournament for us."
Ireland face Luxembourg in their second group game tomorrow [Wednesday, 27 June] at 6.15pm
Ireland: Aine McKenna, Sarah Woods (18), Casey Grace, Claire Rockall (7), Amy Waters (2), Grainne Dwyer (12), Danielle O'Leary (2), Fiona O'Dwyer (17), Sorcha Tiernan (2), Hannah Thornton, Edel Thornton (2).