The Ireland U18 women dared to dream at the National Basketball Arena in Tallaght and it certainly paid off.
They earned a historic and memorable 68-57 point win against Poland in the semi-final of the FIBA U18 Women's European Championship Division B.
The final will take place on Sunday night at 8.30pm in front of what is set to be another sell-out crowd in Tallaght.
There was double cause for celebration as the promised land of Division A basketball is now on the cards for the team in 2018, they have officially been promoted for next year's championships.
This squad now have the unique honour of not only being the first Irish basketball team to reach a European Championship final, but to also play Division A basketball.
"It's hard to believe. I'm lost for words, said head coach Tommy O'Mahony.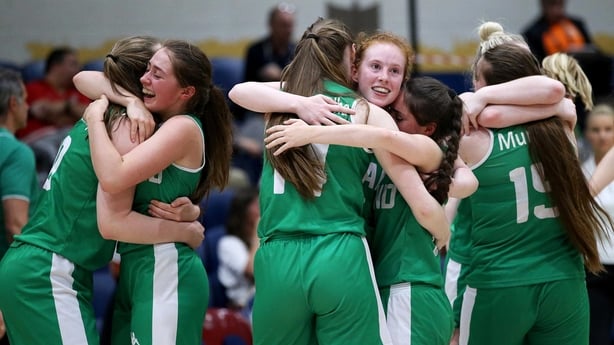 "They were absolutely fantastic, especially when there was only four points in it down the stretch with a minute or two to go they stepped up, nailed some shots – it was absolutely fantastic.
"We lacked a bit of composure at times, we didn't do what we were supposed to do on things, but we got them refocused in the second quarter and did a lot better job.
"I think they're mature beyond their years out there and it's a night that will live on in the memory for a long time."
Indeed, it was Poland who got the better of the opening exchanges as the girls in green struggled to settle their nerves.
The thunderous crowd at the National Basketball Arena were behind the Irish from the get-go and there was huge applause when Dayna Finn scored Ireland's first basket.
Poland's 5-0 scoring run halted momentum and they maintained their lead, 15-9 at the end of the first quarter.
Ireland Under 18 Women are going to a EUROPEAN FINAL BABY!!! And we are officially promoted!!!! 🏀🏀🏀🏀#FIBAU18Europe pic.twitter.com/57Kv8OwPyz

— Basketball Ireland (@BballIrl) August 12, 2017
Ireland took back the lead two minutes into the second quarter, after a fantastic scoring run was finished off by Sorcha Tiernan's pinpoint three, which forced the Polish to call a timeout and regroup.
The emphatic roar of the Irish fans guided the team on and they led 28-23 at halftime.
There was a deafening roar when Dayna Finn weaved her way through the Polish defence and put Ireland ten points up as the third quarter ticked by.
And both Claire Melia and Rachel Huijsdens made huge threes to hold on to a two-point lead going into the last.
The crowd were in full song when Louise Scannell came off the bench to make two huge scores in the fourth and though Poland matched them score for score, they began to have troubles of their own when their top scorer Julia Nielacna was fouled out.
In the end, it was destined to be Ireland's day as they booked their place in the European Championship final on a scoreline of 68-57, with their opponents being decided on court at the NBA right now as Germany face Great Britain.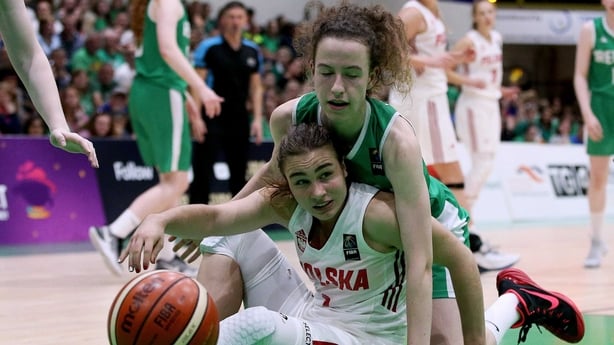 Elsewhere, there were more celebrations as Ireland Under 16 men also ran home to a huge victory at their FIBA U16 European Championships, when they drove home to a 98-56 win over Norway in their third group game this morning.
"The team earned that win today," said Head Coach, Pat Price.
"They didn't take a break at all in terms of focus and execution and when you have work rate like that you get that type of result."
Today's win came off the back of another big win for the squad on Friday afternoon which saw them overcome the Slovak Republic.
A superb display from the entire team today saw eleven of the twelve squad members get on the scoring, with the Ireland showing their passing and scoring prowess throughout.
The squad have a rest day tomorrow before playing Bosnia and Herzegovina on Monday.