Griffith Swords Thunder have been crowned Hula Hoops National Cup champions after an extremely convincing 21-point win over Pyrobel Killester in the final at the National Basketball Arena in Tallaght.
President Michael D Higgins was in the Arena to witness a superb MVP performance from Jose Maria Gil Narbon and a powerful point guard display by Isaac Westbrooks in the face of friends and former team-mates.
A Killester trio of 2010 National Cup winners all started the game with Al Casey captaining the side alongside Peder Madsen and the indefatigable Jermaine Turner.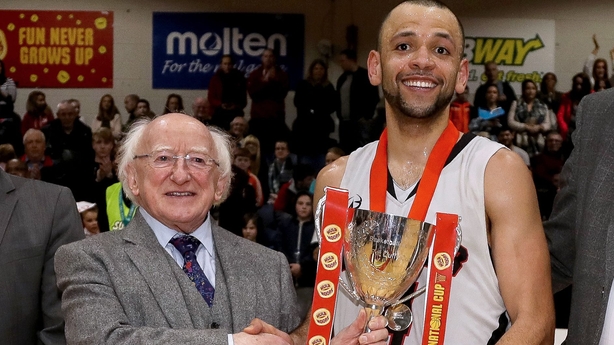 It was Swords who built up an early lead though, before Killester young gun Paddy Sullivan brought them back into contention when he let fly with his first touch of the game for three points.
Turner's reintroduction late in the first brought with it his first and only Superman impression of the evening, and while it looked destined to be a low-scoring game, with 27 points off the bench, Dave Baker's side had enough fire power for a six-point lead at half-time.
Swords really began to dominate in the third keeping Killester scoreless for the last four minutes of the quarter, and it was a case of seeing the win safely home as Westbrooks was on hand to guide them to glory.
"I won't let this Cup out of my hands," said head coach Dave Baker afterwards.
"I'm over the moon, it's an incredible experience. Last year we were on the opposite end of it, this year we're lifting it – I won't let it out of my hands.
"We've taken our focus off games before, but we kept going and kept fighting. The guys were incredible this evening, everyone chipped in and worked for each other, they're amazing."
Earlier in the evening meanwhile, BFG Neptune made it two wins from two finals as they clung firmly on to their lead to win out 97-85 in the end after a thrilling clash with Ej Sligo All-Stars.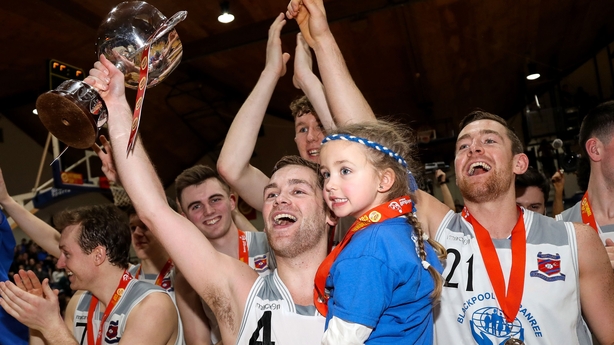 Neptune were led by their talisman Sean Jenkins who finished with 32 points, along with Gary Walsh who netted five three-pointers at crucial times for the Cork side.
A fast-paced and competitive final was in store for fans, with Sligo having the better of the opening exchanges to storm into an early lead.
However, a superb second-quarter display from Neptune including a half-court buzzer beater from Gary Walsh tied the game at 49 apiece and Neptune were on their way to glory.
"We've taken every day like it's the last final, we couldn't plan too far ahead of any game," admitted head coach Paul Kelleher.
"Our young players blended extraordinarily well with our senior players."