Men's National Cup Final
C&S UCC Demons 91-65 UCD Marian 65
C&S UCC Demons proved too strong for UCD Marian in an entertaining final at a sold out National Basketball Arena in Tallaght tonight.
Marian were strong and defiant throughout, but ultimately Shane Coughlan was given the chance to lift the Men's National Cup trophy as captain for a record sixth time.
Demons went about their business in an easy to watch manner. Ciaran O'Sullivan shot a three-pointer with his first attempt. His brother Adrian O'Sullivan turned a shot into a pass at the top of his jump to find Niall O'Reilly in the short corner.
O'Reilly batted to and Lehmon Colbert and Demons were clicking.
For UCD Marian, Dan James looked miffed by all the pre-game talk of Demons' perimeter threat - the UCD Marian shooting guard was 2/2 from outside the arc in the opening quarter.
Neil Baynes was another Dubliner paying no heed to the Demons reputation and his inside baskets made him top scorer for the early exchanges with UCD leading 23-21 for the first quarter.
Their lead was out to 5 points with 6:31 left in the half when Michael Chubb drained a three pointer.
Barry Drumm was unleashed on court for the first time in 11 weeks and his driving was giving UCD Marian a depth of options. The temperature was rising and the tempo was picking up.
It was the perfect climate for Demons to do their thing.
Kyle Hosford went coast to coast for the second time. Shane Coughlan followed up with a three-pointer. O'Reilly combined twice with Coughlan in a single fast break. A 10-0 run saw C&S UCC Demons lead 47-32 at half time.
Conor Meany got the second half under way and UCD were getting buckets inside through Neil Baynes who doubled his tally to 18 points.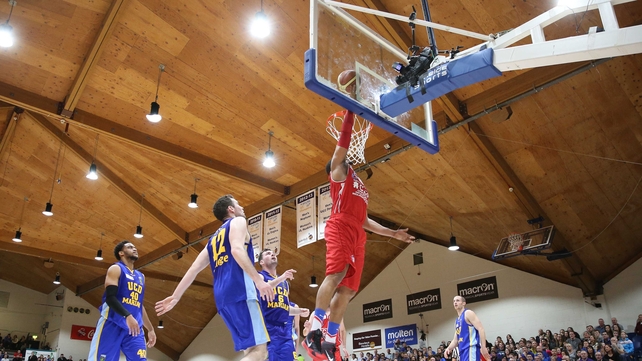 The key stat, however, was the accuracy of Lehmon Colbert. Colin O'Reilly was looking to bring him into play and it was clear why – he shot 100% for two-point field goals with 9/9. His buzzer beater closed out the quarter with the scores at 67-49. It was an MVP winning performance.
"We came out swinging," the American said in the aftermath. "We knew what UCD Marian were going to come out with and they were really strong early on.
"We just needed to be patient and the team really pulled together as the game went on."
UCD Marian needed a run but the seven players who'd carried the game for them had given it everything.
Both sides emptied the bench late on as players and fans alike looked to squeeze the last out of Irish Basketball's marquee event.