Darragh McElhinney and Sarah Healy claimed their first national senior titles at the 123.ie National Cross Country Championships in Donegal this afternoon.
Both Healy (21) and McElhinney (22) were pushed all the way in quality senior races, but it was the UCD pair who would ultimately star on a day filled with outstanding performances across the 10-race schedule.
The women's 8,000m race came down to a duel between two 1500m specialists in Healy and European silver medallist Ciara Mageean. Both athletes raced side-by-side over the first 5,000m before making a decisive move, which saw them broke from a group which included defending 2021 champion Michelle Finn (Leevale) who ultimately crossed for third.
Healy waited until the final uphill climb before making her race-winning-move, which saw her surge clear on the run for home, crossing the finish 15 seconds clear to take her first Irish senior cross-country title in 27:05.
Mageean's performance to claim silver was made all the more impressive in that the City of Lisburn star was forced to run much of the final lap with one spike.
Healy said: "I'm so excited, it means a lot to me against such good girls. I enjoyed it, as much as you can enjoy 8K cross. It's a very scenic course."
Dublin City Harriers were led home by Lauren Tinkler (7th) to claim the team title with an impressive showing, which saw four athletes finish in the top 20.
The men's race was hugely tactical from the gun with likely contenders Efrem Gidey (Clonliffe Harriers), Peter Lynch (Kilkenny City Harriers), and Hiko Tonosa Haso (DSD AC) paying close attention to any potential moves from McElhinney.
Haso was first to make his move for home from 600m out, but McElhinney covered it expertly, using the descent off the final hill to open up a sizeable gap, which allowed him enjoy the finishing run-in to his first senior gold in 29.59.
Haso crossed four seconds behind, with Peter Lynch claiming a superb bronze ahead of Gidey, who led Clonliffe to the team title.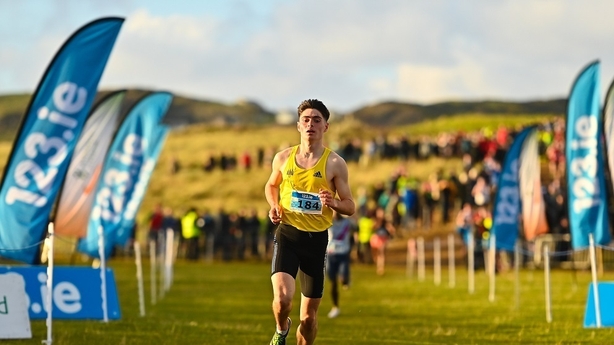 McElhinney said: "After winning the indoor (3,000m) and outdoor (5,000m), I wanted to make it three and win the cross country, and it was probably the most challenging as I'm more comfortable on the track,".
"It took me a while to get going, but I felt comfortable the whole way. Being at the course yesterday, I knew if I wanted to win I had to be the strongest going up the last hill and I did that."
For the Glengarriff native, the win erased much of the pain of his 2021 defeat.
"Last year was my first year running it and I was disappointed with the way I ran it, I didn't make good decisions during the race but today, I executed it the way I wanted to," he said.
In the men's U-20 race, Nick Griggs (Mid Ulster AC) prevailed in another exhilarating contest with Dean Casey of Ennis Track, the 17-year-old eventually breaking from Casey over the final bends to win by two seconds in 17:43.
Casey took a well-earned silver with Jonas Stafford in third, also booking his spot on the Irish team.
Leevale's Anika Thompson was a decisive winner of the women's U-20 title after making the trip from Oregon for the event. Thompson finished clear of Anna Gardiner and Roise Roberts (North Belfast Harriers).