Dunboyne's Peter Somba became the first man to win all four races in the Irish Life Dublin Race Series by winning the Dublin Half Marathon in the Phoenix Park this morning.
The Kenyan-born athlete cruised to victory in a time of one hour, seven minutes, and thirty-five seconds to complete the full set on the series, having won the Fingal 10k and Frank Duffy 10 Mile earlier this year, as well as previously winning the Tallaght 5 Mile.
Somba led from the beginning of the race to finish 14 seconds clear of Portmarnock AC's Graham Gilshinan (1:07:35), with Celbridge's Martin Hoare finishing third as he had done in the Frank Duffy 10 Mile (1:08:42), on what was a glorious morning for running in the capital.
Somba, who now turns his attention to next month's Irish Life Dublin Marathon, expressed his delight after the race.
"I'm very happy to win three of the four races [this year] in the Dublin Race Series," he said. "It was a tough course, but I enjoyed it."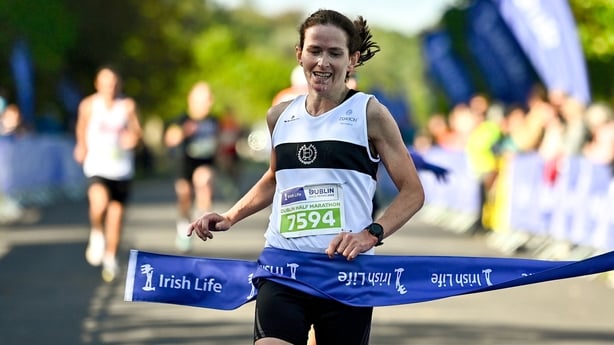 Barbara Cleary (Donore Harriers AC) worked hard in the second half of the race to take the women's title in one hour, eighteen minutes, and fourteen seconds, just ahead of long-time leader Caitlyn Harvey of Annadale Striders AC, who was ten seconds further back (1:18:24).
Jan Corcoran of Le Cheile AC knocked nearly three minutes off her personal best to finish third (1:20:40), in a gutsy performance.
Cleary was thrilled to take victory as she completed her comeback from a recent calf injury.
"I'm delighted now, I didn't even think I'd break one hour twenty minutes today so I'm really happy.
"I had a very good first half, nice and controlled, and then I was able to really speed up in the second half and catch Caitlyn there at the end.
"It was great having her there, it probably made my time a bit faster in the end," she said.
Results
Men: 1 P Somba (Dunboyne AC) 1:07:35, 2 G Gilshinan (Portmarnock AC) 1:07:49, 3 M Hoare (Celbridge AC) 1:08:42.
Women: 1 B Cleary (Donore Harriers AC) 1:18:14, 2 C Harvey (Annadale Striders) 1:18:24, 3 J Corcoran (Le Cheile AC) 1:20:40