Ciara Mageean has smashed Sonia O'Sullivan's long-standing Irish 1500m record with a stunning run that saw her beat rival Laura Muir for first place in the Diamond League in Brussels.
Mageean, who finished second to Muir in both the European Championships and Commonwealth Games, finally got the better of her Scottish opponent, claiming victory in a time of three minutes 56.63 seconds.
That time was not just the fastest that 30-year-old has ever run, beating her previous best of 4:00.15, but it also broke O'Sullivan's previous Irish record of 3:58.85, which had stood since 1995.
Muir finished second in the Belgian capital in 3:56.86, with Ethopia's Freweyni Hailu taking third, just .31 behind Mageean in a tight finish.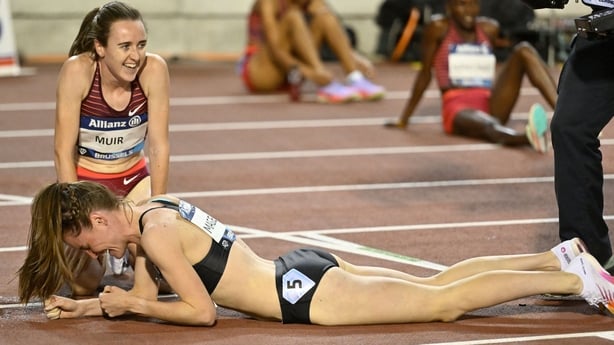 As the bell sounded for the final lap, Mageean found herself in fifth place as Hailu's compatriot Diribe Welteji attempted to forge further clear at the head of affairs.
Hailu and Muir, who was having her 18th race of a long season, went in pursuit as Mageean improved into fourth.
The Portaferry star breezed past Muir with ease as they rounded the home bend and edged ahead of Welteji as they hit the home straight before digging deep to repel her rivals, including Muir, who found a second wind to rally as they hit the line.
Speaking afterwards, Mageean said she was "on cloud nine", admitting that she never foresaw herself running a time of 3:56.
When we grow up we want to be @ciaramageean 🤩🤩🇮🇪

pic.twitter.com/pwfaYFcKSm

— Athletics Ireland (@irishathletics) September 2, 2022
"I thought I had it in me to go under four (minutes)," she told World Athletics. "I thought I had it in me to get a new Irish record.
"It's never going to be easy to go a low 3:58 having never gone under four before. I knew it was there on my day. I didn't really fathom a 3:56, to be perfectly honest, so I am on cloud nine.
"To be in the same realm as Sonia O'Sullivan, who is not only a renowned athlete in Ireland but globally – she's a name everybody knows – to be able to put myself up there and compete with her times and now to surpass them, it's something I've always dreamed of.
"That Irish record has been in my sights a long time. I'm glad I've finally been able to put my name to it."
Congratultions @ciaramageean winning Brussels Diamond league 1500m and new Irish record old record nearly as old as Ciara is young . Great to be in the stand to witness such a great race by Ciara who has had a great season and was not afraid to lose tonight @Diamond_League pic.twitter.com/v5zFhuwNMh

— sonia osullivan (@soniaagrith) September 2, 2022
Earlier in the evening, Chris O'Donnell impressed in finish second behind home favourite Kevin Borlee in the 400m in 45.78.