Andrew Coscoran finished ninth in a European Athletics Championships 1500m final won at a canter by Jakob Ingebrigtsen.
The Norwegian Olympic champion hit the front early on and was never in danger as he took gold in 3:32.76. Great Britain's Jake Hayward was second (3:34.44) and Spain's Mario Garcia claimed bronze .44 of a second further back.
Dubliner Coscoran was in the trailing pack for most of the race but finished strongly in 3:39.91, more than a second slower than in his heat and over four seconds off his personal best.
'It's not the result I was looking for. Ninth in Europe isn't bad. Made a final and got in here and gave it socks' - Andrew Coscoran reflects on his 1500m final performance with @DavidGillick
#rtesport #Munich2022
📺 https://t.co/XnOP6grnB7 pic.twitter.com/RAj5ZPbC15

— RTÉ Sport (@RTEsport) August 18, 2022
Coscoran had hoped he would have had more in the tank for a higher finish.
He told RTÉ Sport: "It's not the result I was looking for but ninth in Europe isn't bad. I made a final and got in here, gave it socks, but didn't quite have the legs today. I should have had the legs but it can't be done in every single race, just disappointing."
On his quest to keep up with the early move made by Ingebrigtsen, he added: "The only thing you can do is sit in, kind of relax, steam the pace, and hope you have enough to close and keep up at the end. Obviously I didn't have enough to keep up with him."
'I think I'm better than 15.33 but I wanted to leave it all on the track' - Roisin Flanagan chats to @DavidGillick after her 14th place finish in the 5000m final #rtesport #Munich2022 pic.twitter.com/nBjcbf2KBM

— RTÉ Sport (@RTEsport) August 18, 2022
Roisin Flanagan was 14th in the 5,000m final. The Tyrone woman ran 15:33.72 in a race won by the home favourite, Sonia O'Sullivan-coached Konstanze Klosterhalfen in 14:50.47.
Turkey's Yasemin Can took silver and GB's Eilish McColgan bronze.
"I'm a little disappointed because I think I'm better than that," 25-year-old Flanagan told RTÉ Sport.
"But at the same time it's my first European senior championship on the track.
"I wanted to leave it all on the track and even though it wasn't my best I think I did that."
'Thank you Sonia so much, I send you lots of love... I know you won the title in Munich as well!'
Koko Klosterhalfen gives a shout-out to her coach Sonia O'Sullivan in the RTÉ studio after her stunning win in the 5000m final #rtesport #Munich2022 pic.twitter.com/fDeZ2yPFSn

— RTÉ Sport (@RTEsport) August 18, 2022
Mark English put in a commanding performance to win his 800m heat and book a place in Friday night's semi-finals at the European Athletics Championships in Munich.
The 2014 European bronze medallist settled in quickly, tucking in behind early leader Benjamin Robert of France on the inside.
The Letterkenny man maintained his tempo and when Robert left a slight opening shortly after taking the bell, the seven-time national champion saw his opportunity to ease past and keep his nose in front to the line to clock a winning time of 1:47.54.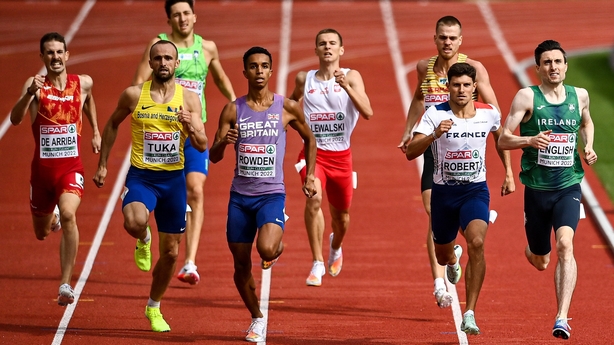 The controlled run was the 10th fastest of the 16 qualifiers, though the Donegal man admitted he had a moment of panic during the first lap.
"I was panicking a little bit after the first lap as I was boxed in, so thankfully, that opened up," said English.
Mark English won his heat to qualify for the semi-final of the 800m after a 'commanding' performance - Watch live coverage of the European Championships on @rteplayer #Munich2022 #rtesport pic.twitter.com/ag9mS6UXfy

— RTÉ Sport (@RTEsport) August 18, 2022
"There were a lot of good guys in that race, it was a world championship calibre [race]. You had a world silver medalist in there and four guys who made the world semi-finals, and I knew if I left it any longer, I wouldn't have been able to move out."
He will not be joined by his compatriot John Fitzsimons.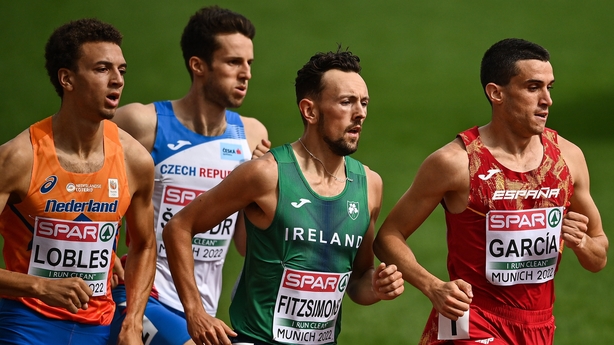 The third 800m heat, after a false start, began with a steady pace before Mariano Garcia of Spain upped the tempo. Fitzsimons tucked in alongside the Spaniard and made his play on the final bend.
The 2021 national champion attempted to go wide, but the move failed to pay off and he slipped down the placings on the home straight to finish seventh in 1:48.22, well outside his PB of 1:45.66 set earlier this summer.
"I'm gutted not to make it through, devastated," said Fitzsimons. "I ran the whole thing in lane two – amateur hour – and how did I expect to fend off the lads of that calibre behind me?
'I'm disappointed, I'd be lying if I said I wasn't disappointed' - Thomas Barr after his third place finish in the 400m hurdles wasn't enough to reach the final #rtesport #Munich2022 pic.twitter.com/uMR8v2YlyO

— RTÉ Sport (@RTEsport) August 18, 2022
"I went way too early and ran it so poorly. I'm so upset with myself to go out there and blow it, running like a donkey."
Thomas Barr was unable to book his passage into the 400m hurdles final.
The 30-year-old, who claimed bronze at the 2018 Europeans, finished third in his semi-final in 49.30, but failed to secure one of the two fastest non-automatic qualifier spots.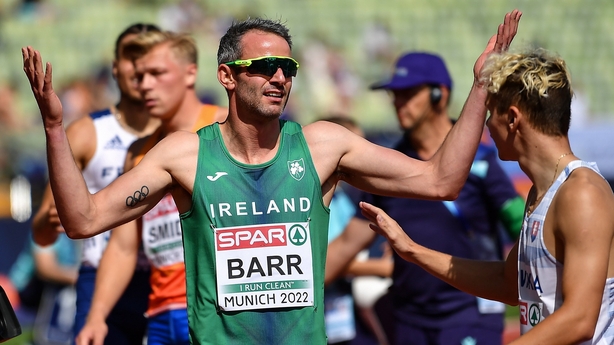 Wilfried Happio of France and Germany's Joshua Abuaku dominated the first semi-final, with Happio winning in a time of 48.89.
Stationed in lane eight, Barr breezed over the final hurdle and cut down the deficit to the German to register a time of 49.30, eclipsing the 49.49 posted in winning his heat earlier this week.
Ultimately, it wasn't enough. Barr's time was the seventh fastest overall from the semi-finals, but Switzerland's Julien Bonvin edged his time out by 0.2 for the second of the non-fastest qualifier spots.
"It was frustrating. I can't seem to catch any luck this season," said Barr, who has now finished ninth in both the World and European Championships this summer, missing out on final places by one position.
"I felt like I set the race up pretty well, I was really relaxed. It felt like a really smooth race.
"I felt the guys (Happio and Abuaku) coming up on my shoulder at hurdle seven and eight. I thought, right, I'll catch those two boys now and pick it up on the home straight, but I didn't quite have the zip there. Possibly a lack of training and race practice.
"I'm still able to run fast times, it just wasn't there this week unfortunately."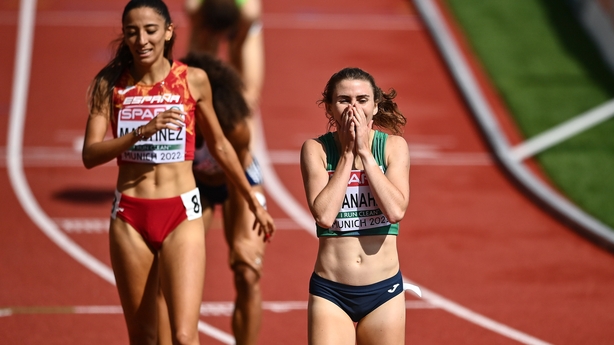 Louise Shanahan secured automatic qualification to the women's 800m semi-finals tomorrow morning with a well-executed race strategy.
The Tokyo Olympian knew a top-three position in her heat would be enough to guarantee her progression and began in aggressive manner, jostling her way to the front of the pack.
Two-time European silver medallist Renelle Lamote led them around with Shanahan, who is studying for a PhD in Quantum Physics at Cambridge University, taking the bell in fourth and tucked inside on the curve.
The Leevale athlete came off the final bend strongly to move up the field, and while Alexandra Bell edged past to claim second, Shanahan remained composed to secure a top-three position with a time of 2:02.80.
"I went out quite aggressively," she said afterwards. "I was quite happy with my position. It slowed a bit through the bell and I got a little boxed in.
"I felt quite strong coming up through 200 metres and thankfully the gap opened up on the home straight. It was really helpful to have the big screen above the finish line.
'That is a graduation in class for Louise Shanahan' - The Irish No. 1 qualified for the 800m semi-final after a third place finish in her heat this morning #Munich2022 #rtesport pic.twitter.com/EC1UrcUboq

— RTÉ Sport (@RTEsport) August 18, 2022
"I knew the others were there and were pushing, but I also knew I had another gear and because I could see the screen I knew I could react if I thought they were getting too close."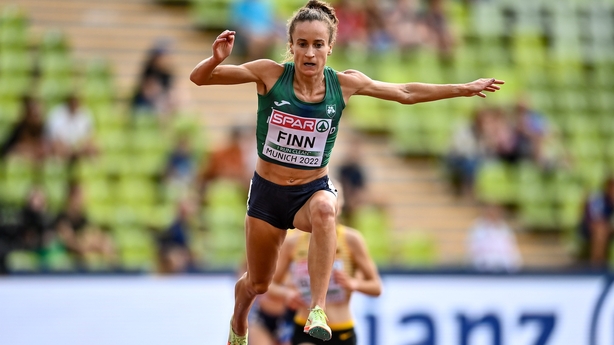 Michelle Finn advanced to the final of the 3000m steeplechase, while Eilish Flanagan failed to make it through.
The Irish pair were among 31 starters across the two heats this morning vying for a top-five finish, or among the five fastest qualifiers for Saturday's final.
Two-time Olympian Finn snuck in as the final qualifier based on her time of 9:49.85, just outside her season's best, in finishing seventh in a fast opening heat.
"I think I got lucky this time," she said. "I could tell I hadn't raced much this season and I was definitely rusty. My plan was to go for the top-five, and if I fell apart, I fell apart.
"For some reason I didn't do that. I was happy with myself that I was able to sprint down the home straight and I think there is more there for the final."
Finn Valley athlete Flanagan finished 12th in the second heat, clocking a time of 10:00.02.
Finn ran an assured race, settling into the back of the leading group with Turkey's Tugba Guvenc and Albania's Luiza Gega setting the early pace.
As Gega pushed out her advantage, the Leevale athlete became detached from the pack, but a strong surge down the home straight secured her passage through.
The formidable Gega was first across the line in a time of 9:30.39, with second and third claiming season's bests.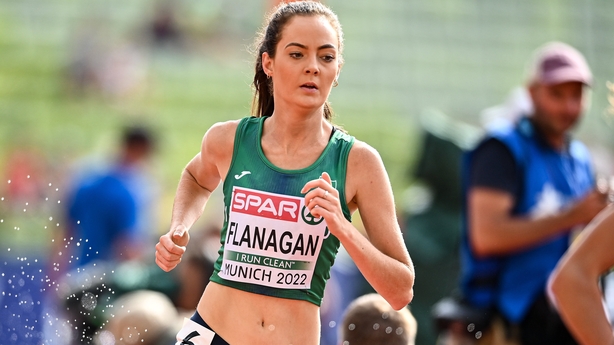 Flanagan, a 2019 European under-23 silver medallist, spent the majority of her race in 10th position, but struggled coming off the final bend to eventually finish 12th in a race won by reigning German champion Lea Meyer in 9:39.59.
"I didn't have too high expectations given my build-up and injuries," the 25-year-old said afterwards.
"I'll still use it going forward to get that experience under my belt, but any time I wear my country vest, I want to do my country proud. To not be able to do that today is disappointing."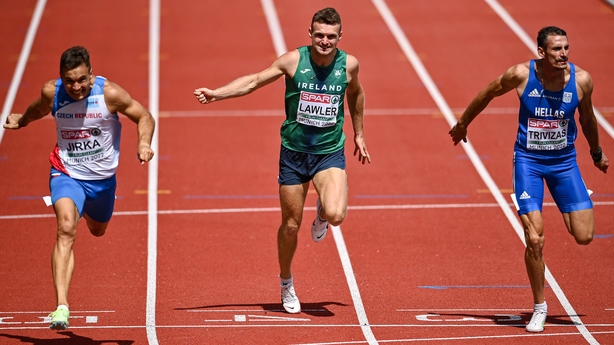 There was disappointment for Marcus Lawler who made an early exit in the heats of the men's 200m.
The Carlow native, competing in his third European Championships, made an encouraging start to the first heat, but was unable to stick with the pace coming off the bend.
The 27-year-old had to settle for seventh place and a time 21.20, well outside his season's best of 20.75.
Watch live coverage of the of the European Championships on RTÉ2 and RTÉ Player