Irish Olympian Sarah Lavin has three meets in six days coming up, but the first hurdle she had to negotiate this week was arguably the toughest: getting through Dublin Airport.
The Limerick athlete is having a fine season, most notably finishing seventh in the final of the 60m hurdles at March's World Indoors after setting two PBs in a breakthrough showing.
That was a real moment of redemption for the 28-year-old who admits her failure to get out of her heat in the 100m hurdles at last summer's Tokyo Games still hurts.
Lavin is desperate to further prove she can live with the best and is working towards the World Outdoors in Oregon this July, and then August's Europeans in Munich.
Hence the current busy schedule - and trek through the choc-a-bloc airport - as she tunes up for a big summer.
On Friday Lavin competes in Bydgoszcz, Poland at the latest Gold meeting on the World Athletics Continental Tour.
It's off to the Netherlands for the FBK Games on Monday, and then she flies to South Africa for another event on Thursday.
Busy times, but her targets are crystal clear.
"It doesn't matter what you do on the circuit, it's what you do with the Irish vest on."
"When I go to the World (Outdoor) Champs I definitely want a better performance than I had in Tokyo last year," she said at the launch of the Irish Life Health National Track and Field Championships, which take place in Santry on 25/26 June.
"Noelle (Morrissey, her coach) and I love championships. That's what everyone wants.
"It doesn't matter what you do on the circuit, it's what you do with the Irish vest on. Our main target this summer is Munich, no doubt about it."
Lavin ran a fantastic 7.97 in her 60m hurdles semi to make the World Indoors final in March and seemed overwhelmed by the achievement.
That made it doubly difficult to refocus for the final, in which she managed a time of 8.09, but it's all precious experience in the bank.
'To break 8 seconds on this day is a dream come true' - personal best of 7.97 from @sarahlavin_ saw her through to a #WorldIndoorChamps 60m hurdles final #rtesport pic.twitter.com/W5j5CS3ZcS

— RTÉ Sport (@RTEsport) March 19, 2022
"It was my first time making a major final... I have absolutely no regrets. I genuinely think you have to go through that. I wear my heart on my sleeve, that's who I am and I will always be that way.
"Tokyo is still gnawing away at me. You can't be going with excuses, you don't want to be a loser. You want to be a winner, and you want to keep getting better. It definitely gnawed; whether the Indoors cleansed (it)... it was an improvement for sure, and a big improvement at that, but I'm not satisfied.
"The Olympics is what everyone tunes into but the Worlds is equally as competitive. The standard is really, really high. I finished 32nd at the Olympics. I sure as hell want to do better this year.
"I guess last summer I was under pressure to get into the rankings (for Tokyo) and I wouldn't necessarily have done the optimal training at every moment in time because I was chasing to qualify.
"I want to be a European final for sure. Once you're in a final everything is up for grabs. From a World Championship perspective, as a minimum I want to get out of the heat. Looking at my performance in Tokyo last year, I need to improve on that.
"I'm working hard to go where I want go. My real goal is to win a major medal. That's the bottom line, I don't now if it can happen this year, but I sure as hell hope it can happen."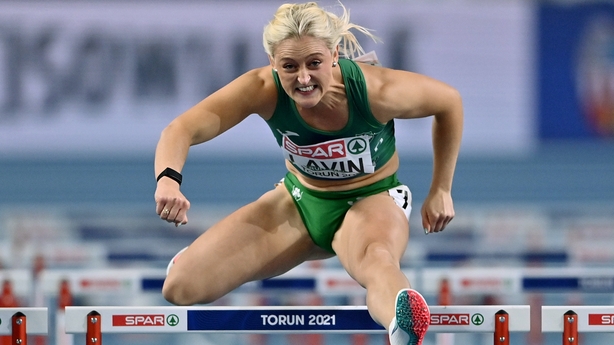 Lavin will be one of several Olympians who will take part in the Nationals at Morton Stadium at the end of the month.
It's the 150th edition of the championships. The first one was organised on the grounds of Trinity College back in 1873 and it's been held every year since, making the Irish Nationals the longest running consecutive championships in the world.
"I'm really looking forward to it," Lavin added. "My family only really get to watch me in the Nationals every year. Well, they actually have travelled a lot but on home soil it's different. My brother, sister, everyone comes along
"That's just so special. It does come with pressure, there's no question about that. But I really, really enjoy it."