It was the definition of agonisingly close.
Just over a year ago, Offaly woman Ann-Marie McGlynn ran 2:29.34 in what was just her third career marathon, in Cheshire. She was four seconds outside the Tokyo Olympics qualifying time.
"It was tough," she admits. "All the calls and messages were coming in and that was hard. I think I just shut down my phone."
She tried again in Austria next month but conditions were against her.
"I just had to put it behind me. There was no point in dwelling on it. As my Daddy said, 'Maybe I was meant to be there,' and maybe I wasn't."
McGlynn's philosophical attitude is rooted in how she ended up as an elite runner on the verge of her European Athletics Championship debut at the age of 42.
A talented underage middle-distance runner, she went to UCD on an athletics scholarship but drifted away from the sport in her 20s.
Ten years ago, her newborn son Alfie was critically ill in the Royal Victoria Hospital in Belfast. McGlynn turned to running as a distraction. And rediscovered a passion that persisted long after he had made a full recovery.
"When Alfie was three weeks he got sick. It turned out to be the worst strain of bronchiolitis and his lung collapsed," she said.
"It was something I never thought would come to my door. It definitely knocked us. Trevor [her former international sprinter husband] was a lot stronger than me. The doctors told us it didn't look good and we probably wouldn't be taking him home and I thought, 'Well, that's not good enough.'
"I thought I was getting pulled into this blackness and I remember saying to Trevor that I needed to get out. I left and went for a walk/jog and I kept that up for the three or four weeks he was in hospital.
"Thankfully, we got good news and Alfie pulled through. Everybody has a reason for running and this was my reason for getting back into it."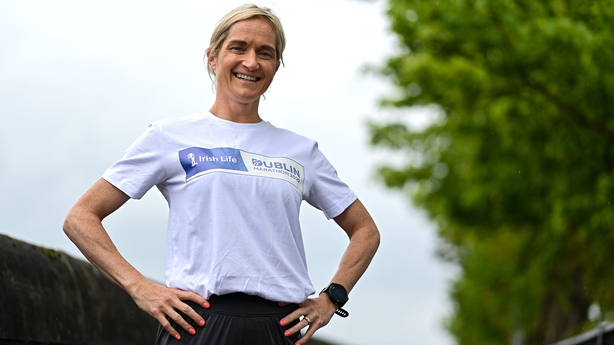 Safely back home in Trevor's native Strabane, along with daughter Lexi, McGlynn kept running.
"Then I decided to pick a race. I looked up the Athletic Ireland calendar and noticed that the National Indoor Athletic championships were scheduled for 16 February, 2013 which was Alfie's first birthday.
"I thought 'That's the one.' I brought him to the championships where I finished second. It was very emotional."
"After the Cheshire marathon I got a flight home the next day and the kids met me at the door. They hugged and kissed me; they were delighted regardless of the fact that I didn't get the qualifying time. I got up the next day and did the school run. Now they come first and running comes second."
Quickly back in the groove, McGlynn captained Ireland to European cross-country bronze in 2015 and will run the marathon alongside her team-mate from that day, Fionnuala McCormack, and Aoife Cooke, who won that Cheshire race, at the European Championships in Munich this August.
She is also the Northern Ireland record holder and has qualified for the marathon at the Commonwealth Games in Birmingham, but is more likely to compete on the track there as it comes shortly before the Europeans.
At 42, the Letterkenny AC star has no plans to retire anytime soon.
"I don't even look at it (age) as a number to be honest. It does take me longer to recover, and if I get a niggle it takes me longer to recover.
"My coach Emmet Dunleavy has got it down to a tee – less is more with me. We stay under the threshold and it seems to work. With this kind of training, I think I definitely have a few more years left in me.
"It is not about huge miles, I can't do 120 miles a week, there is no point in even trying. If I can stick to 90 miles a week and build a really good aerobic base it will keep me going for another while."