She may only have run four marathons - Berlin, London, Amsterdam and Chicago - but, 24 years on, Catherina McKiernan's time of 2.22.23 in the Netherlands remains the Irish women's time to beat in the 42.1km test of endurance.
McKiernan, an Olympian, a European cross-country champion and four-in-a-row world silver medallist, told RTÉ Sport at the launch of this year's Irish Life Dublin Marathon that setting fastest times was "not something I think about, [even] when I broke the record.
"I ran because I loved to run. Not for the fame, not for the fortune and certainly not for the publicity.
"I started running around the fields on the family farm – being the youngest of seven it was a great opportunity to get away from them all.
"I never had any expectations or dreamt of running in world championships, Olympic Games or European championships. I just ran for the feeling of confidence and well-being it gave me.
"It just happened that I was middling at it and won a few races."
Titles have been thin on the ground for Irish athletes since the heyday of McKiernan and Sonia Sullivan. The Cavan native admits to not following the scene too closely any more but she believes the standard has risen considerably since the 1990s.
"It's much more competitive than when I was competing," she says.
"I don't like the criticism after championships that our athletes didn't do well. They're not [just] our athletes, they're their own people and they train as hard as they can possibly can.
"In saying that, all the sport around the country certainly spurred me on and helped me to get on training in those wet and windy days.
"It's an individual sport and at the end of the day you just have to do the best you possibly can. As long as they put in the work and get the most out of themselves. We do have a lot of talent but it is about commitment and working hard as well."
This morning's Favourite Sporting Moment is Catherina McKiernan's FOUR World Cross Country silver medals. @Darrenfrehill will bring you this and other sports uodates on @morningireland @RTERadio1 from 8.35am pic.twitter.com/0FN3K14YIX

— RTÉ (@rte) April 30, 2020
McKiernan will not be tacking the big one in October - these days she coaches classes in the Phoenix Park (which makes up a good chunk of the course) at more manageable 5k-10k distances, three or four days a week:
"Even if I had never competed I would still run every day," he says. "I love that feeling of the ground underneath me and that feeling of youthfulness and confidence it gives me.
"The classes I do with people I get great satisfaction from them, I see the enjoyment they get whether it's a 5k or whatever it is, I just know it gives them a great feeling of well-being in themselves. The same as it does me.
"I'd like to think I'll be able to this until at least 80."
Rio 2016 Olympian and Dublin native Mick Clohisey has fond memories of joining his father for the last mile of the race as a teenager.
"The two times I've run Dublin it's probably been my favourite that I've run and it's going to be a great buzz to get it back," he says.
"The hometown feeling is brilliant. The crowds in different parts of the city. There's massive support out. Coming back in to Ballsbridge, Merrion Square, it's a really nice finish.
"The excitement will grow during the summer, with the [Dublin] Race Series."
This year will be the first non-virtual edition of the Dublin marathon since 2019 after two years of Covid-caused cancellations.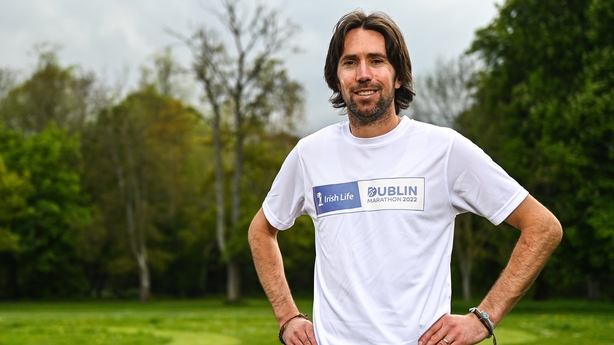 Clohisey ran the spectator-free London Marathon in 2020, and is looking forward to the return of fans.
"There was nobody there, just the officials," he said of his experience in St James's Park. "It was a different feeling with the silence on the street.
"It definitely helps when you have crowds supporting you. It spurs you on.
"Dublin was on such a great trajectory before the Covid situation so I think it's going to come back and be even better again."
Clohisey (36) will not be among the Irish squad at the World Championships in Oregon in July but still harbours hopes of forcing his way into the trio selected for Paris in 2024.
"The marathon in October will definitely be my main target for the year," he said. "I was returning from injury so I'm building up my fitness again.
"There are major championships on in the summer [Oregon] but I haven't ran the time. The only chance of me making the team for the Europeans [August] is a wild-card spot, which is looking very unlikely.
"I need to get myself back on track after injuries so having the challenge of trying to stay up with the other guys is great. I'm a bit off some of the lads in recent years so I need to step up my game if I can get a bit more out of myself.
"It will be very tough for me to make the Olympics. The standard has gone up and you have to run a lot faster than I did to make Rio. There's a bunch of guys there trying to get those three spots.
"It's great to see the levels back up to where they were in previous years in Ireland.
"I wouldn't rule anything out but my main aim would be to get back on track with the marathon in Dublin and then push on and see. I'll give it a shout and do my best to get as close as I can. If I can run a PB in the next few years and just keep improving I'll be happy."