The World Indoor Athletics Championships start today in Belgrade, the first event of a busy year for Irish athletes.
After these world indoors, world outdoors in Oregon in July, quickly followed by the Commonwealth Games for some in Birmingham, and they then lead into European Athletics Championships in Munich in mid August.
Team Ireland has 19 athletes involved over the weekend and they'll want to bring some of their recent form to the Stark Arena and better it in a competitive environment against some of the world's best. It's one of the strongest teams we've sent to an indoors, with many of our team having set PBs and national records in this season already.
Indoor is a bit different with tighter bends and shorter laps but what I like about this team is that it's young, confident and in form. At this stage the computer is programmed, the preparation is done, each athlete will have their own particular way of staying relaxed in these final moments before competition.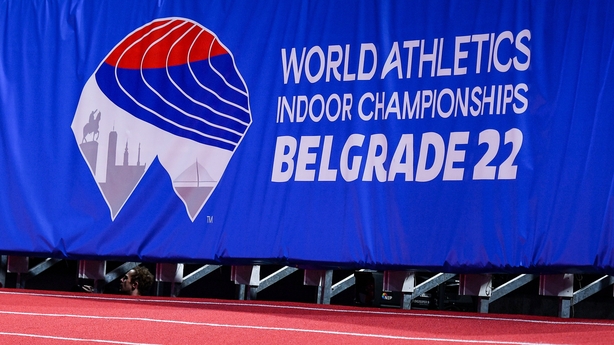 Startlists will be released and you'll be made aware of who is in your heat and, particularly for our middle distance runners, they can begin to visualise what type of race they're going to face; will it be a case of the pace being fast from the start, or a bunched race with a late kick.
There will be conversations with coaches on what way to approach the race, their tactics, and thinking about qualifying times and targets. For some of our younger athletes and debutants at this level, it's time to rub shoulders with athletes you've watched on TV, no time get caught in awe.
So how they deal with that, and the nerves that might come with it, will dictate how good a championships this can be for Team Ireland.
Irish Interest
What would success mean for our men and women? Realistically it means national records and progressing as far as they can; medals are probably going to take an exceptional performance and on this occasion seem a little out of our reach.
11500m runner Sarah Healy has been in great form this year. Still only 21 and after having tasted silver success at European level as a junior, she seems to have now negotiated that difficult transition from junior to the senior ranks.
She did phenomenally well to make it to Tokyo last year and has carried that momentum into this season and she's really hitting her stride, twice breaking her own U23 national record running 4:06:95 which is faster than her outdoor personal best, and is the second fastest time run by an Irish athlete indoors behind Ciara Mageenan.
A final is possible. Sarah has shown consistency this indoor season and will need to bring it and sharp tactics into a championship environment to progress.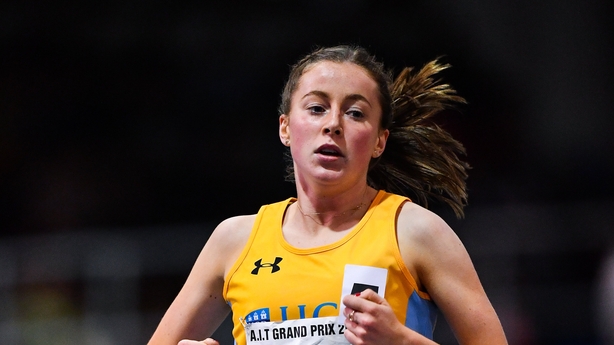 Phil Healy is another athlete in great form this year. Carrying good momentum from last year into 2022 she has moved onto another level with five sub 52 runs over 400m. A recent personal best in Madrid moved her within .08 of Karen Shinkins' long standing national indoor record.
However, her preparations have been hindered slightly after she contracted Covid-19 a couple of weeks ago post the Madrid run. The 400m is a real lung-buster, and hopefully she has recovered enough to mount a challenge to make a final. 400m indoors is tough with placings and lanes playing a huge role in progressing in a very competitive event, so a strong start in the early rounds is crucial.
Making a final is not out of Phil's reach. Either way, it has been a very positive indoor season for Phil, and it would be fantastic to see her cap it off with a world final appearance.
Molly Scott has been in a great battle with Rhasidat Adeleke for the 60m NR, with the pair having broken it no fewer than eight times in the last six weeks.
Adeleke currently holds it having set a time of 7.17 in Alabama just last week, but her commitments in the United States mean she won't be competing this weekend, so Scott will have a chance to regain her spot at the top of the Irish all-time list. If she can do that she'll have a chance of progressing through some rounds.
Over the sticks we have Sarah Lavin, who again last week posted a personal best of 8.06 and speaking to her recently is determined to break 8 seconds over 60m hurdles. If she can bring that form and find a few hundredths she could well be in the mix in a semi final.
Luke McCann is another in serious shape having won the Irish national 1500m title, the event he'll compete in this weekend, as well as breaking a 37-year-old Irish 1000m record (2:17.40) last month. Alongside Andrew Coscoran in the 1500m in Belgrade, tactics will play a role. If the two lads can run fast and smart anything can happen.
Darragh McElhinney is young and is an immense talent. He runs in the 3000m and will be looking to build on his silver medal at the U23 Euro cross country in Dublin last December. He has also set U23 national records this season at 1500m (3:39.63) and 3000m (7:45.91).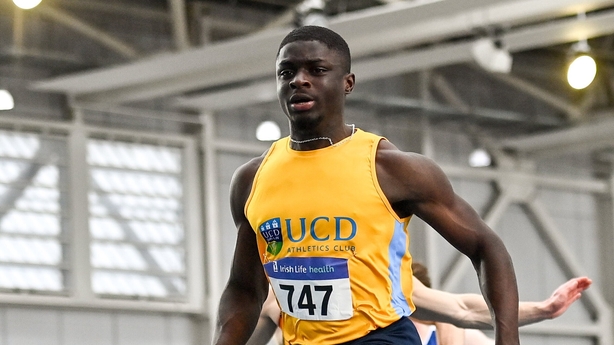 At 6.62, Israel Olatunde is .01 off the national record set by Paul Hession at 60m, so he will definitely be looking to write his name into the history books there at just 19 years of age.
At the other end of things, you've Mark English with his massive experience over 800m. He's medalled at the European indoors previously and is no stranger to competing at this level.
He's got speed in his legs which is good to have over 800m having set a new indoor 400m PB of 47.20 last month and will be in the 4x400m relay squad this weekend also.
We do have two relay teams, the men's and women's 4x400m, which shows that we've good strength in depth coming through over one lap.
It's right to send those teams to the world indoors, and to build on the recent success of the mix relay team reaching the Olympic final. It encourages depth, gives an opportunity to build squads and supports younger athletes with the chance to get that experience of competing at the elite level.
Crowds at a Major Meet
After working at Tokyo last year with no crowds, this will be a move back towards something a bit more normal. Despite the current situation in Ukraine at the moment they will have six athletes in Belgrade, while Russian and Belarusian competitors are banned.
Olympic bronze medal high jumper Yaroslava Mahuchikh is a medal hope for them, as is Maryna Bekh-Romanchuk, who will go up against home favourite Ivana Vuleta in the long jump.
The latter event is sure to pack the punters in on Sunday with Vuleta in fantastic form this season, and the superstar of Serbian athletics having made 6.88m at a meet in Belgrade earlier this month.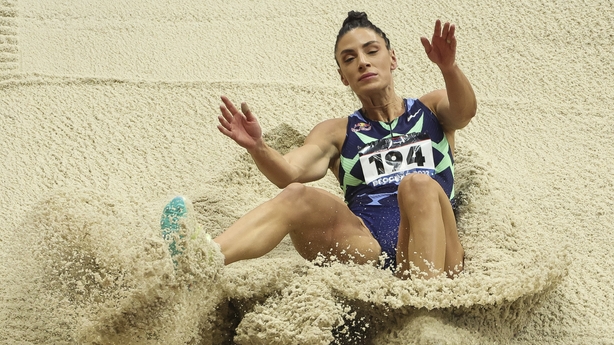 At the same event she hit the 6.83m mark three times, something none of her rivals on Sunday have managed to do this year.
If we're to see a world record fall over the weekend it might be in the pole vault, where Sweden's Armand Duplantis is the favourite. He'll be looking to break his own record of 6.19m that he set in this stadium less than two weeks ago.
Keely Hodgkinson will also be one to watch in the 800m after winning silver at Tokyo. She set an indoor British record last month (1:57.20) and one young man, superstar Jacob Ingebritsen, will be going for gold in the 1500m having already set a new world record earlier this year.
It's great to have such stars at these events. Sometimes after an Olympic year the top athletes would take things easy and build towards Oregon or Munich in the summer, but these are types of athletes that will bring the crowds in.
From an Irish perspective It's a great opportunity to learn and try to maintain some form ahead of the European Championships where medals will be a more realistic target.
Team Ireland:
Israel Olatunde (Men's 60m)
Mark English (Men's 800m & Men's 4x400m Relay)
Andrew Coscoran (Men's 1500m)
Luke McCann (Men's 1500m)
Darragh McElhinney (Men's 3000m)
Sarah Lavin (Women's 60m Hurdles)
Molly Scott (Women's 60m)
Phil Healy (Women's 400m & Women's 4x400m Relay)
Sophie Becker (Women's 400m & Women's 4x400m Relay)
Síofra Cleirigh (Women's 800m)
Sarah Healy (Women's 1500m)
Cillin Greene (Men's 4x400m Relay)
Robert McDonnell (Men's 4x400m Relay)
Cathal Crosbie (Men's 4x400m Relay)
Chris O'Donnell (Men's 4x400m Relay)
Brian Gregan (Men's 4x400m Relay)
Sharlene Mawdsley (Women's 4x400m Relay)
Roisin Harrison (Women's 4x400m Relay)
Catherine McManus (Women's 4x400m Relay)