By the time the next Dublin Marathon comes around in late October, it will have been three years since the race took place on the city's streets.
The Covid-19 pandemic wiped out the last two events, but absence has made public hearts grow even fonder for an occasion that has expanded steadily ever since just over 2,000 people took part in the first race back in 1980.
The entry number is capped at 25,000 these days, though Race Director Jim Aughney said they could easily fill another 10,000 slots if there was enough space.
Everyone who signed up to the 2020 edition had the option to either keep their spot until the race returns to the streets, or get a full refund. Very few took the refund. The Dublin Marathon - which today announced Irish Life as its new title sponsor - remains one of the hottest tickets in town.
"It's been a good couple of weeks for us," Aughney told RTÉ Sport. "With the restrictions that were there, you didn't know what planning would be required. It was great news to get restrictions lifted, and even better news for us to get Irish Life on board for the next three years.
"The marathon rolled over in terms of the entries we had from 2020 into 2021, and again into 2022. We offered refunds and a very, very limited number of people opted for the refund.
"We put those [refunded] spots up for lottery last week but the places are taken now. I'm sure we could sell many, many more places if we could build an extension to the streets in Dublin.
"We had permission for 25,000 in 2020 when we had to pull the plug. We had 35,000 applicants looking for those places, so there was great interest and there still continues to be great interest."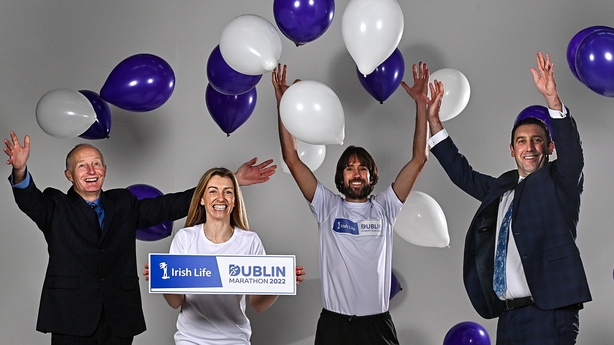 Lockdowns and tight restrictions over the last couple of years led to a swell of joggers pounding the roads. The knock-on effect is a general rise in the numbers looking to participate in organised race events.
Demand to line up in the Dublin Marathon - always a vibrant and emotional occasion - has never been greater, and though the recent easing of restrictions has given everyone huge optimism for the 2022 race, nothing can be taken for granted.
"Two weeks ago we'd have thought Covid certs and everything like that would have been a requirement," Aughney added.
"That's what we were thinking of and were trying to put plans in place with regards to how we could collect those, check them and so on and so forth. That [requirement] has been lifted but we will be introducing a runners' charter ourselves where we'll send out a checklist to people beforehand and ask them the various questions to see they're fit and healthy, and declaring that they're fit and healthy, before they get into it.
"Who knows? It's changing by the week, and has changed dramatically in the last couple of weeks. Let's hope we stay on track and we'll all get back to full-capacity events."
It's too early for elite professionals to commit to the race; they'll do so closer to October once it's been 100% confirmed.
Their presence lends gravitas to the day but, more than anything else, the Dublin Marathon is about community. It raises an estimated €9m for charity and over €25m for the city - an incredibly vibrant and rewarding experience for the thousands who take part and the thousands more who come to offer their support.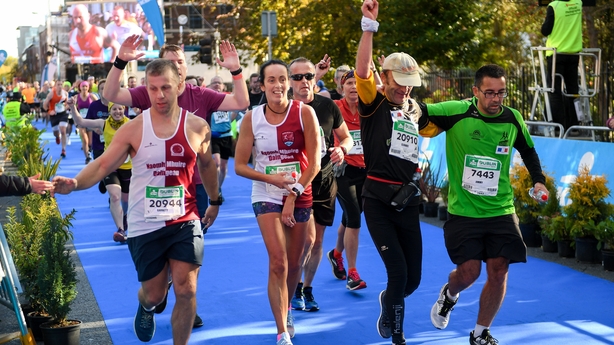 "One of the things I like to do is face the runners at the start line, look down at them and say to myself, 'we've had some small part in getting them fit and healthy enough to get to the line'," said Aughney.
"The finish line is a very emotional place too. You hear great stories, what people have gone through to do the training and cross that finish line. People pour out all of their stories to you. It's a great place to be.
"It'll be a big statement for Dublin, for the running community, for everybody to say that Dublin is back in business as well as open for runners to run around the streets.
"It's an iconic event now, with not only the 25,000 people that will be running but the spectators that will be out there lining the streets. It brings a great buzz to the city.
"It's been estimated that it's worth €25m to Dublin, and everybody that runs has their own various charity element and good cause that they're raising much-needed funds for.
"As I said it's an iconic event. It really declares to the rest of the country that Dublin is back open for business when you see the marathon on the streets again. It'll give everyone a lift."