Keelan Kilrehill says being part of a gold medal-winning performance by Ireland's Under-23 team at the recent European Cross Country Championships has led to greater reflection on a bike accident that could have ended his running career before it ever took off.
The Sligo native finished sixth in front of home supporters at the Sport Ireland Campus in Abbotstown, with Darragh McElhinney's second place finish and Michael Power crossing in 13th resulting in Ireland taking gold ahead of pre-race favourites Great Britain.
Kilrehill today spoke about how a bike accident in his teens not only almost scuppered any aspirations of a sporting career, but that he was millimetres from never walking again.
"Things could have turned out an awful lot different," he admitted in RTÉ Radio 1's Today programme.
One particular day, Kilrehill was descending the hill near his home, a bike journey he made hundreds of times before.
On this occasion however when he went around the corner, he came across his neighbour travelling by car in the opposite direction.
"I braked suddenly so I wouldn't hit him, but as I did, I went flying out over the handlebars. After that, I was lights out, I don't remember anything until I woke up at my house."
Afterwards he was take to Sligo Hospital to be assessed.
"It was the worst week of my life," he admitted. After a couple of days he was transferred to Crumlin Children's Hospital where the damage was confirmed.
Three broken vertebrae in his back, but more seriously, a C1 fracture in his neck. Had he broken, rather than fractured, it was likely he would never walk again.
Having spoken little about it prior to last week, the 21-year-old says he has spoken at length now as he finally processes the incident.
A year later, screws in a bar to keep his spine stable came out, and from there he has never looked back. He got back on the bike again, but has never gone back down that hill, preferring to take a longer route around.
Kilrehill says it's still a "shock" trying to digest the Euro Cross Country victory and said the home advantage definitely played a part in their success.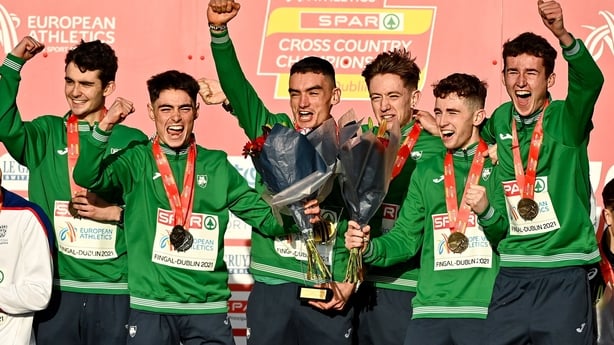 "Knowing the course helps. Last lap definitely helps when you have the home crowd behind you, roaring you on."
Given that only one member of the team, Michael Power, is over age for U23's next year, the future appears bright for this crop of Irish runners.
While wary of looking too far down the track, Kilrehill concedes that participating at an Olympic Games is at the back of all athletes' minds.
"Anyone in the sport, that's the pinnacle, that's where you want to be. For me it's more about getting a good set up in place to get me there."
To achieve that goal means competing against some of his victorious team-mates. The team are familiar with each other since underage days and while the bond is strong, it is also put to one side in competition, as he is regularly reminded by McElhinney after one episode during the national junior championships a couple of years ago.
"He still gives out that I elbowed him in the middle of the race and sent him two or three metres over the line. I trained with him at the time and everything. Once the gun goes, you forget friendships.
"Afterwards we are all friends."
We need your consent to load this rte-player contentWe use rte-player to manage extra content that can set cookies on your device and collect data about your activity. Please review their details and accept them to load the content.Manage Preferences
Listen to Keelan's interview from 1:20:45 onwards.