Olympian Andrew Coscoran is well-placed when it comes to suggesting what needs to happen to improve the standards of Irish athletes on the elite level.
The Balbriggan man raised eyebrows simply by qualifying for the Tokyo Games in June, but didn't just compete. He excelled.
Ranked 41st upon arrival for the 1500m, a powerful finish in the closing 100 metres of his heat ensured progress to the semi-final where he finished 10th in a time of 3:35.84, less than half a second outside his personal best.
"I think the two best races I've ever ran were in the Olympics," he tells RTÉ Sport.
Coscoran's racing career hasn't always followed a smooth course.
A scholarship in 2015 meant Florida State University was his new home, and while the high-performance environment was on another level to what he had experienced, he just never felt comfortable there.
He returned to Ireland and the Star of the Sea club under the guidance of Brendan Meade, but for a short while, he gave up on running altogether. A 3.41 run in Belgium, while juggling overnight shifts at McDonald's, convinced the Dubliner to throw his lot back into athletics.
Feidhlim Kelly at Dublin Track Club brought the structure he needed and a 10th-place finish at the Wanamaker Mile in New York City - he had targeted the B event – made people sit up and take notice before taking the plane to Tokyo.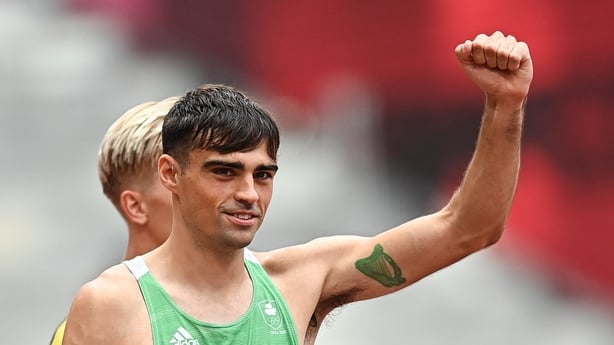 Former European indoor champion David Gillick admitted recently that the outlook for Paris 2024 is bleak when it comes to Irish chances of medalling in athletics, but urged our young athletes to view success as a long-term project, potentially with the Los Angeles 2028 games in mind.
"I think we need people that can go to championships and perform," says Coscoran speaking at the launch of the 2021 SPAR European Cross Country Championship at the Sport Ireland Campus in December.
"If you were to look at the Olympics this year and say, 'Is anyone going to medal in Paris?' you'd probably say no.
From the Olympics just gone, I don't think there's anything massively to get excited about for Paris but you never know
"I think we need to create athletes. I think there needs to be a system there where we create full athletes. I know he [Gillick] said about just chasing PBs - and PBs are grand, but I think we need to create an environment for athletes and get them to bounce off each other; just get good at racing more and get up to the next level.
"From the Olympics just gone, I don't think there's anything massively to get excited about for Paris but you never know. You never know, there can be people coming through the ranks, and like I'm going to be pushing anyway. I'll be pushing on, trying to get better and we'll see how good I can get. I don't know about anybody else."
It goes without saying that an Olympic debut is a steep learning curve, but the laid-back DCU student says he took the Tokyo experience in his stride. Certainly his interviews at the track back up that viewpoint, and the 25-year-old enjoyed the different challenge posed by an Olympic event.
'The standard is just insane!' - @Andrewcoscoran enjoyed his first #olympics semi-final and had a word for fans back home
'Balbriggan is a class... Everyone should check it out'#Tokyo2020 #RTESport

📺 Watch live - https://t.co/BjyJKrGcju

📱 Updates – https://t.co/DMXbyiGFtE pic.twitter.com/Fyv07eH7wj

— RTÉ Sport (@RTEsport) August 5, 2021
"I'd been racing since May, I've just been racing pretty much every weekend. I had been going to different countries and racing.
"I think you just get a bit numb to competition and you just get used to it, you get better at just switching off and just getting the job done.
"And I think that actually was quite beneficial to me; learning how to race all the time and just switch off at the right time, switch back on at the right time. It's just a learning curve, getting ready to race.
"Yeah, fair enough, the Olympics is obviously bigger than doing races on the European circuit but I think it's the same sort of model. You learn how to prepare for races, you learn how to switch off before races and then you learn how to get ready for the next one as well and maybe with the heats and the semis and stuff, you just get good at it. I think that's what Irish athletes need to do."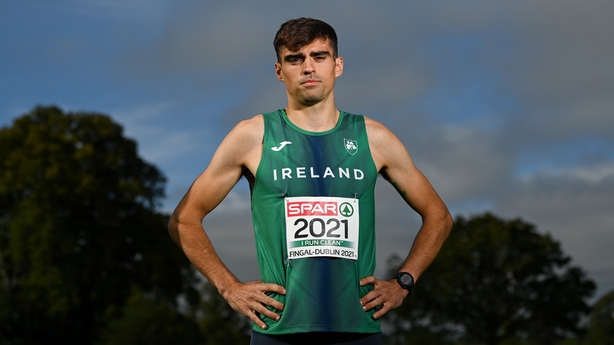 Coscoran only afforded himself a week off after returning from Japan and the 12th day of December is pencilled in the diary with the European Cross-Country Championships which returns to these shores for the first time since 2009.
RTÉ's live coverage from the purpose-built cross-country course will shine a greater spotlight on those in green singlets and Coscoran is eagerly looking forward to the event.
The mileage will be ramped up as he looks to build on his only Euro Cross experience in 2014, where he finished 40th in the junior event in Serbia.
"Everyone talks about the home advantage, I suppose that is a thing so maybe we can use that home advantage to take a crack at a couple of medals.
"I think we could definitely field some good teams and hopefully have a crack at maybe the men's 10km or maybe the mixed relay.
"The women's senior team seems pretty strong as well and then the men's U23 team seems to be really strong so yeah, I think there's a couple of good teams coming through the ranks."