This time last year if you had told Sarah Healy she would be packing her bags for the Tokyo Olympics, she may have taken the statement with a pinch of salt.
She may have enjoyed a decorated junior career - Healy won gold at the European U-18 Championships in 1500m and 3000m in 2018 and followed it up with silver in the 1500m European U-20 Championships a year later – but the transition to senior ranks was proving to be a stern challenge.
2020 was full of disappointment, so much so, that expectations were pared right back
"I told my mum at the start of the summer I just wanted to have some kind of positive experience because it felt like it was so long since I had a race I was happy with," she told RTÉ Sport at the launch of the 2021 SPAR European Cross Country Championship at the Sport Ireland Campus in December.
"I didn't expect to qualify for the Olympics."
Despite the hectic schedule of race meets and the disruption brought about by the pandemic, the 20-year-old sealed her place in Tokyo. On how it panned out, she remains conflicted.
The UCD student bowed out of her 1500m heats, in a raw admission post-race interview indicating that the occasion simply got to her.
Elimination for Olympic debutant @sarah_healy_ after an 11th-place finish in the 1500m heats #tokyo2020 #RTESport #athletics

📺 Watch – https://t.co/ZfldwHUA2l

📱 Report - https://t.co/3rR5EHQHOW pic.twitter.com/h9OpeCYxy6

— RTÉ Sport (@RTEsport) August 2, 2021
"I just checked out after 400m," she said at the time.
The Irish athlete had raised her own bar considerably, and wasn't helped by the absence of her coach Eoghan Marnell and what felt like a lengthy build-up to her event.
"I was obviously so thrilled to be there, but I was disappointed with it, so it is hard to separate the two.
"I had travelled a lot on my own throughout the summer, but it was hard as my coach wasn't there with me. I was getting nervous all day before the race, in the two days leading up to the race, which would be rare for me. Normally I only get nervous right before.
I feel I didn't perform to the best I could have on the day
"I think I was probably a little drained, but also, the competition was so tough, it was always going to be hard to perform. I feel I didn't perform to the best I could have on the day."
Whisked off to drug testing after the race, Healy was able to flick through her phone as the messages flooded in. Only her coach and mother received a text such was the disappointment at the time, but there was perhaps more of a sense of what she had achieved.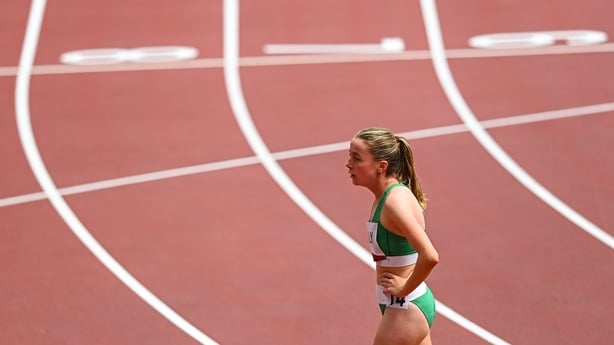 Sonia O'Sullivan was among those to reach out, but the Olympic silver medallist has been doing that for years. Twice since the Games, Healy has lowered her 3,000 metres PB, and in doing so, broken O'Sullivan's U-23 record over that distance, a time that stood for 31 years.
"She is such a huge role model and she has been so nice to me throughout the last few years of my career.
"She reached out to me when I was younger after I won a race, and she has always been there and offered herself as someone that I could go to as support. I think everyone in Irish athletics looks up to her and what she did. She text me after the race and been such a huge support.
"It was cool to break her record, but I just don't think it is comparable at all. It just makes you think, 'oh my God, she was running that and I'm running it now'. Athletics is completely different now.
"I don't think anyone will come close to what she was doing back then without all the extra help we have with shoes and all that."
By her own admission, the Olympics has never been the be-all and end-all, but Paris 2024 keep the longer-term focus in check. Next year the plan is to make an impression during the indoor season - "I always seemed to be injured at that time" and gear up towards the Worlds Championships in Oregon next July, with the Europeans a month later in Munich.
First, however, is the small matter of the European Cross-Country Championships in December which returns to these shores for the first time since 2009.
The purpose-built cross-country course at the Sport Ireland Campus will play host on Sunday, 12 December, with RTÉ to broadcast all seven races live on the day.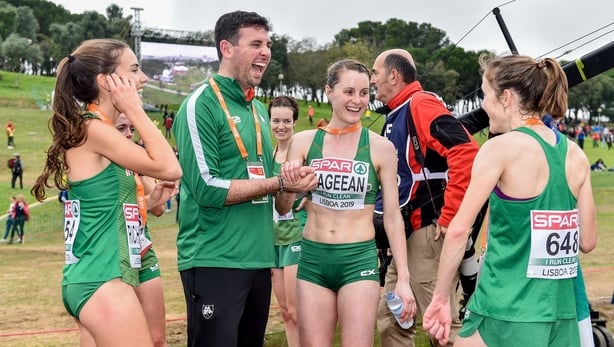 Given the strides at underage level and the impressive showing in Lisbon two years ago where Fionnuala McCormack, Aoibhe Richardson and Ciara Mageean finished second to Great Britain in the women's event, Healy, who has run the event just once, is itching to get in on the action.
"It means a lot that it is in Ireland. It's so exciting, especially given it has been so long since we have had anything like this," said the 20-year-old who favoured cross-country during her early running days.
"I was watching Lisbon because I was sick. They did so well and I wanted to be part of it so badly. Hopefully we can replicate that. It's really tough running cross-country, but hopefully it being at home will give everyone that extra boost."
I can understand why people get so down after the Olympics
Now in her third year in Law at UCD, a return to college post Tokyo was a welcome return. The post-Olympic blues was something she had heard referenced by many athletes in the past, but feels she escaped it easier than others.
"A lot of people speak about that, but I brushed it off as I was going back to college, but after the Olympics I was like, okay, I can understand why people get so down after it.
"I was disappointed off the back of it, but I was very sure I wanted to keep on racing. That helped me. (The build-up) It was probably easier for me because I hadn't been thinking about it for that long, but if you based your whole career around it, I think it would be so difficult."