Phil Healy is taking the positives from her Olympics experience in Tokyo, where the Cork native became the first Irish female athlete to compete in three track and field events.
The Bandon AC runner was part of the relay team that reached the 4x400m mixed Olympic final, as well as racing both the 200m and 400m individual events.
Healy failed to achieve her goals in the individual events, marginally missing out on both semi-finals by mere hundreds of a second, however, the performances under the circumstances have provided a real boost heading into the next Olympic cycle.
Just three years to the Paris Games, which take place in 2024, and while Healy is not immediately looking beyond what should be a busy year ahead, she does acknowledge that decisions may need to be made for upcoming events on whether to focus on one, two or all three disciplines.
"It comes down to the timetable," said Healy, speaking to RTE Sport. "If it's a European Championships, the individuals are always first. So that will become the priority.
"[The relay was my] best hope of making an Olympic final. As we go on in the year, maybe I will take just one event, and I know for these Games, I know some people were saying I should have focused on one event.
"But to qualify for an Olympic Games is unbelievable, to qualify in three events took so much work and dedication and planning, so I was going to go out and do that, and made history as the first Irish woman to do that.
"As we go on, next year at Worlds, whether I pick the 200 over the 400 or vice versa will depend on the way things go. But that will play out in itself.
"And as we look into next year, it is very busy where we have World indoors, European outdoors, and World outdoors. We've never had three international major championships in the one year. So it is very exciting.
"I'll have the 400 indoors because there is no 200, so we may keep the focus more on the 400, we might swap to a 200 for a certain championship."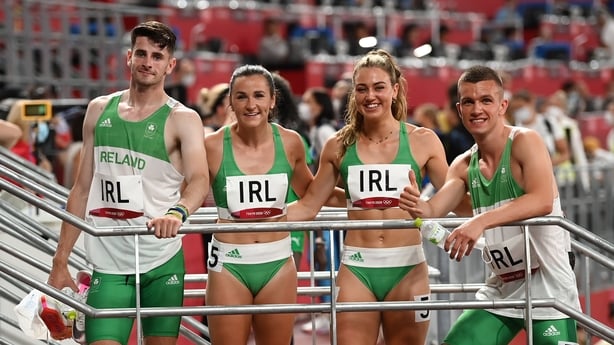 Looking back at the Games, Healy was disappointed with her performance in the 200m heats and accepted that the endeavours of the relay may have affected her performance.
A late call was required as to whether she would run the 400m heats, however, the Ballineen woman made what turned out to be the right call and it allowed her to finish the Games on a high after posting a very impressive time.
"Obviously, I had to turn the focus to the individual; the recovery time was really, really short.
"It came down to the fine margins, I suppose, with the 200 and the 400. Just being five hundredths of a second off in the 200, and seven hundredths of a second off in the 400.
"For me looking at it, individually, an Olympic final individually is not a realistic aim at the moment. But I knew that I could make an Olympic semi-final individually.
"It was disappointing knowing that I was so close in the 200, knowing that I could have ran an awful lot faster, but then I just moved that disappointment into the 400 and definitely blew my expectations out a bit.
"We didn't decide if we're fully doing the 400 until I went into spikes before I went into call rooms, so to go out there and break the 52-second barrier was just unbelievable.
"It was my second fastest time over 400. Yes, maybe if I was fresh, that could definitely have been a 51 low but just gave me great confidence knowing that I could go out there and do that after four races."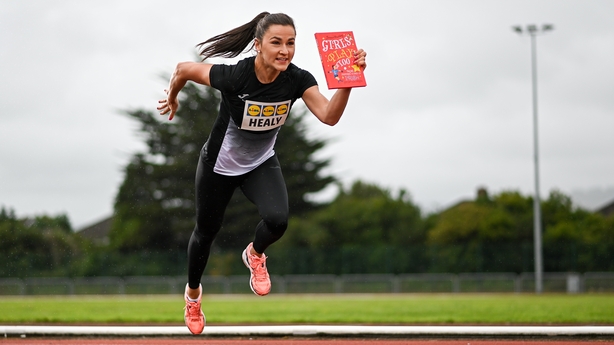 Healy has not been home to west Cork since March and she felt that she was able to return with her head held high, especially being in the esteemed company of fellow Corkonians, the medal-winning rowers.
"It was just unbelievable, I hadn't been home to Ballineen since March because of Covid and Covid risks and different things like that, that's a sacrifice in itself. To come back to see all the posters, the banners, the flags...
"Someone sent me a message about the the posters all the way from Ballineen to Beara to support the number of Olympians that were coming from west Cork.
"When I saw all the posters going up, initially, if I was like, 'Oh god'.
"I was like, 'I'm not the rowers' to a certain element, where I'm not a mega favourite or anything like that, so there definitely was that expectation. Once we got to the final It was like, 'Okay, I can fit in in west Cork now!'
"It was just unbelievable to come home, to see everybody line the streets in Ballineen and Enniskeane and Bandon as well. Everybody was saying that it really brought the community together."
Looking ahead, Healy is again targeting semi-final appearances in what will be a busy year, and while the track and field team received some collective criticism, the sprinter believes that real investment is needed if there is ever going to be medal success in the athletics.
"[Overall] things can improved. I look at coaches which is obviously a massive element, and our coaches that are there are volunteers.
"Speaking from my own individual perspective, Shane McCormack my coach, he's a volunteer coach. He's lucky he has the support from his family and his work, he has a full-time job, he took a sabbatical to go to Tokyo.
"So it's all coming from his own expense, and I think if we want the results in athletics the investment needs to be there in the coaches. To produce the medals, and to make Olympic finals."