Thomas Barr is not letting the uncertainty and doubts surrounding Tokyo 2020 become a distraction as he gears up for his second Olympic Games.
Barr will again compete in the men's 400m hurdles, having announced himself on the global stage at Rio 2016 by finishing fourth in the final, going below 48 seconds and missing out on a medal by just .05 of a second.
A year on from the original planned date of the Olympics, things remain unclear in Tokyo and while the IOC and Japanese government both insist that they will not bow to increasing local pressure and cancel the games, what shape they will take remains uncertain.
While international fans will not be allowed into Japan for the games, officially no decision has been taken on domestic spectators, and the prospect of racing inside an empty stadium is very much a live one.
While Barr admits that a lack of spectators could hurt the spectacle for the viewing public, he does not believe that it would have much impact on the competitors.
"It will definitely take away from the atmosphere," he admitted. "I love the atmosphere, I buzz off it, looking around the stadium for the Irish flags and looking around the stadium for my parents. They're always at the major championships and they had booked to come to Tokyo in 2020 but they won't be there this time.
"It will be a little bit different. It will be strange but at the same time once we get out onto the track, you just put the blinkers on.
"You have your race-plan, you go out there and for 400m hurdles in particular, you have your own lane, your own stride pattern and that's all that's going through my head when I'm getting into the starting blocks.
"As soon as you get out of the blocks, you don't hear anything. You don't hear the noise, you don't hear the crowd, you're completely engrossed in what you're doing.
"That's the zone I get into when I'm in good shape and in a major race, you don't even focus on what happening outside of what you're doing there and then and you're so focused that your body just takes over.
"So while it will take away from the atmosphere, I don't think it will take away from the performances."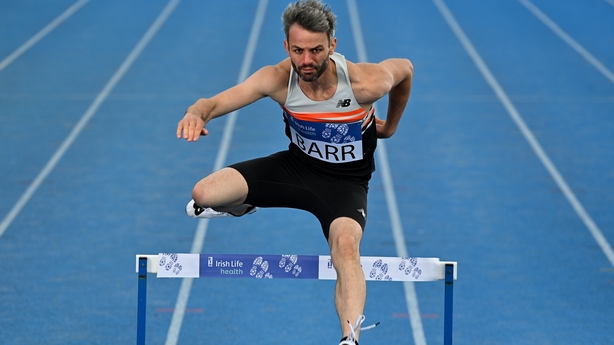 The Waterford man understands the hesitancy and antipathy that the Japanese public have towards this summer's games and he's hoping that the athletes can help put some of those concerns to rest.
"Obviously, Japan are trying to look after their own population and they don't want to see resources pulled from their own hospitals to try and facilitate a load of foreigners essentially, coming into the country," he said.
"I can completely understand their concerns and I do feel we would be somewhat imposing because there has been a huge outcry to say that the locals don't want the Olympics to go ahead because of those risks.
"But I hope the local organising committee are able to put that at bay and have all those athletes, staff, everyone, literally come into the Olympic Village and pretty much not leave it, not take resources, the local organising committee supply our own medical resources and everything so we're not drawing on them.
"I hope an agreement can be made there because it wouldn't be a particularly nice thing to be going in to almost steal things from the locals as such."
For now, everything is geared up towards preparing for Tokyo. The 28-year-old has a busy June with three World Athletics Continental Tour international meetings before the Irish Life Health Track and Field Championships at the end of the month.
After that it's all eyes on Tokyo and if everything goes to plan, Barr should be at his absolute peak form come the end of July, having made adjustments to his training schedule to compensate for the change in dates.
"I'm heading out the first or early the second week in July to a holding camp for Tokyo," he explained. "Because the Olympics are so early it doesn't mean a huge amount of time for competitions.
"In hurdles, trying to get your rhythm is one of the hardest things and that I what I need to find now. I'm nearly there, it is just a matter of cracking it in the right race.
"We haven't changed a huge amount year on year. We have definitely worked a lot more on my speed this year.
"Normally my speed will come as the season goes along but because it is such a compressed season, we are trying to work on it that bit earlier. We have done a lot more hurdling throughout the winter because we knew it was going to be such an early start (to the season)."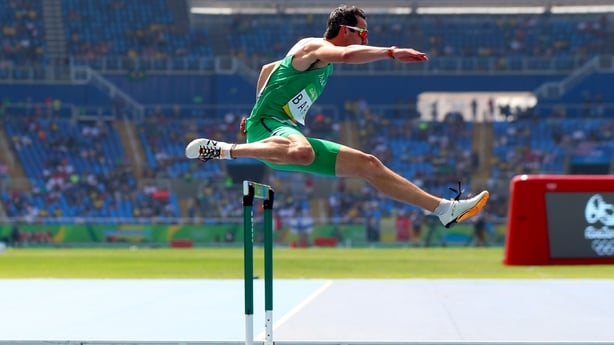 Barr knows that the standard of competition will be fierce in Tokyo and he believes that the scene is even more cut-throat than it was in 2016.
"I think 400m hurdles at the moment is one of the hottest events going on the track," he said.
"There are guys that are already running low 47 seconds.
"Two years ago there was Karsten Warholm, [Rai] Benjamin and [Abderrahman] Samba, they were the three big names and now you throw in Alison Dos Santos and Kyron McMaster, who are also running extremely quick early season.
"I'm hoping I can push on to the level they're at towards Tokyo and be in with the fighting chance on challenging.
"It's definitely a much more contested event than it was four or five years ago."
Thomas Barr was speaking at the launch of Irish Life Health Family Mile Challenge.