Ten days on from securing her place at the Tokyo Olympics and the magnitude of her achievement is beginning to sink in for Aoife Cooke.
The Cork native booked her place at the Summer Games when she convincingly beat the women's Olympic qualifying standard of 2:29:30, finishing in a time of 2:28:36 to win the Cheshire Elite Marathon.
It was a marked improvement on her previous personal best time of 2:32:34, which she had recorded at the 2019 Dublin Marathon and moves her to fourth on the all-time list of Irish women's marathon runners ahead of Sonia O'Sullivan.
Now that she's had time to absorb the result and what it means for her, Cooke's thoughts are turning to preparations for the Olympics and all that will entail.
"I think it has finally sunk in," she said. "It's been a whirlwind of 10 days now since it happened so it's finally starting to sink in and I'm making plans going forward for the Olympics and I guess it's just to get those plans in place.
"I've had a bit of down time in the last week, was down home and spent some time with the family and I'm ready to get back at it now.
"I had to turn my phone off for a while on Sunday evening after the race because it was a bit mental, so Sunday and Monday after the race there was a lot of messages and a lot of congratulations.
"Up until now I was just focusing on the race in Cheshire so I hadn't really thought about anything further than that, so last week has been a lot of thinking what I can do now before going to the Olympics.
"I'm thinking about going away to train and get some warm weather hopefully around the end of May, start of June but that has it's own challenges at the moment with Covid."
Cooke's achievement is all the more remarkable given just long she's been out of action for.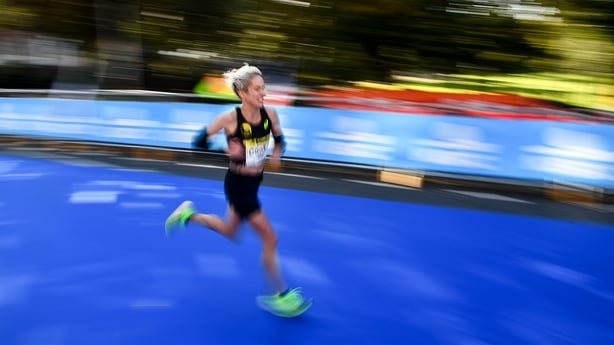 The race in Cheshire was her first full competitive marathon since the 2019 Dublin marathon and represented her last chance to book her seat on the plane to Japan.
Covid-19 has played havoc with Cooke's preparations and even now there are lingering doubts about the summer's games, give the sharp rise of case numbers in Tokyo in recent weeks.
However Cooke is already well used to dealing with the uncertainties that the pandemic has brought and is philosophical about
"I wanted to do a marathon last year in Vienna to try and qualify but obviously with Covid that was cancelled," she explained. "I guess it just feels like the last year was very uncertain with all the cancellations and everything.
You have to keep preparing as if it is going ahead and just black out all the noise and negativity
"In the run-up to Cheshire, that was all I was focused on and I supposed that had its own challenges with whether it was going to go ahead or not.
"But I think as an athlete, and a lot of athletes would be similar, is that you have to keep preparing as if it is going ahead and just black out all the noise and negativity.
"If it does come to a stage when it doesn't go ahead then you deal with that as it happens but at the moment, I'm just trying to be positive and assume that it is going ahead.
"I'll train and prepare like it is going ahead but obviously the last year has taught us that everything is possible and nothing is certain, so it's just a matter of dealing with something when it happens and if it happens."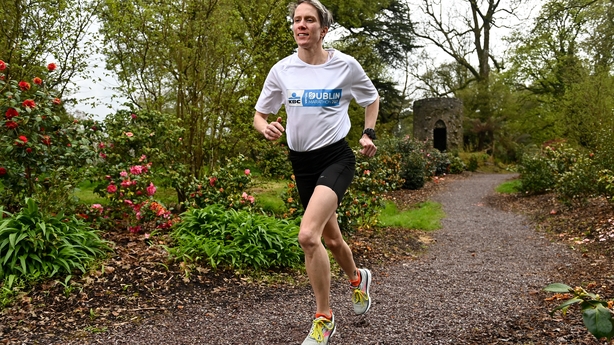 In securing her Olympic dream, the 36-year-old has done much of the hard work on her own, combining her marathon running with her day job as a personal trainer.
A GoFundMe campaign has been set-up to help cover Cooke's costs in preparation for Tokyo and the support she has received from official bodies has been limited.
"I did receive support from the Marathon Mission, who were set-up to support marathon runners", she said. "They got in contact with a few years ago, after I ran 2:46 in Amsterdam.
"They've kind of supported me and I've gone up a few times to train as part of the Marathon Mission and they are supportive in terms of trying to get us into races and that."
However with her new found success, comes a higher level of scrutiny and for the first time, Cooke is having to deal with random doping tests.
"I haven't been up until now," she explained when asked about testing. "I will be put on the list after the qualifying time. I haven't had that up until now so this will be something new for me."
While her immediate focus is on Tokyo and Olympic games, Cooke still feels as if she has some unfinished business on the domestic front.
The 2019 Dublin marathon was the race where Cooke really announced herself as an genuine Olympic contender and she made people sit up and take notice when she seemingly came from nowhere to finish as the first Irish women, in a time that set a new record for an Irish female competitor on home soil.
Race organisers remain hopeful that the Dublin marathon will go ahead in some form this October and Cooke is eager to be part of it.
"I have been discussing that with my coach and whether it would be possible to do the race over in Japan and to do Dublin as well," she said.
"Obviously I'd have to see how I feel after Tokyo and how I recover after that but I would be hoping to get on the start line in Dublin."
Ethiopia's Motu Medefa took gold in Dublin in 2019, finishing in a time of 2:27:48 and with Cooke's new PB within a minute of that time, there's a real hope that the Cork runner could become the first Irish runner to win the race since Maria McCambridge.
Aoife Cooke was speaking at the launch of the 2021 KBC Virtual Dublin Marathon and Race Series with distances of 4 Mile, 10km, 10 Mile and Half marathon available.
Entries are now open on kbcdublinmarathon.ie. Runners who have secured a place for the KBC Dublin Marathon race event on Sunday 24th of October, will receive confirmation by Friday 25th of June on whether the event can go ahead.