Sport Ireland CEO John Treacy has again aired his deep frustration that Russian athletes will be present at the Tokyo Games, arguing the World Anti-Doping Agency (WADA) need greater independence to impose stricter sanctions.
On Wednesday Sport Ireland published its Anti-Doping Review for 2020. In a year that presented unprecedented challenges, the body managed to complete 1,045 doping tests across 27 different sports with just three violations discovered. In-competition samples accounted for only 17%, with out-of-competition samples making up 83% of the national testing programme.
Russian athletes have been banned from competing under their national flag and anthem in Tokyo as well as the Beijing Winter Olympics in 2022 and World Championships in all sports in 2021 and 2022 as part of sanctions issued by WADA.
But the fact they will be there at all angers Treacy. Sport Ireland met with WADA last week and shared their views in what Treacy described as "a direct and very constructive" conversation.
WADA had originally banned Russia from the world's top sporting events for four years in December 2019, but a ruling by the Court of Arbitration for Sport last December reduced the four-year ban to two.
Though Russia were banned from sending an official delegation to the rearranged Games this summer, Russian athletes can compete under a neutral banner.
"I think the athletes look to us for a bit of leadership around anti-doping, particularly around cases like Russia when they emerge," Treacy said.
"We were robust in our views which obviously didn't sit well with WADA and other organisations during that time. We've continued to be advocates for clean sport and will continue to do it.
"Transparency is a key piece around the whole Russia case. When we spoke to WADA last week, the overall point I wanted to make was, the IOC [International Olympic Committee] shouldn't be anywhere near decisions around anti-doping and when they are, there is conflict because obviously the IOC want Russia in the Olympic Games.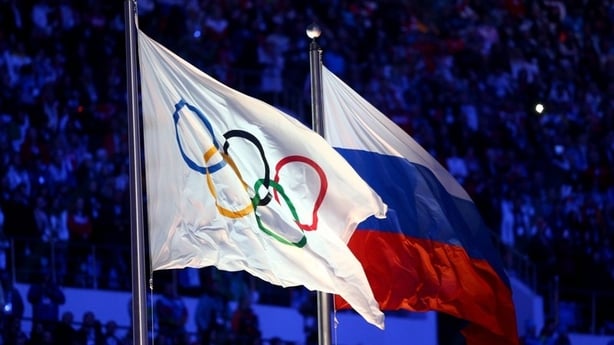 "A separation in terms of the sports movement, or more independence of WADA, is what's required. We want a strong WADA. We want WADA to lead us and we want them to lead us robustly, to safeguard the system.
"It's very hard for WADA because half the funding comes from the IOC and half comes from government so they have to keep an eye on two constituents. I think really and truly there can be no compromise. There can't be any settlements. You have to hold the line.
"If you look at the way we approach cases, or how other international bodies approach cases, there's clear criteria, clear sanctions. If you look at what happened in Russia, that was by far the greatest anti-doping case of all time.
"We'll be looking at those athletes having Russia on their uniforms and competing. They're there and they will have a real presence. I think that's a pity. There hasn't been any great consequence for them. It's only if you've a consequence that change will come about.
"It's disappointing and actually sad."
Reflecting on the latest results of Sport Ireland's Anti-Doping Review, Treacy was upbeat.
"We want to be at the forefront of anti-doping and continue to do it," he added.
"Obviously our programme is very effective. We think the deterrent for Irish athletes is huge because is there is an anti-doping violation it's covered in newspapers very extensively. In some countries it isn't, so the bar is high in terms of the standard and in terms of how our athletes are expected to do.
"Unfortunately the high standards of governance and transparency we see in Irish sport are not evident in all countries and we continue to fight the case for stronger governance and oversight across the global anti-doping system. Athletes worldwide need to have the confidence that they are competing on a fair, level and transparent playing field; and we support them fully."