It's a big year for sport and on International Women's Day, we take a look at some of the athletes and competitors who will be writing the headlines over the next 12 months.
Phil Healy
Narrowly missing out on a medal in the 400m at the European Indoor Athletics Championships at the weekend, it's perhaps a mark of Healy's progress that the result almost felt like a disappointment.
Setting a new personal best on her way to that finish, the 26-year-old proved that she doesn't just belong in a world class field, but that she can compete with the very best out there.
"It is just short of the medals and it's disappointing to be so close but look, it's a European final, fourth place, a PB, I can't ask for any more," she said in the immediate aftermath of Saturday's race.
"Coming to a final is bonus territory. This is my third run since yesterday morning. I'm buzzing, and to come away with that performance in a world-class field, I'm thrilled."
Targeting both the 200m and 400m at the Tokyo Olympics, Healy will be hoping and expecting to see her 400m PB time of 51.94 fall several times throughout the course of the year, with the 200m likely to be her main focus in Tokyo.
Sitting at 30th place in the 200m World Rankings and comfortably inside the Olympic qualifying places, Healy will be looking to step up and impress on the biggest stage of all, having raised expectations already.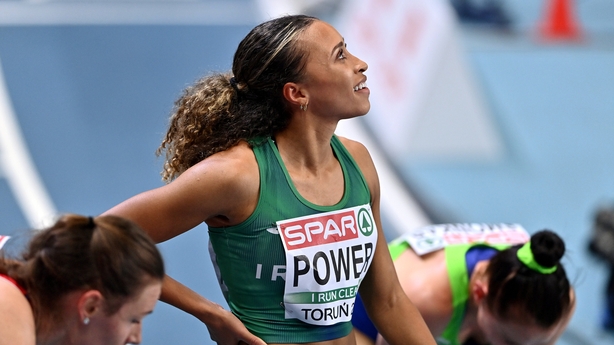 Nadia Power
Much like Healy, Nadia Power raised both her profile and the expectations that will be placed upon her this summer with her recent displays.
Just missing out on a place in the final with a fourth-place finish in the 800m semi-final at the European Indoors was a disappointment but it doesn't tell the story of her recent progress.
The 23-year-old has been in scintillating form this season, breaking the Irish record twice and swapping record-setting times with Síofra Cléirigh-Buttner as her personal bests continued to tumble.
Disappointment for Nadia Power as she finishes 4th in the 800m semi and misses out on the final #Torun2021 pic.twitter.com/uccKdBuQj2

— RTÉ Sport (@RTEsport) March 6, 2021
With all her focus on qualifying for the Tokyo Olympics, Power's campaign has been geared towards chasing ranking points and initially the European Indoors weren't on her radar with a late invitation to compete coming on the back of her recent results.
Starting the year in 62nd place, she has steadily climbed the table and currently sits in 34th on 1184 points, already ahead of where her coach believes she needs to be to book her seat on the place this summer.
The rivalry with Cléirigh-Buttner does offer an extra dimension of intrigue ahead of the summer's action but as Power explains, it's not exactly Steve Ovett versus Seb Coe in terms of animosity.
"I think it's very exciting for any fans of the sport," she said. "I just think it boosts you so much. I did training sessions with Síofra over Christmas when she was home from America. So it's all good - we'll just push each other to be better."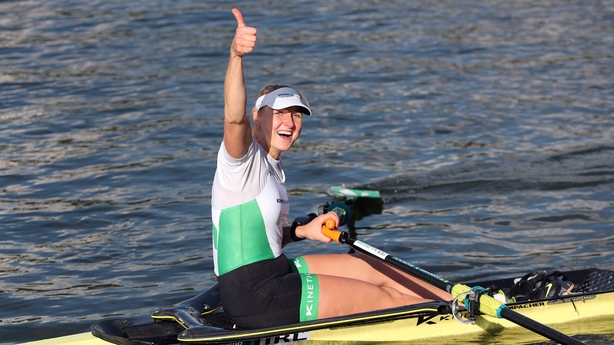 Sanita Puspure
Irish rowing star Sanita Puspure is making no secret of her main goal this year – she wants to take home the gold medal from the Tokyo Olympics.
It would represent a fitting pinnacle to a glittering career already laden with gold. With back-to-back gold medal wins at the European and World Championships, the single sculls competitor feels she is at the peak of her powers and is eager to prove that in Japan.
Winning gold at the 2018 and 2019 World Championships instilled her as the big favourite to repeat the trick at the Olympics, before the Covid-19 outbreak put those plans on hold.
Just how that lost year will affect both Puspure and her rivals remains to be seen but she's in no doubt as to what her target is.
"I never thought I'd be a World Champion, but because I didn't give up and with the right support behind me, I'm here, and ready to fight for an Olympic medal... obviously I want to win a gold and put that cherry on top of the cake," she said.
There's no reason to believe that she won't have her cake and eat this summer.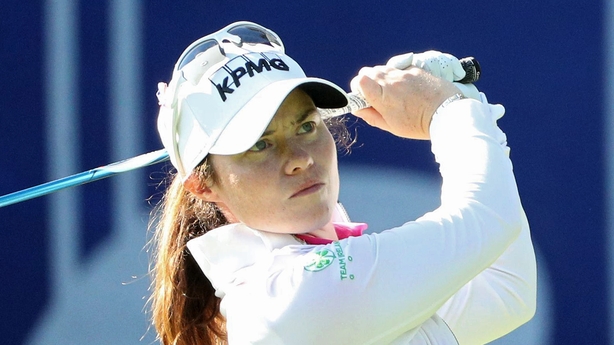 Leona Maguire
Fresh from a top-10 finish at the Drive On Championship in Florida, Leona Maguire is already setting her sights on US Open qualification as she continues to build and improve on the LPGA tour.
Maguire finished in a tie for sixth place in Florida at the weekend which comes off the back of a top-20 performance at the Gainbridge Championship the previous week.
The 26-year-old is the biggest mover in the Rolex World Rankings, climbing 39 places this week as she closes in on the top 100, while she also sits at 14th in the LPGA season's Order of Merit.
With all aspects of her game coming together she's now perfectly poised for a real attack on those World Rankings and to ensure that she's well within the top 75 in May when qualification for the US Open is decided.
"The big goal is to try and get off to a good start, to get into the US Open," she said. "I was first alternate last year and sat around Houston and didn't get in, so the goal is to avoid that this year."
There's also the prospect of the Olympics on the horizon for Maguire, who along with Stephanie Meadow, looks all but certain to represent Ireland in Japan.
While the more immediate goal of the US Open and golfing majors are to the fore of Maguire's thoughts, there's no doubting where her priorities lie.
"If you gave me a Major versus an Olympic Gold medal, I'd take an Olympic Gold medal but that's my personal preference," she insisted. "It only happens every four years, in this case five but everyone's really looking forward to it."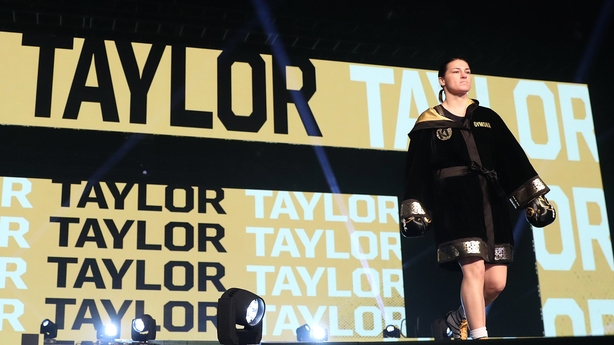 Katie Taylor
For someone who has spent her entire career breaking new ground and setting new records, Katie Taylor continues to find a way to not just challenge herself but to exceed those challenges.
A six-time European Champion, five-time World Champion and Olympic gold medalist as an amateur, her achievements as a professional have equaled and arguably eclipsed what has come before.
Taylor has the lightweight division sewn-up, holding all the belts along with the WBO junior-welterweight and still she wants more.
A lightweight title defence has been penciled in for 24 April according to Taylor's manager Eddie Hearn with a tilt at a third weight division then lined for the Bray fighter.
Taylor is in line to move to welterweight after that April bout where she will face the winner of a rematch between Jessica McCaskill's and Cecilia Braekhus with the undisputed welterweight title on the line.
Even after that fight there is the possibility of an even bigger challenge with American fighter Claressa Shields holding out the possibility of what would be the biggest bout in women's boxing history as she have begun to talk up the prospect of a showdown between the two superstars.
Like Taylor, Shield is and Olympic champion and she has held belts across three weight classes and while there is still plenty of work to be done to secure a fight between the two, signs are increasingly positive.
"I think that the dream fight overall is for me and Katie Taylor," Shields said recently. "But for me going down to 147, it is kind of a push for me. The numbers have to make sense and everything else has to make sense: the rehydration clause.
"I think it would be the best fight, if she were interested."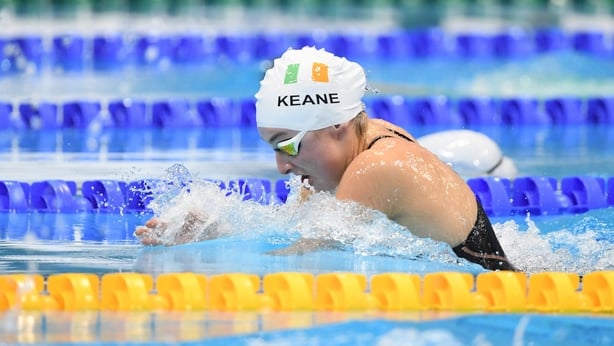 Ellen Keane
A Paralympian at the age of 13 and a Palalympic bronze medal winner eight years later at the Rio Games, Ellen Keane goes towards Tokyo 2023 looking to build on her already hugely impressive achievements.
Gearing up towards her fourth successive Paralympics, the swimmer will again be competing in S9, SM9 and SB8 classification events, favouring the breaststroke for which she won bronze in Rio.
Winning gold at the 2018 European Paraswimmimg Championships in the Breaststroke SB8 100m and a bronze in the 2019 World Championships, Keane was aiming to build towards a peak for last summer's cancelled Olympics but has a sense of calm about what she can achieve in Tokyo.
"I've won my medals," she said. "I honestly want to win a gold medal but at the same time, when I look back on how much Paralympics has changed between London 2012 and Rio 2016, the difference between a gold medal and a fourth place can be 0.04, like it's very, very fine now.
"So for me it's just about swimming as best as I can and getting that PB."
There's a real sense of pride about Keane, representing not just her country on an international stage, but people with disabilities everywhere. It's the main reason she insists that language is so important and the distinction between an Olympian and Paralympian is not one to be confused.
"I am a Paralympian. Not an Olympian," she wrote on Instagram recently. "The Paralympic movement uses sport to showcase how powerful, how strong and how great a person with a disability is if you just give them an opportunity.
"I represent people with disabilities, not just my country. I am proud of that. Be proud of that with me. Words are powerful. So proudly say Paralympics and become an ally for people with disabilities. Create opportunities & embrace how powerful differences can be."