It's like the Allianz League: it doesn't really matter a thing if you can't perform in the championship.
We have seen some remarkable results from Irish athletes in the first few months of 2021. People can debate on the impact of new shoes or the fact that perhaps less distractions in life due to Covid are positives towards training, resting and racing. One thing is certain, Irish records are falling. 
Our athletes had slim pickings when it came to opportunities to perform this winter, which made results all the more outstanding. The strength in depth across numerous events is better than many of our European counterparts. 
It's the first time we had more than three athletes qualified for numerous track event, unheard of in Irish athletics history. Maybe it's time to change the title of our national championship to national trials…. first three past the post qualify. 
So we all got excited. Ireland sent its biggest team to a European Indoor Championships, packed with talent, experience and youth. Medals were targeted, as were finals, personal bests and national records, and why the hell not? Athletes were ranked high, with many in the form of their lives.
And then it got real, championship real. 
Heats, semi-finals and finals, no pacemakers. It's now time to run using the body and, of course, the head.
This was 'Big Time' athletics, six made their debut ,another four winning only their second senior championship cap.
We looked to previous medalists, Ciara Mageean and Mark English to lead the charge. When Mageean pulled out prior to the championships, we looked to Phil Healy to mount a challenge, but after her it was nothing more than hope.
Maybe, just maybe, one of our 800m record breakers could get to a final and then who knows, all three athletes were ranked in the world's top 20, top six in Europe, coming into these championships and in blistering form.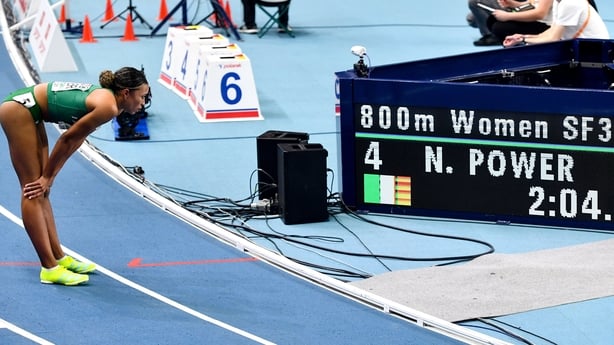 That none of our 800m athletes - Síofra Cléirigh-Buttner, Nadia Power or Georgie Hartigan - medalled isn't a surprise, the fact that none make a final is. 
Síofra wasn't involved from the get-go in her heat, failed to assert herself and as result can only be described as disappointing. Hartigan, positioned better throughout but again fell short.
Power faired better, progressing to the semi-finals. Trying to impose herself on her competitors she just ran out of gas. For her, I think it's been a very positive championships after a planes, trains and automobiles start to 2021 chasing Olympic qualification. She's put herself in a great position to go to Tokyo and the Torun experience will stand when she steps out into a championship environment once again. 
A big disappointment for me was Mark English. It was always going to be tough to make a final never mind win a medal, however, Mark has been on the podium twice at these championships and last month ran his fastest time over 800m, his previous best was way back in 2014.
Hanging back at the rear of the pack leaves you at the mercy of the front runners, and I feel he got his tactics wrong. In his semi-final he gave his competitors, some of which are multiple world and European medallists a four-metre lead which is like Mayo giving Dublin a three-point head start.
It's frustrating to watch, I can see what he has, and I know how good he could be. Not many positives to take from Torun for Mark, but his recent national record suggests his coaching and training changes are working, and it needs to in order to get to Tokyo. 
Okay, so no medals, and for many it will be deemed a failure. This is a championships where Irish can aim to podium, so anything less will be classed by many as going backwards. However, that's unfair. Yes, there were poor performances, but we also saw some positives, and many can hold their heads high.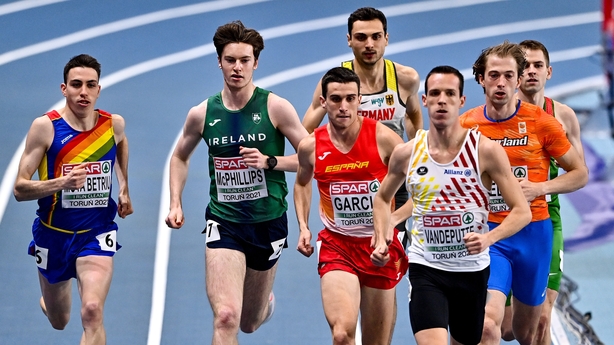 Cian McPhillips at the age of 18 ran with the maturity of a seasoned pro, maybe Mark English should have a chat with him. His attitude and talent is breath of fresh air and he took to the stage like a duck to water. 
Negotiating the Leaving Cert will be first and foremost, but then the summer is full of opportunity for one of the fastest under 18s the world has ever seen, with European and World junior championships. Young Israel Otalunde wasn't too far off his personal best at this level - with those big junior championships lying ahead he's ones to watch. 
Great to see Paul Robinson back in a European final seven years since his last, if anyone wants to hear a story on resilience look no further than Paul. Joined by Andrew Coscoran in the 1500m, who is on an upward trajectory, he can confidently compete at this level and he too can take some positives. 
Resilience was a bit of theme over the weekend, with another athlete overcoming injuries and since 2013 she has had to carry the heavy label as the next big thing as a junior: Sarah Lavin.
She set personal bests in her two previous races prior to Torun and went on to smash her PB in making the semi-final in what can only be described as a world class European 60m hurdles. She backed up her heat time with her second fast ever time in the semi-final but was just short. Overall ninth position and this will give her crucial qualification points but also belief ahead of the summer.
Ireland's Phil Healy finishes 4th after an impressive run in the final of the 400m as Femke Bol of Netherlands takes gold #Torun2021 @irishathletics pic.twitter.com/Xy6CHPQ001

— RTÉ Sport (@RTEsport) March 6, 2021
So, it really boils down to the big Irish winner for me in Torun, and that was of course Phil Healy. For her, she needed to make the final. A serial semi-finalist in recent years and coming into these championships in personal best form and highly ranked.
No doubt the disappointment of Glasgow two years ago was still in the head. On that occasion the speed took over and strength to get through the round was not there. Too fast, too soon, unable to recover and left wanting in her semi-final.
Every day is a school day, both Phil and her coach Shane McCormack learned a lot, and after recent injuries, training on gym bikes and lifting weights in an empty montessori, Phil was ready.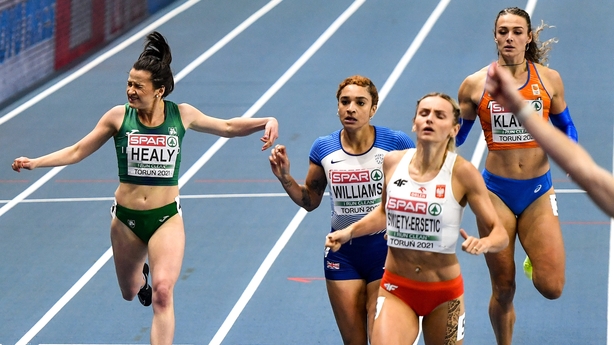 Deciding not to run on the European circuit, Phil kept her powder dry. One run in Dublin, resulting in a personal best of 51.99, told her everything, she was ready. 
She was immense, her fastest string of 400m races, all in a 36-hour window with the quickest run coming in the final of an extremely strong and competitive event.
Her time of 51.94 would have medalled in the last five editions of these championships. She ran with pace, presence and put it up to her rivals. Phil Healy won fourth, she didn't lose third. 
And the lesson after a mixed weekend for the Irish, sometimes what happens in the league isn't worth its salt when it comes to the Champo!