Sean Tobin came home 11th in the final of the 3000 metres at the European Indoor Athletics Championships in Torun, Poland this afternoon.
The Clonmel athlete was in the leading pack early on, but an injection of pace from eventual winner Jakob Ingebrigtsen split the field with Tobin ending up in the chasing group.
He ran a time of 7:58:11, which was over 10 seconds slower than his semi-final run, while the Norwegian added 3000 metre gold to his earlier 1500 metre first place. 
Watch as Jakob Ingebrigsten wins the 3000m final where @SeanTobin94 finished 11th in a time of 7:58.11 #Torun2021 @irishathletics #rtesport pic.twitter.com/P2KRH8IRWm

— RTÉ Sport (@RTEsport) March 7, 2021
"Pretty rough - that was very disappointing, it feels embarrassing being honest," was Tobin's take when he spoke to RTÉ Sport after the race.
"Clearly the head wasn't there. When I went I didn't go and my mind was screaming at me to go. I don't know, I let it go and switched off and that shouldn't at these sort of levels.
"I felt pretty good coming off yesterday (and) today I felt pretty good. Our group - Coscoran was seventh and Paul was 10th (in the 1500m) - we're all good enough to get to a final now but that's not good enough for us.
"It's a step in the right direction." 
A somewhat disappointed @SeanTobin94 spoke in the aftermath of his 11th-place finish in the 3,000 metres #Torun2021 @irishathletics pic.twitter.com/iHnRpBSIYd

— RTÉ Sport (@RTEsport) March 7, 2021
Asked about where he feels strongest Tobin said: "I think the marathon is where I feel most comfortable. I've always felt more comfortable over the cross-country and I've dipped my toes in the road (races).
"A lot of my training suggests I'd be strong aerobically over the the long stuff. I'm here now because there are no marathon opportunities to qualify for the Olympics.
"That's just disappointing - I was the last man on for the Irish team and that's the last thing I wanted to do.
"I did everything right until about a kilometre. We probably need another year to get stronger, get together, and get more experience of being able to come back on back-to-back days like this."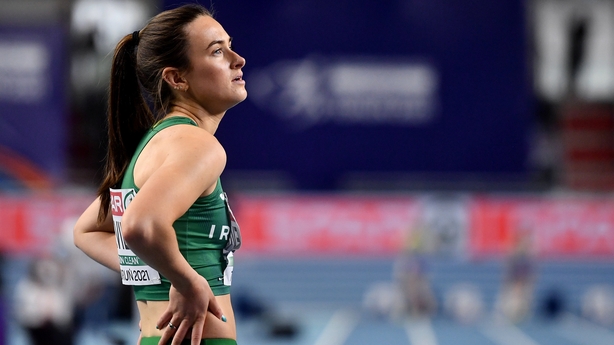 Earlier, Sarah Lavin and Ciara Neville bowed out at the semi-final stages in their respective 60m hurdles and 60m races.
Twice in the space of a little over two hours in the 60 metres, Neville ran a time of 7.37 from lane eight, but unlike the morning heat, it was not enough to progress further as a fastest loser.
Her semi-final was won by French sprinter Carolle Zahi in a time of 7.21.
Ciara Neville clocks a time of 7.37 in her 60m semi-final #Torun2021 @irishathletics pic.twitter.com/GQ5zn4C7fW

— RTÉ Sport (@RTEsport) March 7, 2021
"I definitely thought I had faster in me," the 21-year-old told RTÉ Sport afterwards. "I'm disappointed that I couldn't bring it today, but onwards and upwards.
"I much prefer the 100 - I think the 60 is just a little too short. So I'll definitely work on my acceleration so I can get out of the blocks better and hopefully I can improve my top-end speed from 60 to 100." 
Lavin put in another fine showing in the 60-metres hurdles with a fourth-place finish in her semi-final.
Sarah Lavin clocks a time of 8.07 in her 60m hurdles semi-final #Torun2021 @irishathletics pic.twitter.com/gBlVrVqcXY

— RTÉ Sport (@RTEsport) March 7, 2021
The 26-year-old posted a time of 8.07, just one hundredth of a second of the personal best she set in yesterday's heats, but it wasn't enough to advance.
Reflecting on her run with RTÉ Sport afterwards she said: "You want to attack all of the hurdles, but it's been a great championship for me, and a great season.
"I've a lot to be grateful for - 12 months ago I wasn't in this situation. Covid has provided time for my coach and for myself, and often time is money. If there's a year to put everything as number one priority, it's this year.
"I'm giving it everything I have. I'm disappointed, of course, to not even go 1/100th of a second quicker than yesterday, but it's been a good championship and there are a lot of work ons."
Earlier today, Molly Scott and Joan Healy exited the championships following the 60m heats.
Scott in particular was unlucky not to progress, missing out by one hundredth of a second in her seventh-place finish in the heats, clocking the same time as Neville with 7.37. Scott was edged out after a fast final heat. 
Healy ran 7.46, well outside her PB of 7.31, in finishing eighth in her race.