Much has been made of the size of the 23-strong Irish team which will compete over the four days of the upcoming European Indoor Championships in Torun this weekend, but ultimately the currency of success is medals and winning even one from four days of competition looks a daunting task. 
The Ireland team, however, has had a long and happy relationship with the most accessible championship for its athletes who earned two podium successes from the last staging in 2019. 
Mark English, the bronze medallist over 800 metres in Glasgow last time out, returns to a championship which has seen him also win silver in Prague back in 2015. 
Ciara Mageean also claimed a medal in Scotland two years ago but her withdrawal from the team this week citing a lack of form deprives Ireland of another serious prospect as her 1500 metre event is not as deep in terms of talent as other disciplines. 
With the exception of 2017, the Irish team brought home medals from every European Indoor Championship since Mark Carroll's gold and James Nolan's silver in 2000. 
There was double success in 2005 in Madrid when David Gillick and Alistair Cragg gave Ireland their best ever medal-table result at the championship while Gillick repeated his 400-metre triumph two years later by defending his title in Birmingham. 
Nine medals for Ireland have followed in the subsequent six championships but none of them have been gold.
Even with a strong looking team in terms of numbers on this occasion, it will, in all likelihood, take a career best performance from one of the 23 to end that sequence.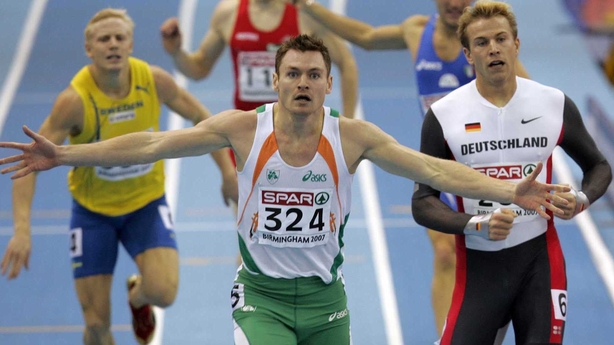 Indoor Championship running is harder to predict than its outdoor counterpart and is arguably a lot more taxing on an athlete. 
For the pure speed merchants and hurdlers, there's just 60 metres in which to get it all together while running around the tight 200-metre oval is arguably more demanding as 'bend running' on the tilted ends of the track is almost an art form. 
For a tall man, English has mastered that 'art' particularly well over the years and will head to Torun knowing he is possibly in the shape of his life having set a new Irish Indoor record over 800 metres at the Micro Meeting in Abbotstown less than a fortnight ago while wearing standard spikes as distinct from the super-fast versions now so common in world athletics. 
Even so, English didn't just break that record on 20 February, he lopped a sizeable chunk off it, equivalent to at least four metres of track, with a time of 1 minute 46.10 seconds, leaving him ranked sixth of the athletes entered in the event in Torun. 
English won't be too concerned about such things as rankings because his vast experience of what it takes to run three hard races in three consecutive days will be an asset beyond simply what the clock has told him from his one and only run this winter. 
However, even without the fastest man in the world this year, Britain's Elliott Giles, it is one of the most stacked 800-metre entries in European Indoor Championship history. 
The silver medallist from 2019, Liverpool's Jamie Webb leads the entries on times run this year while the field also includes 2017 World outdoor champion Pierre-Ambroise Bosse from France and home Polish favourite, six-time European gold medallist and former World Indoor Champion Adam Kszczot. 
World Championship silver medallist from 2019 Amel Tuka of Bosnia Herzegovina, 2018 European silver medallist Andreas Kramer of Sweden and young French star Robert Benjamin will also all be vying for one of those precious six lanes in the final. 
For English to reach that medal race will require two very well-judged performances.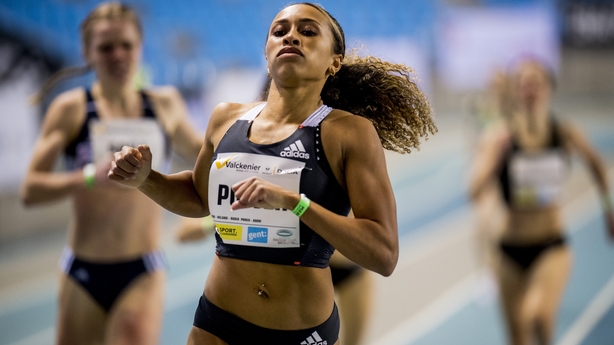 The women's 800 metres offers Irish athletes another shot at a medal judging by the rankings this season with Síofra Cléirigh Buttner the third fastest in the field in 2021, while Nadia Power is fifth on that list. 
Again though, the field is much deeper than simply an equation of who has run quickest over the distance this winter.  
The European number one is Britain's Keely Hodgkinson - who only turned 19 this week – and she is armed with a world junior record one minute 59.01 seconds set in Vienna just five weeks ago. 
The 2016 Rio Olympic fifth-place finisher Joanna Jozwik, a cool tactical specialist and 2016 European 1500 metre champion Angelika Cichocka will both carry home Polish hopes, while two-time European Indoor Champion Selina Buchel of Switzerland is also entered. 
Given the strength of the two 800m fields, it's arguable that 400-metre runner Phil Healy carries Ireland's best hope of a medal.  
The 26-year-old Cork woman, who has never run in a major championship final, finds herself ranked fifth in Europe this season from her one and only run in 2021 - a brisk 51.99 outing at the Micro Meet in Dublin a fortnight ago.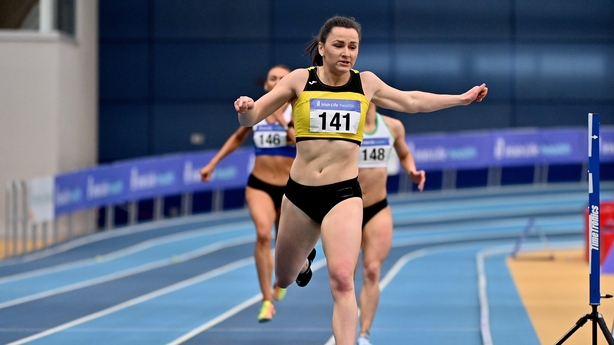 The indoor 400m is among the toughest and roughest events on the tight indoor track and in a relatively inexperienced field, Healy is one of the most practiced at championship level. 
If she utilises her sub-23 second 200-metre speed smartly to reach the bell in an advanced position in her heat and semi, there is a strong chance that she can claim one of the six lanes in the final. 
Like Healy, Balbriggan's 1500metre specialist Andrew Coscoran ran a lifetime best recently and that time of 3:37.20 - fifth on the Irish all time list – marks him down as another potential finalist. 
It will be intriguing to see how Paul Robinson's return to form progresses at these championships. The Kildare man's injury-ravaged six years between his fourth-place near-medal performance in the 2014 European Championships and his national title success over the same 1500m distance last August, is now well behind him. 
That men's 1500 metres promises to be one of the events of the weekend with the gifted double European outdoor champion, 20 year old Norwegian, Jakob Ingebrigtsen, the star attraction.
Ingebrigtsen will be attempting to complete the 1500-3000 double that just escaped him in Glasgow in 2019 and he'll be opposed in both events by Poland's Marcin Lewandowski who, at 33, will be seeking a third consecutive European Indoor 1500m title. 
The addition of in-form Raheny man Brian Fay who replaced the unfortunate illness-stricken Darragh McElhinney in the team, gives Ireland a decent chance of having at least one finalist in the men's 3000 metres with Sean Tobin and John Travers also entered, having both run lifetime indoor bests in the past few weeks. 
On the infield sprint track, Leon Reid, Ciara Neville and hurdler Sarah Lavin will all have realistic ambitions of at least reaching semis but will almost certainly have to significantly improve on their lifetime bests to have a chance of claiming one of the eight lanes in a final. 
With an eye on the future, there will be great interest in a couple of 18-year-olds making their senior Irish debuts after the breakthrough European qualification performances less than two weeks ago of 60-metre UCD sprinter Israel Olatunde and also Cian McPhillips – the extraordinary Longford talent who is the second fastest indoor junior 800-metre runner in European athletics history. 
Watch the European Indoor Championships, 4-7 March, on RTÉ Player and RTÉ2, with the morning sessions exclusively on Player.