Within minutes of crossing the finish line of an epic 800 metre duel with Mark English, the brightest new star of Irish men's middle distance running, Cian McPhillips revealed that the resolution of the Leaving Certificate controversy during the week played a part in his remarkable performance. 
"My mood today was going to be determined by how the Leaving Cert turned out but it's all sorted out now so I was happy-out coming here," he said shortly after his 1 minute 46.13 second runner-up finishing time was being logged in the history books in a whole load of categories. 
"I was hoping for something on these lines (today) but I never expected to get this quick," he said afterwards. 
In setting a National Junior and Under-23 record, the 18-year-old Moyne Community School student in Longford also became the second fastest Under-20 performer in the Indoor 800 metres in European Athletics history and the quickest on the continent's record books in over 20 years. 
His time also represented the fastest junior indoor 800 metres in the world in five years and the sixth quickest by an Under-20 athlete in the world in the history of the sport. 
Quite simply, he announced his talent in an astonishing manner, comparable to that with which Sonia O'Sullivan leapt to prominence at the Cork City Sports almost 34 years earlier as she vaulted to the top of the world 3000 metre junior rankings as a callow 17-year-old in the space of just over nine minutes.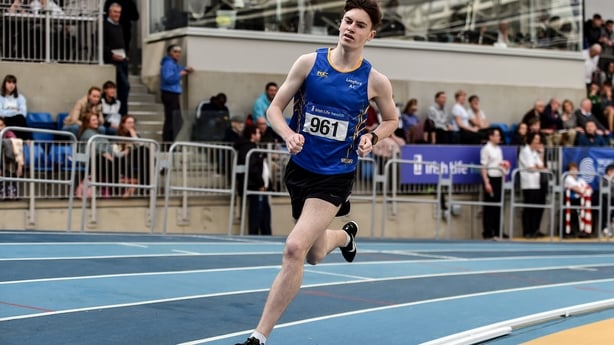 McPhillips came to prominence just over a year ago when he won the High School Mile in front of over 5,000 spectators at New York's Armory Arena as part of the schedule of races at the Millrose Games. 
Behind him that day, by some distance as he pulled away decisively in the home straight, were some of the best junior milers in the USA. 
That breakthrough performance came less than two weeks after he had set his first Irish Junior record in the 1500 metres and it's the longer distance at which he feels more comfortable.  
The 800 metres is not even his No 1 event. 
"I'm still a 1500 metre runner. An 800 like that (today) is a once off thing," he said in an exhausted state afterwards. 
"You can see I'm absolutely out of it and you know, 1500 wouldn't take as much, especially in a championship so I still think that would be my best event." he added. 
McPhillips is likely to be named early in the coming week on the Irish team for the European Indoor Championships which are scheduled to take place in Poland starting next Friday week.  
He will more than likely be accompanied by three-time European 800 metre medallist English and the third place finisher in Saturday's race, John Fitzsimons from Kildare who also ran a personal best behind McPhillips.  
"I'd love to go all things considered," he said. 
Currently, McPhillips is ranked No 8 in Europe on times run this season while English is at No 7.  
They are both now realistic contenders for a place in the six-man European 800 metre final but championship running will demand racing three hard races on consecutive days which is an entirely different proposition to clocking a fast time in a one-off race with a pacemaker. 
While English knows the championship drill very well having won silver in 2015 and bronze in 2019 at the European Indoors, it will be a voyage of new experience for McPhillips as he moves up to senior championship level for the first time with a clear spring in his step while armed with a bold attitude which seems undaunted by reputations of fellow competitors.