The 2019 European U-23 bronze medallist Nadia Power set a new Irish Indoor record in finishing second this evening at the Vienna Indoor International.
As Britain's Keely Hodgkinson ran away from the field to win in 1 minute 59.03 seconds, Power, who had bravely gone with a strong early pace, hung on well to finish second in 2 minutes 2.44 seconds - a time which was more than three seconds faster than her previous best for the distance indoors.
Power is a qualified athlete for the European Indoor Championships in Poland in five weeks time.
Ciara Neville was another Irish woman in flying form in Vienna as she equalled her lifetime best indoors of 7.30 seconds to decisively win the 60m sprint in her first race in 11 months, while Sarah Lavin posted a personal best of 8.24 for fourth place in the 60m hurdles.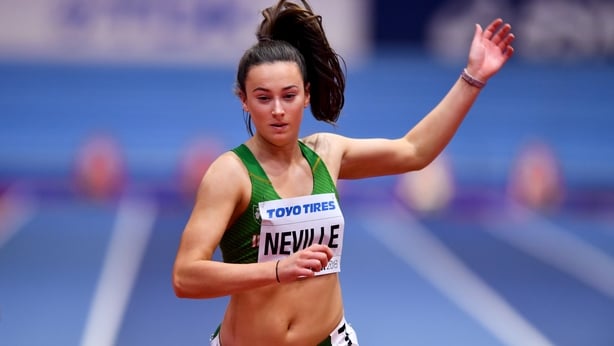 Dean Adams tied for 7th place in the 60m, clocking 6.85 seconds, while Marcus Lawler was 11th having posted a time of 6.88.
Last night (Friday) Ciara Mageean had a disappointing run in the 1500m at a meeting in Karslruhe in Germany finishing 6th in 4 minutes, 26.23 seconds.
Meanwhile, Athletics Ireland are hopeful that the cancellation of the Nationals Indoor Track and Field championships next month will not be the end of hopes of having meaningful racing in Ireland before a team departs for the European Indoor Championships in Torun in early March.
With the Covid-19 Level 5 restrictions here recently extended to March 5th, the announcement today that the National Championships would drop off the calendar was expected but the new plan for an 'elite only' non-championship event is well advanced.
There are approximately 60 Irish athletes in the elite exempt category and only competitors with that status will be eligible to take part in such a meeting.
This number would be roughly between 10 and 20 per cent of the anticipated entries for typical National Indoor championship and such a scaled down event could be run over three days from Feb 19-21 with very strict protocols in place and a likely maximum of six athletes per race and maybe as few as three or four.
One benefit of such a non-championship status event would be the allowance for pacemakers in the middle distances, if required or desired.
There is also the aspiration that such races would be eligible for World Athletics ranking points for Olympic qualification so any such measures that might improve the prospect of fast times will likely be welcomed.
The decision, which rests with the government and Sport Ireland, is expected sometime next week on whether the 'elite only' meeting can take place.
Currently, around a dozen or more Irish athletes are eligible to compete at the European Indoors scheduled for March 5-7.
They include the likes of Ciara Mageaan and Mark English who were both podium finishers on the last occasion the championships took place in Glasgow in 2019.
The 2018 World Indoor 400m semi-finalist Phil Healy is training away with an eye towards making it to Poland in early March and last year's indoor mile star Andrew Coscoran is also keen to test himself against the best in Europe over 1500m.