You could perhaps forgive Brian Gregan if he was to feel sorry for himself.
The 400-metre sprinter was coming off his best season in 2017 when a misdiagnosed injury put a sudden halt to things.
What was initially believed to be a bone bruise in his ankle turned out to be a stress fracture in his lower tibia along with a bone spur.
Surgery, with pins inserted into his tibia followed, as did Achilles and hamstring injuries that delayed his comeback and helped to keep him away from the start line for over two years.
Then finally some light at the end of the tunnel.
After so much time in the wilderness, Gregan made his return to the track on 3 March in the National Indoor Athletics Championships.
He eased to victory in his heat in a time of 48.43 before claiming bronze behind Andrew Mellon and Cathal Crosbie in 48.21.
Not his best time by a long stretch but this was huge progress, for the first time in over two years, he'd finished a race.
Before the end of the month, the country had gone into lockdown and Gregan was once again left kicking his heels.
Not that he'd complain mind you. The 30-year-old was just grateful to get a couple of races in before the shutters came down in Irish sport and with the Olympics now delayed a year, Gregan is a man on a mission once more.
"2017 was the last time I ran a competitive race," he told RTÉ Sport. "I was back training and running fast in training but I hadn't actually got to the start line.
"Thankfully [in March] I did get to race but I wasn't in great shape then. I'd had a little bit of a niggly hamstring injury and a calf injury about a month before I was due to start the race campaign so I wasn't in my best shape going into them but I knew I needed to race.
"The result wasn't what I hoped for but actually getting to the start line and looking back now, it was a great decision because the way things panned out with pretty much no races going ahead and then picking up a few injuries during lockdown, I was lucky I did get that race in.
"It's been a tough couple of years with injuries but hopefully now this is towards the end of them."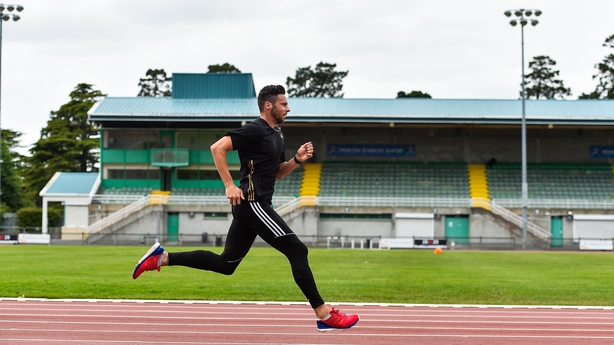 There's a real sense of optimism and resilience about Gregan that has helped him return to the track end even in the depths of lockdown, he's been able to take the positives from the enforced lay-off.
While others would be cursing their luck at a global pandemic derailing a long-awaited comeback, Gregan has used the time to reassess and focus further on maintaining his fitness.
"Lockdown taught me that I had a lot of little imbalances and lacked stability in certain areas," he said.
"Even though I've been suffering with injuries I've learnt about these imbalances and know what they are and they won't be coming up anymore because I'm have them addressed, so in that way lockdown has been positive.
"Sometimes when you're racing and going well you just keep pushing and pushing but then when you get injured you realise 'oh I have all these different imbalances and issues'.
"I've picked up on so many of them now so it's a matter of strengthening that stability while also maintaining my health, making sure I'm eating enough, making sure I'm sleeping enough, that I'm recovering well, so there's a lot of boxes to tick.  
"I feel like if I get them right, which I'm really working hard to get right, then I'll go really, really well and run faster than I ever have before."
Part of Gregan's self-belief comes from his work off the track. As the Director of Sport at the Institute of Education, the runner has a balance to his life that not all in his sport have.
"Lockdown taught me that I had a lot of little imbalances"
Gregan credits his job away from the track with helping him get through the darkest days of his injury woes and the financial stability that the role brings allows him to focus on his sport without worrying about making ends meet.
He explained: "As you get older you have the life questions – a house, a car, getting married – all these things that can burden you with money and so on and for me I needed to have something else.
"I want to run, I'm still doing the same training as a 20-year-old but now I have career that I've built up through the Institute of Education. I'm the Director of Sport, I manage their well-being and I'll be teaching them PE next year.
"It's a part-time job, 20-hours a week, but it keeps me sane because when I've been injured, I've had something else to focus on and there's nothing worse that just sitting on your arse at home when you're injured. That will be the ruination of you.
"Having this and motivating other people motivates me.
"So having that work has been key to me staying sane and obviously financially as well, to have a salary when normally I'd been worrying cheque to cheque from government grants or doing a photo-shoot here and there, instead I have a steady income so that takes away a huge amount of stress"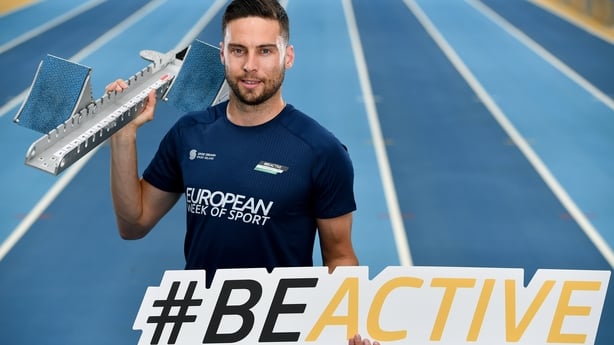 Now that things have returned to at least a semblance of normality and race meetings are once again a going concern, Gregan's thoughts are turning to Tokyo.
Not many people who are coming off a two-year lay-off would share his unwavering confidence that they could get themselves back to peak performance by next summer.
Gregan will be 31 by the time the rescheduled Olympics come around, but with so much time missed out due to injuries, he believes that he has extra miles in the bank to call upon and plans are already afoot to ensure he'll be on the start line in Tokyo next summer. 
"Myself and my coach sat down last week for a chat about it and next week we'll sit down again to work out things," he revealed.
"How we do it is that we work things backwards and we'll sit down and look at things.
"Tokyo is the end of July, start of August hopefully. Qualifying dates have to be done by the National Championships, which in the end of June and then we work back from there.
"We're looking at a couple of indoor competitions in February/March, that will obviously depend on Covid but best case scenario, we need to have a couple of indoor and outdoor runs.
"We'll look at building up strength and starting to get faster and faster. It's just one step at a time and looking to layer all the different components of fitness for my event which is speed and endurance, while trying to make me as robust as possible.
"If I can stay fit and healthy there's no question that I'll qualify.
"In other previous Olympic Games I wouldn't have achieved that standard coming into it but now after my season 2017, I've run four or five times that were under the Olympic standard so off 2017 I'd be ranked 16th in the world.
"The top 48 go so I know that if I can get fit and healthy I will absolutely qualify for the Olympic Games," he concluded.
With such confidence and belief, it's difficult to doubt him.
Brian Gregan was speaking at the launch of European Week of Sport 2020 at the Sport Ireland Campus. European Week of Sport is a week-long celebration of sport which promotes physical activity in people of all ages, backgrounds, or fitness levels. Sport Ireland is calling on you and your family to get out and #BeActive between the 23-30 of September and who knows, this may be the start of a new found love for sport.
Visit www.sportireland.ie/europeanweekofsport for more information.