Before the advent of Covid-19 and the ensuing lockdown in Ireland, 2020 had a clear-cut look for Lizzie Lee.
The 2016 Olympian had given birth to her third child in December and having missed last year's Dublin Marathon, the Corkonian had aimed to make it back onto the streets of the nation's capital for this year's event the main priority.
Tokyo 2020 hadn't been part of the plan at all in her original timeline. But as it happened, this year's KBC Dublin Marathon will take place in virtual form after the original format was cancelled and tantalisingly the Olympic Games have been moved back 12 months.
"I'd never say never," Lee tells RTÉ Sport when asked about the possibility of attempting to qualify for the Olympic Marathon now that it has been pushed back to 2021.
"But the standard in women's marathon running has dramatically improved since we had Rio, dramatically improved since London, Beijing... it's been improving the whole time.
"So it's not a case of me clicking my fingers and just getting on the plane. That's not going to happen and I have three small kids.
"You sacrifice an awful lot to go to an Olympics in terms of family and friends. Like, I don't know how many weddings I left at 10pm when I was training for Rio, hen parties where I'd leave at 6pm.
"And now I've three small kids so it's about prioritising them over anything else.
"However, I'm managing 85 miles a week now no bother early in the mornings so I just go to bed early and that's fine because it's not like there is anything to do at the moment (laughs).
"Look, I'd never say never but the standard, I think it's going to take the 2:29:30 to get on the plane and obviously, Fionnuala [McCormack] has that and there are a few girls who are well capable of running that now. And the extra year has given a few others time to do it as well.
"When I qualified for Rio, I had blinkers on. It was the only thing for four years that I wanted and that's not the case now because as my mother said, 'You've been and you have your rings so enjoy them'. But I definitely wouldn't be jacking in the towel either and I would love another Irish singlet or two."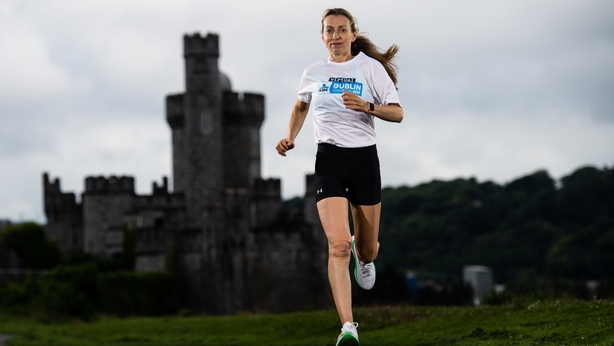 That Irish singlet could well be as part of a possible European Cross Country race in Dublin but also the fact that the Dublin Marathon is taking place virtually is a form of solace for Lee and other athletes.
"The only day I cried in lockdown was the day Dublin was cancelled because I had kind of gone, 'Right, I'll train for Dublin. Everything else is cancelled and the whole summer is going to be gone so I'll train for Dublin,'" she said.
Speaking of the aforementioned 2:29:30 qualifying time for Tokyo, it brings up the interesting area of marginal gains and how one can find means of lowering one's Personal Best times consistently.
Lee cites sleep and nutrition as crucial factors in finding those marginal gains.
"The difference for me between failing to get to London [in 2012] and getting to Rio was I linked up with Joe O'Connor from Nisus Fitness in Tralee for strength and conditioning," the 40-year-old explains.
"And for me, the pregnancy made me a better endurance athlete because Lucy was about 13 months old when I ran my PB but also it was the strength and conditioning because I was preventing injuries."
Anyone want to save me a ton of time and share a concise and impartial comparison of all the marathon shoes with carbon plates???? Like in a table format? 20 minute youtube videos which seem sponsored aren't doing it for me 🙈. Alternatively I'll win the lottery & buy them all 👌

— Lizzie Lee (@LizzieLeevale) July 1, 2020
Another subplot to the quest for marginal gains is running shoes. Recently, Lee tweeted a query about the best marathon shoes with carbon plates.
"I just wanted to know if anyone had this table of 'get these [shoes] if you've neutral feet or these ones are best for this' and 'if you're running on a wet day, don't wear these ones,'" she explains.
"The shoes are expensive and some are more expensive than others. They put an awful lot into these and there's a lot of talk about them.
"Certainly, you can't argue that they have made marathon running faster. When they put out the times for Tokyo originally, you would not have thought that they had a points system and then a time of 2:29:30 and then they had different ways.
"You would not have thought that you would actually be potentially, with the women's, you're looking at 2:29:30 full stop. And for the men's, certainly it's gone down to the time because they're at that capacity already.
"The game changer for that has been the shoes and everyone knows it's the shoes so to pretend it's not... and people are running PBs in them.
"I haven't worn them yet and I'm not allowing myself until my time trial is under 17 minutes because I'd break 17 minutes and think I'm fitter than I was.
We live right beside CUH. Hundreds of the staff walk by our home every morning. Lucy aged five felt sad that they might be scared in the hospital and that they might miss their family on St Patrick's day so we got colouring 😍☘️ #heroes pic.twitter.com/0vHnMkfH6Q

— Lizzie Lee (@LizzieLeevale) March 17, 2020
"I'm not going to let myself get beaten in a local road race by somebody who's wearing the shoes if I'm not. They can beat me if we're both wearing the shoes."
Off the track, Lee has been kept busy by her kids. But her 5-year-old daughter also kept busy trying to cheer up local healthcare workers at the start of the pandemic on St Patrick's Day by decorating the front window of their house beside Cork University Hospital to put a smile on the faces of passing doctors and nurses.
"From the road you could get the vibe that people weren't happy and they were nervous and normally people don't park on our road but they had to because everything was down to the wire and they were running into the hospital," says Lee.
"So she saw that and she said she was one or two doctors that she'd know who live around the corner and said, 'Mummy, they seem sad'.
"And I said, 'With the virus, everyone is sad and people are nervous'. Then she said, 'Mummy do they have to work on St Patrick's Day?' and I said, 'Yeah they do. They're going to be away from their families' and that's when she said can we cheer up our window.
"So we drew unicorns and put them on the windows. And it was tiny, the smallest thing ever but I think I got the most retweets I'd ever gotten from anything on Twitter but I think it just resonated with people.
"I got one message saying, 'My housemate just got home from a long shift and she's seen this tweet and she's bawling' and I was like well, that was worth all the colouring, so anyting to cheer anybody up."
That thoughtful gesture is something daughter has taken from mother with the latter also having had a long history of doing her bit to help others.
For example, she has been involed with the Cork-based Sanctuary Runners initiative in recent years, along with other Irish athletes, in giving their time to show solidarity with refugees.
"What's lovely about it is you rock up to the Mardyke and they're all rocking up on different buses and everyone's smiling, happy and wants to be there and there's this camarederie. And then you've got the local Cork people training them, coaching them and there's just a really nice vibe," Lee enthuses, adding that during lockdown she had supported World Refugee Day, "especially coming at a time when it's so out there and it's all over social media and it's just to do something local to help."
And as budding and experienced athletes get back up and running again with the target of the virtual Dublin marathon in October, Lee sees that as a bright ray to look forward.
"I have visions of lots of people around Ireland doing their marathon, water belts on and off to do their 26.2 miles, I think that would be pretty cool because then when we all do get back there in 2021, it will just be really special," she says.
Dublin Marathon organisers have today announced details of the official KBC Virtual Dublin Marathon. It will take place on the October bank holiday weekend, marking when thousands of runners traditionally hit the streets of Dublin.