Nadia Power has called for the conversation regarding racism to continue, and the Irish 800m champion has encouraged people to ask questions as a way of educating themselves on the subject.
The Templeogue native, who secured bronze at the 2019 Under-23 European Championships, has said that she has never experienced racism in sport, however, she has been subject to some abuse growing up in Ireland.
Power said that she has been lucky in life in that the abuse has been limited, however, she felt the need to stand up for her fellow Irish team-mate Gina Akpe Moses, who recently spoke out regarding being constantly questioned, 'why is there a black girl on the Irish team?'.
"Luckily, in sport anyway, I have never directly faced any racism," said Power, speaking on 2fm's Game On. "But outside of sport, I have faced a little bit and had racial slurs shouted at me.
"It's something that I am self-conscious of and I am aware people comment on, and I'm expecting at some point it might be an issue with me.
"A lot of people are realising that the problem is worse than we thought, and I think I am lucky that I haven't experienced that much in Ireland.
"But I wonder is that because I have one Irish parent, so that is frustrating for me because, why should I be treated differently to Gina as we are both Irish?"
Given that my Mother has had to warn me to avoid looking at the comments under pictures or articles where i'm wearing an Irish vest, i'm very grateful this article was written

Thanks @GinaAkpeMoses & @offtheball for sharing?? https://t.co/6FaYlHhke5

— Nadia Power (@NadiaPower6) May 31, 2020
The sporting world have proved, perhaps, more vocal than usual this week, following mass worldwide Black Lives Matter protests following the death of George Floyd in America.
And Power wants the conversation to continue beyond this week, which she believes will help address the matter in both sport and society.
"It has been so empowering seeing people care. And it seems to have gone a bit further now and people want to do something about it, so I am really hopeful for the future.
"That's why I was so eager to retweet that article because it is an elephant in the room as we have all seen the comments and we have all seen racism in sport and outside, so let's talk about it and have a conversation and see how we can all do better."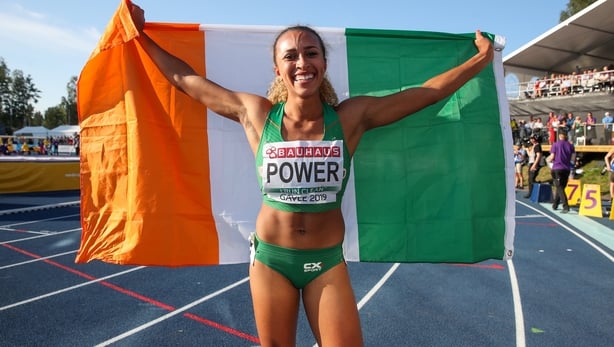 And 22-year-old DCU student, Power, believes that it is better for people to say things that are on their mind, even if they are unsure if they are the right things to say, as long as they are making an effort to learn about the issue.
"If you are making an honest effort to educate yourself and kind of [say to yourself] 'have I done anything in the past or should I be doing more to stand up to it in the future?', we can all be happy with that.
"And people shouldn't be afraid to say something if their heart is in the right place, and they just want to learn.
"And like they are saying on the internet this week, people need to be more that just not racist, but be actively anti-racist, I think that would be positive."
Power also spoke about her disappointing experience as a scholarship athlete in America, training during the lockdown and her hopes for the Tokyo Olympic Games.
Listen to the full Nadia Power interview
We need your consent to load this SoundCloud contentWe use SoundCloud to manage extra content that can set cookies on your device and collect data about your activity. Please review their details and accept them to load the content.Manage Preferences