A couple of months ago Rhasidat Adeleke had two big dates circled in the calendar: the World Athletics U20s Championships in Kenya, and her Leaving Certificate.
The Covid-19 pandemic wiped both off the schedule and forced the 17-year-old Presentation Terenure pupil to restructure her regime.
Suddenly, training at the track was not a possibility. Neither were the driving lessons she'd planned for the spring. Landmark events have been cancelled or postponed, with Adeleke preparing to say goodbye to her secondary school days with a 'virtual graduation', and the school's Debs likely pushed back to next February.
The gifted sprinter had also been considering whether to take up one of the scholarship offers she's had from USA colleges keen to bring her across the Atlantic. All that has been put on the back burner.
Adeleke, who turns 18 at the end of August, has had to adjust quickly. Missing out on the Worlds left her "distraught" but the wheels keep turning.
"It was the best decision to make," she says of the Leaving Cert, which was scrapped in favour of a calculated grades system.
"I was just grateful that I was pretty consistent with my exams.
"I feel like it was eventually going to happen so I was happy they made the decision early enough or else we'd be all studying now and it would still (end up being) cancelled.
"I haven't got back on the track yet. We haven't really heard word on if our track is going to be open. My coach Daniel (Kilgallon), he lives outside the 5km radius. It's not like he would have been able to come and coach me anyway.
"I'm not minding having to train on the grass.
"It's tough (juggling school and training), especially around competition season. I remember I was doing my Mocks, it was the same week I had three indoor races. I remember leaving the Mocks and driving down to Athlone for the AIT Grand Prix. That was pretty strenuous. It's always easier with a routine but when it's competition time it's a bit hectic.
"I was absolutely distraught (when the Worlds were cancelled). I thought it would be postponed because when they first announced it wasn't going to take place in July they initially said it would be postponed. I'd hoped it would take place in August or late September.
"The fact it's been cancelled is so upsetting. I'd have really enjoyed - not just the competition but the whole atmosphere. I've heard the Kenyan fans are among the best in the world."
Ireland's medal heroes, Rhasidat Adeleke and Molly Mayne, returned home today after their exploits at the European Youth Olympic Festival in Baku. #RTESport https://t.co/03WG04UH7F pic.twitter.com/hGkZFROtW6

— RTÉ Sport (@RTEsport) July 29, 2019
Adeleke caught the imagination of the country when she pocketed 100m and 200m golds at last year's European Youth Olympics in Baku.
Her progress has turned plenty of heads and given her options to move away but the teenager will not rush into making what is a major decision in her fledgling career.
Having such a close inner circle of family, coaches and friends is an important factor, while conversations with other Irish athletes who've gone to the States before her have helped weigh up the pros and the cons.
"The whole Covid-19 situation has made it more difficult because I'm not sure about when the Leaving Cert results are actually out and... if I do decide to go to the US, I'm not sure if I'll be able to begin this Fall," she adds.
"My other option is to start in January which is a pretty tough way to start a whole new regime.
"I've been talking to a few universities, just keeping my options open to whatever would will be most suited to me. I have a really good support team here and I know they all have my best interests at heart.
"Having a support team that I'm used to and that's worked for me so far would definitely be a pro for me. Having my family at home... it's so easy to get homesick being so far away if I do go.
"There's so many different things that would keep me in Ireland but it (would) also be a really good experience (to move). If I got that American experience, I'd always have the option to come home. It's nothing I'd be scared to explore."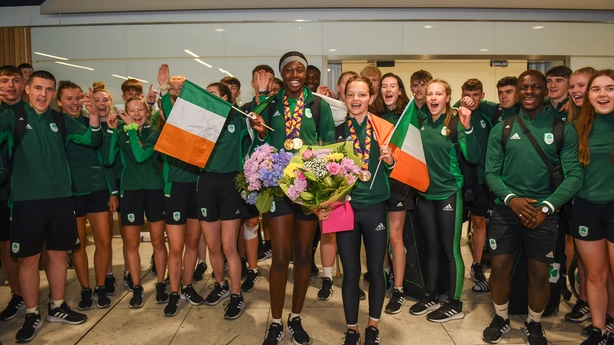 Adeleke is part of an exciting young relay team who still have a chance of making it to the now delayed Tokyo Games.
Patience Jumbo-Gula (18), Ciara Neville (20), Lauren Roy (19), Gina Akpe-Moses (21) and Adeleke all have time on their side, with Niamh Whelan (29) the elder statesperson in the group.
Almost exactly a year ago they narrowly missed out on making the IAAF World Relays 4x100m final at the Yokohama International Stadium but their performance was another significant stride forward. In that regard, the freezing of the season could yet work in their favour.
"Our relay team is very young," says Adeleke. "Another year of development could mean the world. Our bodies will develop and mature.
"Hopefully that (extra) year will prove useful. Hopefully we can practice more in the winter and get everything together to be able to qualify and be successful towards Tokyo."
For now, it's all about focusing on the positives. Adeleke has seen her own circle of friends taking up jogging and walking to help get through the lockdown. "A healthy body," she says, "is a healthy mind".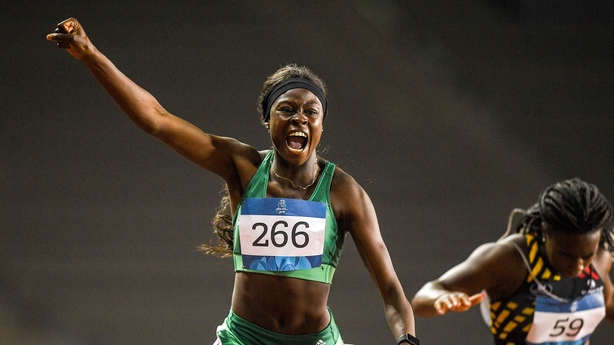 In such uncertain times for young people, positive distractions have never been more important.
"A lot of my friends have become more active. Staying at home all day is really difficult. They would have been used to going to school, going to an activity afterwards, where they'd be out and about. Now they're kind of contained at home. They've been going on walks with their parents or playing sport with their siblings.
"They ask me about what I do to keep fit, basic stretches, basic workouts for them to do at home to keep them fit. I've been pretty useful to them lately!
"It's definitely good for their mental health. It's great to get out to get some fresh air, and it's fun as well. It's a time to be able to focus on something else.
"You might have issues, negative aspects... it's just nice to be able to focus on something else that you enjoy and forget about all your worries."
Ireland athlete and SPAR ambassador Rhasidat Adeleke was promoting the Daily Mile, an initiative that sees primary school students run or jog at their own pace every day for 15 minutes.