"It's a special club. Nobody can join and once you leave, there is no getting back in"
Mary Nolan Hickey is indeed right to take pride in her place among a unique group of people. She has not missed a Dublin marathon since it was first held back in 1980, a gang that today that boasts just 13 members.
The only female to run each race, she has overcome challenges in the past to maintain her unbroken record of appearances.
Were it not for cancer, her ex-husband would most likely also be part of the group, with Mary dutifully pushing around a terminally-ill Tony around the streets of Dublin in a wheelchair. Tony passed away in 2017.
In 1989 she completed the course despite being six months and a half months pregnant with her son Calvin.
Today we're celebrating the 40th #KBCDublinMarathon with some of our famous 13! They've completed our 39 marathons & tomorrow they'll line up for their 40th - it's going to a special one ❤️ #RunThisTown pic.twitter.com/NfjTSc4BhW

— KBC Dublin Marathon (@dublinmarathon) October 26, 2019
The gritty Wicklow woman has made light of obstacles down through the years, but Covid-19 has proven to be a barrier, temporarily at least, with the race officially falling foul of the virus yesterday.
"It was inevitable really. It's an amazing day, but it's just not possible to stay safe," she told RTÉ Sport.
"It's a shame, and a real shame for all the charities who rely on fundraising.
"I'm telling people just to keep on running, to enjoy it. It's only 18 months away. You have to look at the big picture and it's only running in the big scheme things.
Raheny Shamrock runner Martin Kelly is another member of the group and says there has been an asterisk alongside the event since social distancing measures began.
"It didn't come as a surprise. Support along the route is such a big part of the Dublin marathon, and all that has to be factored in too," he said.
"With it being the 40th year anniversary, it is a little unfortunate.
"I think I'll be more disappointed when the weekend comes around in October."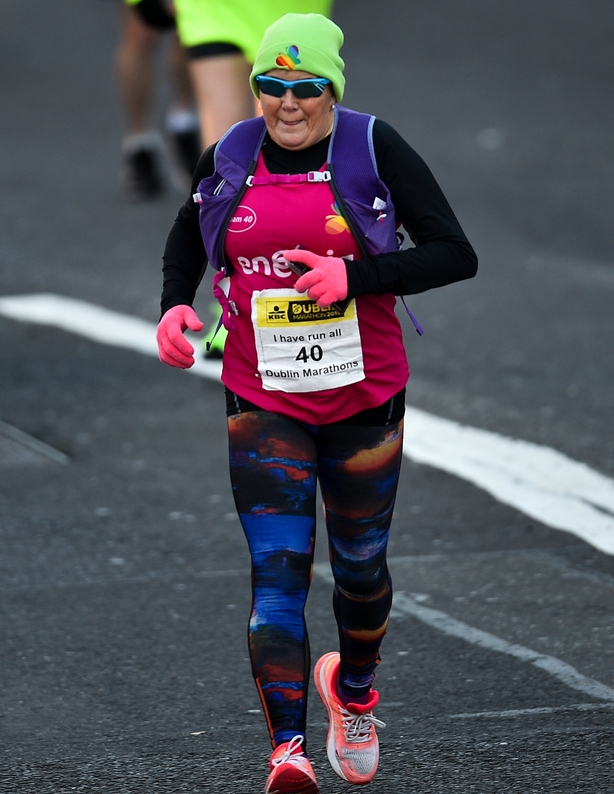 Nolan Hickey will celebrate her 69th birthday next month, but the candle still burns to keep active.
As well as her running, coastal rowing and cycling – last year she cycled around Ireland for charity – keep her occupied throughout the year.
In 1981 she broke the three hour mark as the fourth female to cross the Dublin finish line.
She describes last year's performance as "okay" owing to the fact she had a few niggling injuries, yet in a time of five hours and 20 minutes, she was the fastest female in the over 65 category.
Mary Hickey Nolan - the only woman to complete all 40 #KBCDublinMarathons - legend! #RunThisTown pic.twitter.com/guwkM7Y3DV

— KBC Dublin Marathon (@dublinmarathon) October 27, 2019
Already she has set her sights on the next edition of the race.
"It's like having a year off, but I'm looking at it in a positive light and looking forward to 2021. It will be very special. I hope everyone sees it that way.
"Maybe by then we will have some handle on this virus. Hopefully we will be on the other side of it."
For everyone signed up for 2020 it will mean a re-calibration of sorts. For Nolan Hickey, the marathon only begins to loom seriously on the horizon this time of year.
Some will turn to virtual races. More runners are running but without the intensity of the race to aim for. Others inevitably will postpone the training for 12 months.
"The scheduling of the marathon gives you something to focus on throughout the summer and it's great to have that," Kelly says.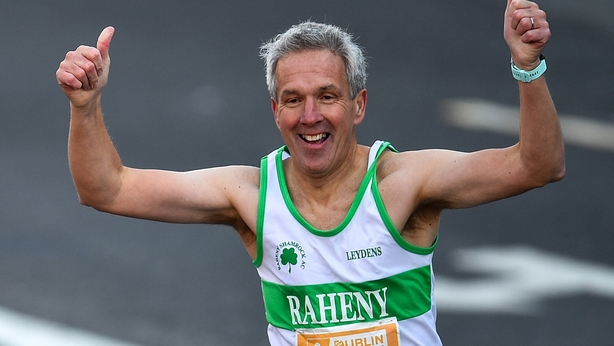 "I'll definitely keep at it and stick with my runs."
All going well, the 13 ever-present athletes will be back at the start line next year.
"It's a special group," Nolan Hickey says, adding mischievously that she doesn't expect any of them to voluntarily call a halt to their unbroken sequence.
"We are not dropping out any more, we are dropping dead."
The disappointment felt now will be more keenly felt on 25 October perhaps, but there's little or no chance of the pair being idle.
You can't let life slip on by and do nothing
Kelly, like he does most Sundays, will pull on the runners and hit the pavements, with his fellow club member not expecting to put up her feet for the bank holiday weekend.
"You can't let life slip on by and do nothing. I have a few things up my sleeve, but if we are still in tight restrictions, I will do something around here for a few charities."
The thirteen runners who have competed in all 39 Dublin marathons, along with their personal bests, are: Séamus Dunne (2:35:05), Séamus Cawley (2:35:24), Dominic Gallagher (2:36:52), Michael Carolan (2:45:48), Donal De Buitléir (2:46:06), Patrick Gowen (2:46:50), Martin Kelly (2:47:30), Mary Nolan-Hickey (2:57:18), Peadar Nugent (2:58:50), Billy Harpur (3:09:08), John McElhinney (3:12:45), Donal Ward (3:25:36), Frank Behan (3:49:26)