In a world where competitive sport is now scarce, Sonia O'Sullivan watched live horse racing from the comfort of her home in Australia.
There were no spectators at this particular meeting of the Sport of Kings, and so O'Sullivan was able to to detect the different noises, the jockeys talking, the horses brushing up against each other.
For the 2000 Olympic silver medallist, finding a new normal in light of Covid-19 is what we want now, with sport playing a key part in how that comes about. The pathway, however, is mired with uncertainty.
Speaking on 2fm's Game On, O'Sullivan said: "I think now everybody is ready for the exit and trying to find a way out of it. 
"At the start everybody was excited and finding these new things to do. It was like you weren't allowed to sit still for a second. There were so many exercise videos. Then that died down a bit and everybody settled into the new routine and the new normal of house party apps and Zoom apps. There was something different every week to distract you.
LISTEN TO THE FULL INTERVIEW 
We need your consent to load this SoundCloud contentWe use SoundCloud to manage extra content that can set cookies on your device and collect data about your activity. Please review their details and accept them to load the content.Manage Preferences
"When I look at my own sport of athletics, there have been a few virtual events here in Australia - people arranged time trials and then send in their results. That's okay for a few weeks but you do need the competition to push people and to give them a reason to go out. 
"It's tough then for the elite and Olympic athletes - all those who were primed for Tokyo have had to put that on hold. When are things going to start again? It will depend on when people can fly again, otherwise it will be local competitions. The Berlin Marathon, scheduled for late September was cancelled. The spring Marathons that were postponed until October are now up in the air.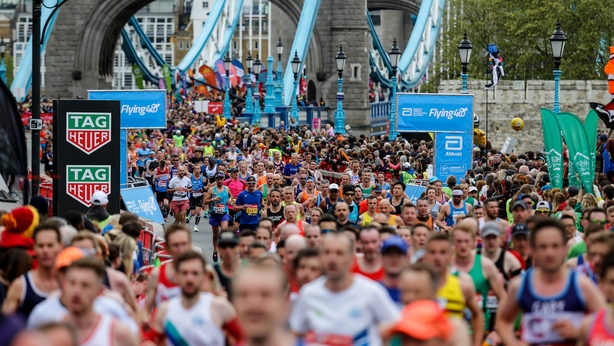 "Will the Olympics take place next year? We need to see progress in normal life and people being out doing normal things. It's like you have to overthink everything at the moment."
Like countless other sports, elite athletics has an international dimension, but current restrictions on travel means "athletics now has to build back slowly", according to the Cobh native.
"The track season lasts from April to September and it's like the travelling circus with people joining in as it goes along. It's similar to the Formula 1 season. 
"You start in Australia, then move to the Middle East, then China and Japan, before moving west. 
"But now there's no competition. Yet it's very hard to get your head around it. Everybody has been stopped in their tracks without any warning. Athletes now have to build back slowly. And that's going to be the way for all sports, all travel and for a lot of work. It will be a step by step process.
"Some sports will find ways quicker than others to come back and others will realise that they can do it as well. There's a little bit of who goes first and how they manage it.
"What's great about sport is that it can inspire people and show what can be done. Sports people are brave and have gone out there to push their bodies to the limit."
In her role as coach with the Mentone Athletics Club in Melbourne, O'Sullivan will shortly a commence of process upon which the competitive nature of the sport can hopefully shine through.
"Having others training and motivated has helped me to be motivated"
"We are at the planning stage at the moment and so this week I can only meet up with one other athlete," she revealed.
"Next week we are hoping to meet up with 10 athletes - two groups of five training separately.
"It will all have to be managed in a much more controlled environment - in that it's not like we've opened the doors and everybody is back in again.
"We have to do it gradually, safely, and in one go. You don't want to take one step forward and two steps back. That would be everybody's nightmare. When you go forward, you just want to keep going forward.
"Having others training and motivated has helped me to be motivated. We all become accountable towards each other by checking in and following people on all the various apps where they can upload their training.
"You can't really train at a high level right now. There's no point. Everybody is bubbling along at a nice level, it's a comfortable level. When you are training hard, you take yourself out of the comfort zone and you push yourself to levels where you can test yourself and be ready for high level competition.
"There's no point doing that right now because it's not going to be required, it would seem, for a long time."