Two months ago, Phil Healy set a national record in the women's 200 metres at the AIT International Grand Prix.
In what had originally been an Olympic year, it was an excellent way for the Cork athlete to start 2020.
However, as the coronavirus pandemic took hold globally, all athletes have had to reset and the Olympic goal sits further in the distance with Tokyo 2020 having been pushed back to next year.
Healy joined Sunday Sport on RTÉ Radio 1 to talk about how she has been dealing with the sudden change in circumstances and she remains undaunted.
"We obviously have our new target and new focus," she said.
"Obviously, the Olympics isn't going ahead. But the date has just changed and the same work continues and yes, [that national record] was two months ago and we were prepared for it.
"I remember my coach - because he was looking at the whole pandemic from January on before it ever hit Ireland - and he told me for my indoor season and for AIT Grand Prix and then Nationals two weeks later, that there was high chance that it was going to be my last race of the season, so to enjoy it and that I did.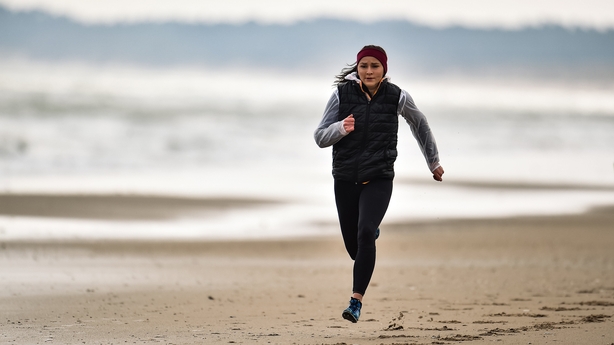 "There is a high chance now that that is it for the season."
With her coach being from Wexford, Healy is currently based there and away from her native Cork and college base of Waterford with the empty beach providing a suitable training base.
"Before [the coronavirus situation] kicked off in Ireland, about five weeks ago I moved out of my college house which is in Waterford and I moved to a house by the beach, just as a precaution because I live with five lads and they're in college as well so there is obviously the risk of them coming in and being in contact with so many people," she explained.
"I didn't want to spread the virus to someone as well. So I put myself into isolation by the beach just in case everything was going to shut down and it did four days later.
"So I had the beach to train on. We put a gym into the house so I had everything on my doorstep. I didn't need a track, I didn't need my normal facilities and I had everything so I could adapt that way.
"And then when the announcement came again that we only had the two kilometre radius, I moved into Shane my coach's house.
"[His wife] has a montessori school right next door. We transformed one of the classrooms into our new gym so you just have to adapt and make the most of it and get on with it.
"This is a window of opportunity for us. We never get this window of opportunity where we have so much time to train and there is nothing in the way with races. That goes across to all sports."
We need your consent to load this SoundCloud contentWe use SoundCloud to manage extra content that can set cookies on your device and collect data about your activity. Please review their details and accept them to load the content.Manage Preferences