The door has finally closed on the Tokyo Olympics, at least for this summer.
The International Olympic Committee has copped some serious flak over the past two weeks for delaying its decision, but I can see why they held off, given the number of stakeholders involved.
The postponement and the prospect of an Olympic Games in 2021 throws up all sorts of new issues for athletes and organisers.
Postponement, of course, has long been inevitable given the situation around the world today, but as I understand it, the IOC had to first get Japan on side, to convince them that rescheduling was both necessary and inevitable. That's why there's been such a delay: they were trying to get things right before making this decision. This is huge business, with billions of dollars at stake.
They also had to get the international federations on side with what it all means for qualification, so they all have a new procedure for qualifying for Tokyo 2021. There are so many sports, so many athletes, and right now every national governing body around the world is going to have to come up with something new.
This will have a huge impact on athletes, who are typically adaptable, given how often plans change in high-level sport.
There's a question they'll be worrying about. What criteria will they base funding on for the next 12 months? Funding is dictated by medals, performances, so if there are no performances this year, will Sport Ireland step in and continue to fund athletes through 2021?
Through the Olympic Federation of Ireland's Athletes' Commission, I've been privy to some discussions in this sphere and we've tried to keep athletes up to date as much as possible. The feedback has been positive because the fear is, with these things, athletes can sometimes be the last ones to know.
The athletes just want to know what's going to happen. They're not losing perspective. They know people are dying all over the world, so their problems pale in comparison, but at the same time, athletes are driven and they've built their whole lives around this. It's understandable that they're under great stress, with a certain sense of aimlessness.
The Athletics Association, a voice for professional track and field competitors, carried out a survey of over 4000 athletes and 78% said the Summer Games should be postponed. In addition, 87% said their training had been negatively impacted by the Covid-19 outbreak.
I'm sure many were looking at retiring after the Olympics or moving on to different things, but where does this leave them? For athletes who are in shape and ready to roll, their dream is pushed out another 12 months.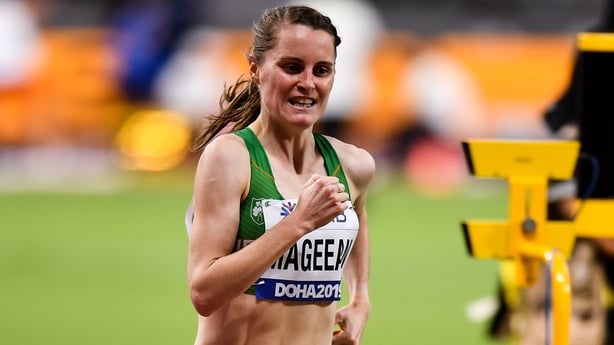 There are winners and losers. Ciara Mageean (above) has been in the shape of her life and could have been in an Olympic final this summer, Brendan Boyce, Rhys McClenaghan, Kellie Harrington, the women's hockey team and others, I'm sure, would love it to be on this summer, but there are others who are coming back from injury and wouldn't have a qualifier, nor the opportunity to get one . For them, another year to get ready would be ideal.
But there's simply no way it could happen this summer. Around the world, some athletes can't leave their apartments to train. At home, the Sport Ireland Institute has been open to our elites along with the National Aquatic Centre, and while that's all well and good for athletes in Dublin, what about athletes who train rurally?
With tracks and gyms shut down, many have gone to the hills and mountains and beaches to train, while others lift weights in their living rooms or back yards.
If I was in their position, my chief worry would be about my funding: how can I keep getting paid for what I'm doing?
There will be huge repercussions for national governing bodies. Take Athletics Ireland. A lot of their revenue comes from mass-participation events and that pays wages – without them there's a knock-on effect that could cause people to lose jobs. Of course, almost every industry will be the same.
In all honesty, I don't think we'll have an athletics season at all in 2020. The European Athletics Championships, due for Paris in late August, has been a happy hunting ground for the Irish in recent times, providing much-needed exposure for athletes. That event will most likely be cancelled.
When we do get up and running, the question is whether Olympic qualifiers this year will carry forward.
There are other issues with a 2021 Olympics. Everything is in place for the World Athletics Championships to take place in Eugene, USA, next year and that can't simply be cancelled. But I'd much rather see a proper Olympics in 2021 than a scaled-down version in 2020. If you're going to have it, have the real thing.
All the talk has been about the Olympics in recent weeks, but it's been very quiet around other events, like the Tour de France or Wimbledon. With Europe being the epicentre right now, there seems no way they can take place either.
Whatever the sport, there are a lot of athletes training right now and asking themselves: What am I training for?
There are very few upsides to all this but one positive is that I've never seen so many people exercising. When so many of us are cooped up at home, it shows us all the true value and benefit of sport and regular exercise, with good habits forming that should last now last a lifetime.