Phil Healy underlined the significant improvement she has made over the winter by winning the 200 metre National Indoor title in Abbotstown with the second fastest performance in Irish indoor athletic history.
If the Cork woman (25) had not already broken the 17-year-old Irish record in Athlone just over a fortnight ago, she would have done so on Saturday with her time if 23.16 seconds which backed up her European leading time from Athlone on 12 February (23.10).
Healy's Olympic qualification is also a step closer as a result of the ranking points she earned in her victory.
Heading into the race, she was already ranked 29th of the 56 who will achieve the standard required to make the startline of her event in Tokyo.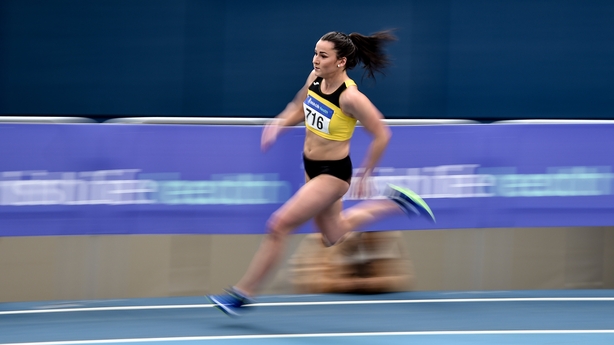 There was around eight metres of track back to second-placed Rhasidat Adeleke, the reigning European Under 18 champion, who finished a distant runner-up in a time of 24.08.
There was an impressive 200 metre men's victory for the ever improving Mark Smyth of Raheny with a time of 21.04 seconds which moves him to number five on the Irish indoor all-time list.
The 2017 World Championship semi-finalist Brian Gregan was back in action after a two-year lay-off through injury and rehab, and he won his 400 metre heat in 48.45 seconds.
Mark English and Zak Curran qualified for Sunday's final of the men's 800 winning their heats with ease.
Ciara Wilson won the women's 3000 metres title while the gold medals in the walking events went to Kate Veale (3Km) and David Kenny (5Km) - the latter defeating Olympic qualified Brendan Boyce who was the sixth place finisher in last autumn's World Championship 50K Walk in Doha.
51-year-old Shane Healy became the oldest track finalist in the history of the Championships as he clocked a World Masters Record time (age 50-54 category) of 4 minutes 5.05 seconds in the men's 1500 metre heats.