Lining up for the Wanamaker Mile in New York City ten days ago, some of the field would have been forgiven for glancing curiously at the dark-haired Irishman in the black vest.
After all, Andrew Coscoran wasn't really supposed to be there at all, and even if he was the 23-year-old would hardly have been on the radar of the race's big names.
Eamonn Coghlan won the race seven times in his own illustrious career, but nobody really saw this year's Irish connection coming.
Balbriggan native Coscoran had travelled to Boston to compete in the Terrier Classic, where he'd surprised everyone by running a terrific 3:56 that saw him push former outdoor US National champion Craig Engels right to the line.
A week later, he was third in the 1500m at at the Boston University Scarlet and White Invite, coming home behind recently crowned US National Indoor champion Josh Thompson.
The plan was to run in the Wanamaker 'B' race, but a dropout opened the door for Coscoran to step up to the main event. He grabbed it, finishing a respectable tenth and hoisting himself up to 53rd in the world rankings.
He's now hovering around the 1500m qualification mark for the Tokyo Games and absolutely believes he can do it. Given where he's come from in the last three years, it would be some achievement.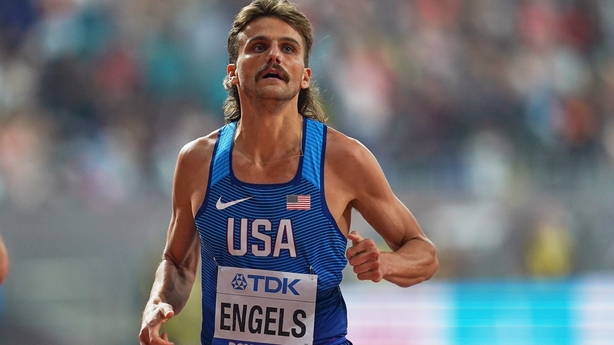 "I was in the right place at the right time," the Star of The Sea athlete tells RTÉ Sport.
"I got the chance to run with some Olympic medallists and finalists. It was a really, really good opportunity. I don't think I was left behind. I ran competitively with them.
"Engels is well known. He's got a big mullet and a moustache on him. He was the outdoor US National champion and I nearly beat him on the line.
"That was all over FloTrack, which is kind of like YouTube for runners in America. It got my rep up. A lot of the big dogs in the Wanamaker probably thought, 'okay, this guy is may be a one-hit wonder, he's run one good race'. I don't think they were too worried about me beating them, but they were aware I'm an up-and-coming runner. Most of the guys in the field are a little bit older.
"They'll be aware of me in the future. In the next three or four years they'll know that I'm coming up and gunning to beat them.
"Coming off the back of that race I'm now ranked 53rd in the world. Getting into the top 50 should give me a chance to go to the Olympics. I'm not far off qualifying at the minute."
"It's kind of a rite of passage. Get it out of your system, move on, get all the trouble out of your system so you can concentrate on being an athlete."
Coscoran's journey to this point has had enough rocky patches to ensure his feet are firmly planted on the ground.
He went to Florida State University on a scholarship in 2015 when he was 18, under the watchful eye of FSU's head of track and field Bob Raman. It was a steep learning curve for Coscoran, who admits he never felt completely comfortable in the environment.
"Coming from Ireland, the pinnacle of athletics is, you come out of the secondary school system and you go to the States. A lot of legends like Eamonn Coghlan and Ray Flynn went to America, ran their four years there and went pro.
"I went over to America and spent my year there. I just don't think it was the system for me. I was training well, the coach was good, the guys in the squad were good, but I don't think it was a system that fitted me.
"I think I was better running at home under the guidance of Brendan Meade in Star of the Sea. We had a good coach-athlete relationship.
"The States was good. I learned a lot being over there. It was something I had to do to realise it wasn't the system for me. I don't regret going. I'd do everything the same again."
Life comes at everybody fast when they flee the nest for the first time and the talented Irishman admits he took a few misguided steps.
"I was 18. You're under the guidance of your parents when you're living at home. You go to America, you're living by yourself, I suppose everyone makes a few mistakes.
"I got into a small bit of trouble over there but nothing more than any 18-year-old kid. It's kind of a rite of passage. Get it out of your system, move on, get all the trouble out of your system so you can concentrate on being an athlete."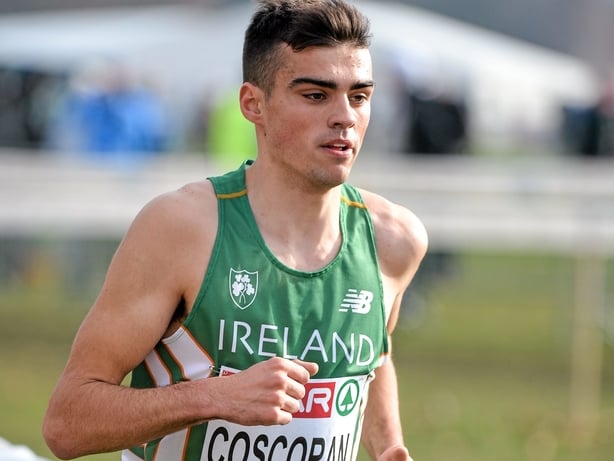 And so it was back to Ireland for Coscoran, where the reality of life outside the university bubble soon hit hard.
He stopped running completely for a while and found part-time work in McDonald's.
"When I came to Ireland, I lost the motivation for running. In America, I was running for somebody else. I was running for the coach. That's fair, it's what you buy into.
"Everyone knows what you're buying not when you go over there. I probably didn't fully realise that. I've always had this internal motivation - I run for myself. That kind of went away.
"I gave up running for about four months. I was working for a bit, in McDonald's first just to pay the bills. At one stage I was doing overnight shifts in McDonald's and trying to get back running full time as well. I had a breakthrough around then, I ran 3:41 over in Oordegem in Belgium when I was still in McDonald's.
"After that I was like, 'right... I can be a good runner'."
It was a turning point. Coscoran did a personal training course, changed profession and began to tweak his lifestyle so he could fully commit himself to being a high-class middle-distance runner.
He changed coach around too, coming under the tutelage Feidhlim Kelly, whose entire philosophy is based on rigid consistency and total dedication.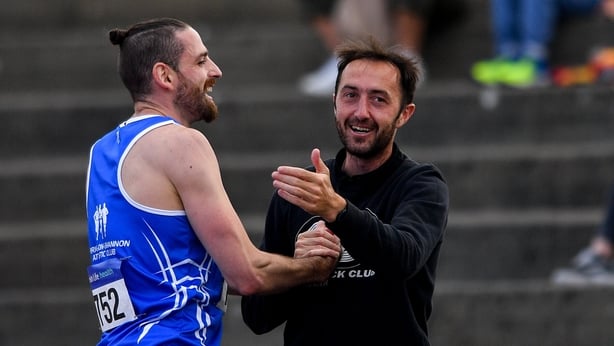 "Feidhlim has a very strict schedule," adds Coscoran.
"We'll do our big workouts on Tuesday, Thursday and Saturday. He's linked us in with (Carrick On Shannon hurdler) Ger O'Donnell, who gives us gym workouts. He'd be fairly regimented.
"You do your run at certain times and you get into that Circadian rhythm - you can go to bed at the same time, wake up at the same time every day. It makes it easier on the body."
Coscoran's progress has been swift and impressive. He'll go to the Irish National Indoors at the end of the month weekend before going into altitude training in either Spain or the USA.
He still has work to do to get a golden ticket to Japan, but what seemed impossible twelve months ago is within his reach.
"I kind of thought, in the back of my head, I could do it. In my last track season, I came off the back of it and I'd run 3:40. I need to consistently run about three seconds faster than that to go to the Olympics. I was telling people, 'right, I'm going to go to the Olympics'.
"Everyone was going, 'aw man, be a bit more realistic, you've only run 3:40, you're a good bit off the pace'. But I knew in the training sessions I'd done I could run that three seconds faster, that I can do it consistently.
"I've known I can make that jump up.
"Maybe when the indoor track season finishes I might have a bit of down time. Maybe when we go up to altitude I'll be able to chill, read books. But at the moment I've no free time.
"It's a learning curve, you learn to deal with pressure. When I was younger I maybe felt the pressure a little bit more, but it's part of being an athlete - you train your body, you train your mind.
"I'm chasing an Olympic dream. There's an end point, there's something to achieve. Having that goal is a huge motivation."