New Irish 200m indoor record holder Phil Healy has called on the sporting public to get behind Ireland's athletes as they continue to build towards the summer Olympics.
The Cork sprinter claimed gold in the 200m at Wednesday's AIT International Grand Prix in a time of time of 23.10 seconds, which was the fastest run by a European athlete this season.
Healy finished .61 of a second ahead of Germany's Jessica-Bianca Wessolly as she set her third Irish sprint record in just over a year and a half, all three coming on home soil.
Speaking on 2fm's Game On, the 25-year-old admitted that she finds in easier to run in front of big home crowds and asked for the Irish fans to come out and support their athletes in the coming months.
"It was absolutely super to break the record on Irish soil, that's the third record on Irish soil and it's such an old record as well, it was set 17 years ago, so I'm absolutely thrilled," she said.
"It would have been a target for me this season and opening up the season around three weaks ago I ran 23.28 and I knew there was a bigger time if me because I had a few things to correct from that race.
'We're promoting women in sport, but I'm promoting women in IT as well' – Irish sprinter @philhealy2 talks to @GameOn2FM about her career change pic.twitter.com/YfxqWYTiId

— RTÉ Sport (@RTEsport) February 13, 2020
"Yesterday was just about going out, soaking up the atmosphere and enjoying a meet like that and getting the best performance out there by executing my race and if the time came, the time came. It happened to be a national record.
"Last night was a sold out event and having these crowds and these international fields, it brings out the best in the athletes and that's what we need," Healy added.
"We need as many supporters as we can, we have Nationals in two weeks time and it would be great to have another big crowd at that. It's definitely something that should be promoted more."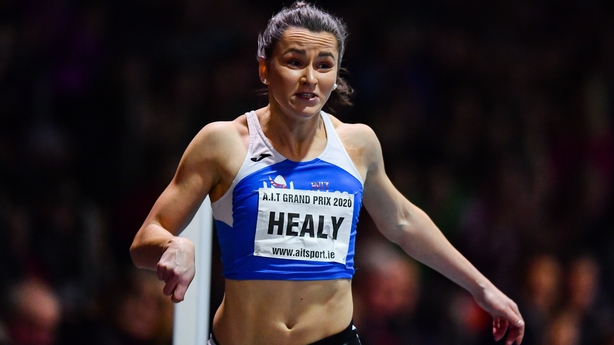 Healy remains on track for a place at the Olympics and although the qualifying system has changed this year, she is confident that she'll be on the plane to Tokyo.
She explained: "You can either get the qualifying standard of 22.80 or you have to be ranked in the top 56 in the world.
"It takes your best five races and different races are worth different points and there's bonus points attached to some races so last night was a high category race and I think there was 60 bonus points if I won.
"Last night will push me to 29th so if I stay there that's my spot secure but it is a waiting game because you don't have that guarantee compared to before when you run the time and that's it."